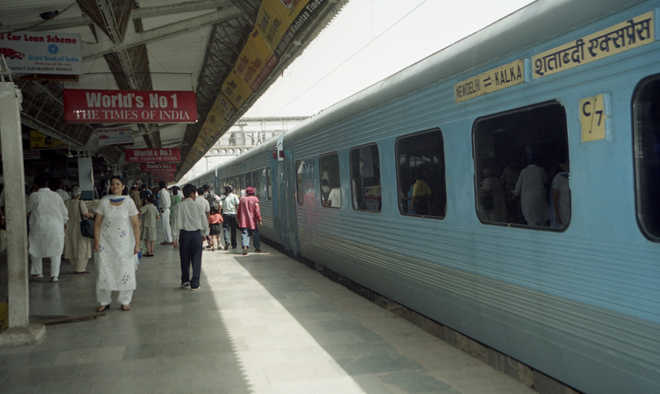 Tribune News Service
New Delhi, June 26
Soon, train travel from New Delhi to Chandigarh and Amritsar will be a much more pleasant experience as the Railways is gearing up to enhance on-board services such as trolleys carrying catering stuff, polite uniformed staff and entertainment avenues in 30 selected Shatabdis and Rajdhanis.
Setting an October deadline for itself, the Railways has undertaken a complete makeover exercise on 30 trains — 15 Rajdhani and 15 Shatabdi — at an estimated cost of Rs 25 crore.
Aiming to cash in on the festival season, beginning October, the country's transport monolith has launched a three-month programme with a tagline Project Swarn to refurbish coach interiors and improve toilets and cleanliness in coaches. There have been complaints pertaining to catering, punctuality, toilet cleanliness and quality of linen on these trains.
The project also envisages strengthening of the security system on the trains.
Trains for Mumbai, Howrah, Patna, Ranchi and Bhubaneswar are among the 15 Rajdhanis selected for the makeover. The 15 Shatabdis set for a facelift include the New Delhi-Chandigarh, New Delhi-Amritsar, Howrah-Puri, New Delhi-Kanpur, Howrah-Ranchi and the Anand Vihar-Kathgodam trains. Steps would be taken to improve punctuality by reducing delays of premier trains, an official said, adding that catering would also be a focus area, besides cleanliness.
The staff would be specifically trained in hygiene.A new uniform has been designed for the staff on the premier trains. Passengers will also be offered films, serials and music among other facilities as part of the on-board entertainment package.
Top News
Says poor largest segment in country, deserve first right on...
30 locations linked to news portal, journalists searched; di...