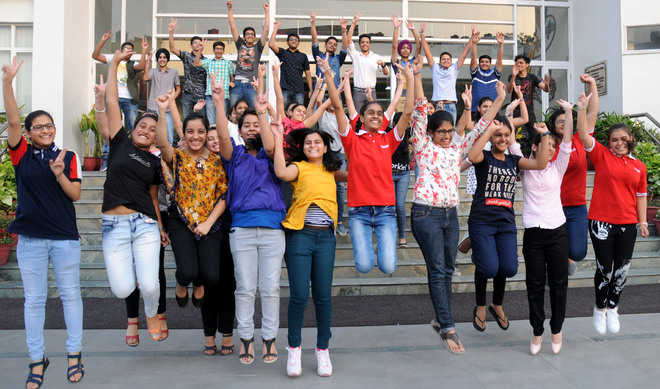 Mohali, June 3
Manav Mangal Smart School topped Mohali with 93 of its students getting a perfect 10 in the CBSE Class X examinations. Although the results of all Mohali schools was not available till the filing of the report, Manav Mangal School was ahead with the largest number of students scoring 10 CGPA. As many as 279 students of the institution had appeared for the examinations.
As many as 59 students of Lawerance Public Senior Secondary School secured 10 CGPA. A total of 162 students had taken the examinations.
At Doon International School, 32 hit the 10 CGPA mark out of 114 students. St Soldier International Convent School, Phase VII, and Gian Jyoti Global School, Phase II, each had 27 students scoring 10 CGPA. At Ajit Karam Singh International Public School and DAV Public School, 18 and 17 students obtained a perfect 10, respectively.
As many as 16 each from Anee's School and Shemrock Senior Secondary School scored a perfect 10. — OC
striking a good balance
Mohali: Two students of St Soldier International Convent School in Mohali have shown a perfect balance between academics and sports. Outstanding hockey player Abhineet Singh obtained CGPA 10 in the Class X examinations. He had obtained the third position in the All-India Inter- SAI Tournament held at Bhubaneswar in 2015. He has been participating in the state School Games since 2013.
The second student, Gurleen Kaur Sidhu, a national shooter, also brought laurels to the institution by securing the perfect 10. She had participated in the state U-19 championship. She had secured the fourth position in the Nationals. She took up rifle shooting at the age of 10. — OC
12 of Dera Bassi school shine
Dera Bassi: Students of Sri Sukhmani International School, Dera Bassi, came out with flying colours in the Class X CBSE examinations. Twelve students of the school scored a perfect 10 while three got 9.8 CGPA. Three students scored 9.6 CGPA. The school secured 100 pass percentage.
Ankit Dubey, Rashi Sharma, Sanchi Chauhan, Isha Gupta, Prem Shankar, Rupali Kumari, Vansh Sharma, Vipul Gupta, Yukta Chauhan, Dilpreet Kaur Saini, Rishabh Solanki and Gaurav Manocha have scored the perfect 10. Mehar, Jasmine Kaur and Jasmine Saini got 9.8 CGPA whereas Manpreet Kaur, Gurleen and Piyush secured 9.6 CGPA.
Rashi Sharma, who got a perfect 10, said, "I am happy with the success. I was expecting good grades but now I an delighted over what I have achieved. All credit goes to my teachers, principal and parents," she added. Poonam Sharma, principal of the school, congratulated the teachers, parents and students for their hard work and sincere efforts. "The result has been better than the last year. I wish students good luck and success in their future endeavours," the principal added. — OC