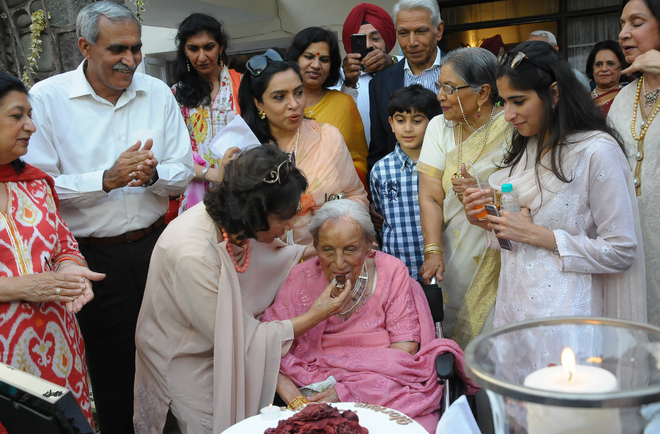 Tribune News Service
Chandigarh, April 14
"Do your duty. It's your real wealth." This is the message the Indian Army's grand old lady, Rajkumari Shrinagesh, had for the present generation of officers and their spouses on her 100th birthday, which she celebrated with élan with her family members and well-wishers here today.
Though frail and dependant on a wheelchair to move around, she was alert and cheerful, with a sparkle in her eyes as she met visitors, many of whom having old regimental association, thanking them and telling them to come again. She is staying with her daughter, Primila Puri, here.
The seniormost lady of the Indian Army, she is the wife of the late Gen Satyavant Mallanh Shrinagesh, who served as the third Chief of Army Staff from May 1955 till May 1957. After retirement, he served as the Governor of Assam, Governor of Andhra Pradesh and Governor of Mysore. He was commissioned into the 19th Hyderabad Regiment (now known as the Kumaon Regiment) in August 1923 and later served with the 2/1 Madras Pioneers. As Corps Commander after Independence, he was responsible for the Kashmir operations in 1947-48.
Her family members say she has been a great source of inspiration and strength for them. Along with her son, Major Satish Shrinagesh (retd), she had compiled an anthem for daily inspiration, titled "Yes! It's possible!!" that advocates the virtues of honesty, hard work, sharing and peaceful living.
"Her whole life has really been one of giving and she has never made any demands of us or burdened us with any issue," said Major Shrinagesh. "We had lost our father to Parkinson's almost 40 years ago and for the past 18-20 years of his life, she had nursed and looked after him virtually single-handedly," he said. She takes active interest in family matters and every morning her children and grandchildren sit with her and share a few words.
As pipers and drummers from the Garhwal Rifles belted out cheerful tunes, a host of serving and retired officers as well as prominent local residents poured into the house in the evening to greet her. Among them were the General Officer Commanding-in-Chief, Western Command, Lt Gen KJ Singh, Chief of Staff, Western Command, Lt Gen V Menon, Lt Gen Om Prakash, Quarter Master General of the Army and Colonel of the Kumaon Regiment, and Lt Gen SL Narasimhan, Commandant, Army War College and Colonel of the Madras Regiment.
Rajkumari's father was a veteran of World War I and II and among the first four Indians to be inducted into the medical wing of the erstwhile British Indian Army. Fascinated with the Army life since childhood, she wanted to marry an officer, to which her father agreed. Though belonging to a Punjabi family, she wed General Shrinagesh, then a Lieutenant, who was from Maharashtra. The couple had three sons and two daughters.
Looking back at her life's "wonderful and joyous journey", she recollected the time she spent in the Army and memories of all good as well as tough times came flooding to her mind, making her emotional and proud, prompting her to quip that she still remains wedded to the Army. She was also featured on the cover of Life magazine when her husband was the chief.