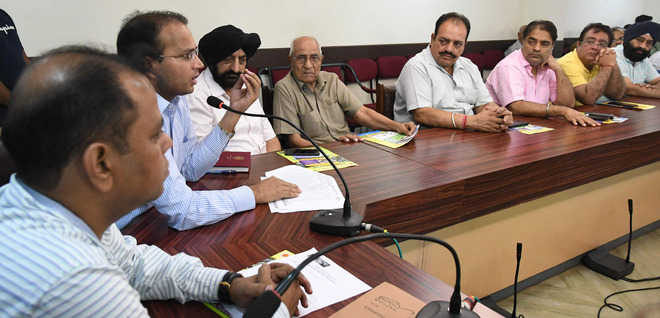 Tribune News Service
Chandigarh , May 27
As part of an ongoing campaign to motivate city people to install solar power systems on residential and commercial buildings, Chandigarh Beopar Mandal, Chandigarh Renewal Energy Science and Technology Promotion Society (CREST) and Yuvsatta (an NGO) organised a 'Green energy conclave to promote solar energy' at Peoples Convention Centre here today.
Prominent amongst those who participated included Debendra Dalai, CEO of CREST.
Addressing the audience of traders and business, Dalai said there were numerous advantages of installing solar power systems on rooftops. He said: "A solar consumer becomes a generator of his own electricity, reducing the electricity bills. One can also expect a continuous supply of power in the building during power cuts."
He said there were several environmental benefits of solar power — no pollution and reducing global warming.
Charanjiv Singh, Chairman, Chandigarh Beopar Mandal, said all market welfare and trade associations would do their best to promote this green solar power at all levels.
Top News
Had complained to PM Modi about the activities of Brij Bhush...
Section 124A of the Indian Penal Code dealing with sedition ...
The postings and transfers of the officers have been made on...
Singh, in a Facebook post, said he has postponed the 'Jan Ch...
The representatives of various khaps and farmers' outfits re...