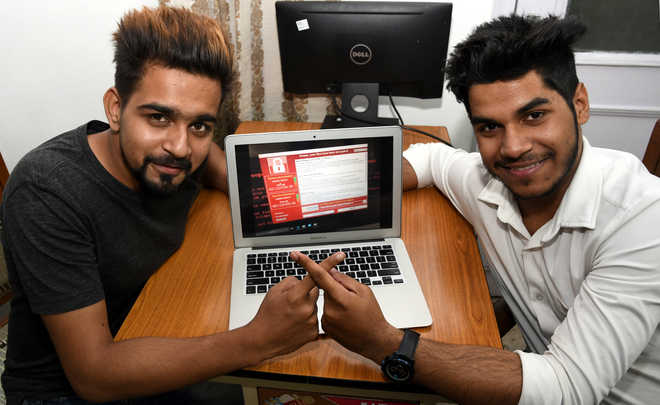 Vijay C Roy
Tribune News Service
Chandigarh, May 20
Two students of a Punjab-based private university claimed to have worked out a solution to ransomware. BhavKaran Singh and Dev Aggarwal, fourth semester students of Chandigarh University and pursuing computer science engineering, said an affected device could easily be restored by following simple steps.
Ransomware attack locks a device, such as a computer, tablet or smartphone and then demands a ransom to unlock it.The software is normally contained within an attachment to an email that masquerades as something innocent. Once opened, it encrypts the hard drive, making it impossible to access or retrieve photographs, documents or music. The attack has so far been reported from Gujarat, Odisha, West Bengal, Andhra Pradesh and Maharashtra. "We have been closely following reports pertaining to the ransomware attack and decided to work on it. On an average, we used to work for eight-10 hours daily, especially at night. An affected laptop can be easily be restored now," said Bhav Karan
BhavKaran Singh is also a certified ethical hacker, certified cyber security analyst, part-time freelancer and developer.
Clean ransomware
Ransomware files cannot be removed directly as they are still working in the background in many unknown service names.
To remove the virus
Go to Windows safe mode by pressing (F8 key on the keyboard) during computer boot screen
Find ransomware files
@WanaDecryptor@ n @Please _Read_Me@ n @WanaCry
To recover files
Right click on the folder you want to recover, then click on properties
Select 'Restore Previous Version' tab
Click on restore and your infected files will be recovered
However, cyber experts say infected files can be recovered only if the system restore option is enabled and in a majority of cases, users don't enable it. So it is advisable that the user must enable the system restore option.
Precautionary measures
Do not open unwanted attachments in mail
Don't click a link in an email unless you are 100% certain.
Don't open or respond to emails that look suspicious
Ignore attachments that you aren't expecting, especially if you don't know the sender.
Don't give personal details or fill in forms. If you get a notice from a financial institution stating that you need to upgrade your details or change your password, don't follow the instructions, but go directly.
Top News
Action taken under relevant Section of Unlawful Activities (...
Says wants it to commit constructively to establish facts
Blinken says it is 'important for India to work with the Can...
Adhir Ranjan Chowdhury, the Congress leader in Lok Sabha, sk...