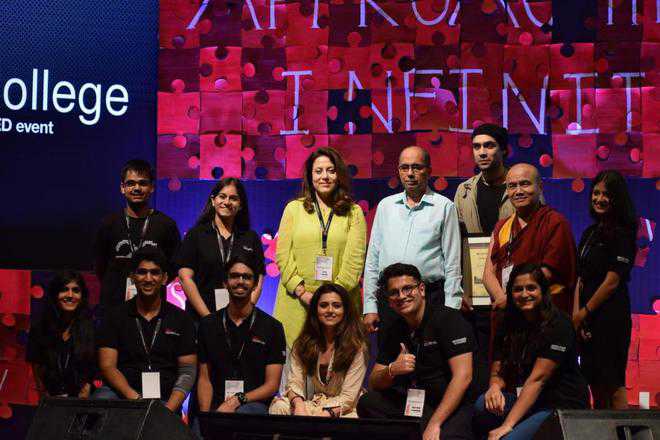 Tribune News Service
Chandigarh, August 17
The fifth edition of TEDx was held at Goswami Ganesh Dutta Sanatan Dharam (GGDSD) College, Sector 32, on Saturday. Present on the occasion was college principal, Dr Balraj Thapar, members of the management and an audience of over 100 inquisitive people.
The theme of the event was "Approaching infinity", which focused on various connections that can be achieved if mind is in the right direction with an unbreakable focus.
The event intending to bring several ideas and dynamic personalities on a common platform welcomed diverse perspectives that triggered revolutionary ideas with a potential to benefit the community. The speakers too came from diverse backgrounds. This year's line-up of speakers comprised Anjan Mukherjee, co-founder, Taraltec Solutions; Piyush Goswami, co-founder, Rest of My Family; Tithi Tewari, co-founder and managing director, SmartVizX; Ven Geshe La Dorji Damdul, director of Tibet House, New Delhi, and official translator to His Holiness Dalai Lama; Rabindra Narayan, managing director and president, G Next Media Pvt Ltd and PTC Network; international celebrity Chef Ajay Chopra, judge of Masterchef India; Ridhi Dogra, actor, dancer and model; Jubin Nautiyal, singer in the Indian music industry.
Piyush Goswami, the first speaker of the day, explained how "The opposite of love is not hate, its indifference". He asked the audience to look around, see what needs to be done and yet no body was doing. That is exactly what they need to be doing. He, in nutshell, provided motivation to break the vicious cycle of indifference.
Rabindra Narayan followed Mr Goswami and emphasised on the importance of mastering A to Z of whatever you do. For him, the key to success was passion. Based on this idea, he was able to take 'regional' and make it go 'global'.
The third speaker was Tithi Tiwari. She enthralled the audience by giving glimpses of what the future of architecture via VR could look like. Towards the end she inspired the attendees to dream, be a little impatient, have aspirations and ultimately, exploring their own infinities. Anjan Mukherjee was the final speaker for the first half. He shared with audience how through his life he tried and tested different things and during this process of hit and trial he could find where his passion lies.
The first speaker was for the second half was Chef Ajay Chopra, who tickled the taste buds of the audience with his juicy stories, each one also having a lesson in them. He explained how his motto of working hard helped him in expanding his boundaries as he grew. He propagated the idea of not loving your comfort zone and stepping out of it if it's to explore your talents.
He was followed by Ven Geshe La Dorji Damdul, who guided the audience with his wisdom gained over the years. Ridhi Dogra was the next to follow. She touched everyone's heart by sharing parts of her life and how everything in its own manner taught her that fitting in the glass slipper was never for her. She was meant to break the glass ceiling and that what she urged everyone to do.
At the end of the programme Jubin Nautiyal struck the musical strings in everyone's heart. He mystified the audience with how he chose the path of his passion and that helped him in becoming everything that he was today. His talk had small singing pieces that bejewelled the event to an unimaginable extent.
The event wrapped up with an energetic band performance by the band "Sama". The president of GGDSD Society, Upkar Krishan Sharma, said, "We appreciate such initiatives taken by teachers and students, which give a motivational platform to students to excel in their respective fields."
Top News
Separatist still at large | 6 FIRs, 114 arrests so far | ISI...
1 held for pulling down Tricolour in London
Unveils $75 bn plan to counter China