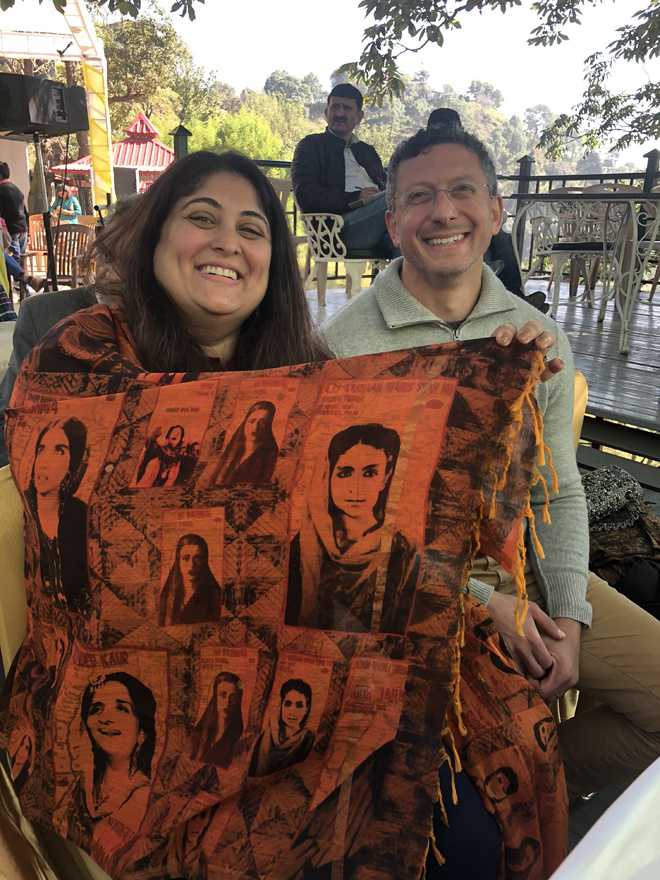 Amarjot Kaur
Tribune News Service
Kasauli, October 14
A digital phulkari print stole, printed upon which was a portrait of Punjabi poet and author Amrita Pritam among other famous women of Punjab, went under the hammer on the last day of Khushwant Singh Literature Festival at Kasauli Club. Resounding the theme of 'The Strength of a Naari—The Rise of Women in The Age of #metoo', the three-day festival culminated on a philanthropic note.
Designed by 1469, a clothing brand that promotes Punjab's culture and heritage through its designs, the stole was knocked down at Rs 30,000 by actress, writer Tara Deshpande. Organiser Niloufer Billimoria said the money will be given to Government Secondary School at Ganol, Kasauli.
"The auction began with the minimum opening bid of Rs 5000," said Harinder Singh, the owner of the brand. "As merchandise partners of the festival, we had earlier designed similar stoles for Khushwant Singh Literature Festival, London, which took place in May this year. We had only designed one piece for the Kasauli edition, keeping Amrita and other prominent women of Punjab in mind," he adds. Harinder has shared a 12-year association with Khushwant Singh's family and says that the late author had given to him his phulkari collection. "I was researching on phulkari when Khushwant gave us his mother and grandmother's phulkari collection," he shared.
Apart from with Amrita Pritam's magnified portrait, the stole carries images of artists Amrita Shergil, Arpana Caur, and twins Amrit and Rabindra Kaur Singh, along with sketches of singers Surinder Kaur, Gurmeet Bawa, Noor Jahan, and Reshma.
Emphasising on the cause for which she bought the stole, Deshpande said, "I bought it for the education of a girl child; that's where woman empowerment begins and it's a step ahead creating equal opportunities for women. Also, I love the poems by Amrita Pritam and was very inspired by the session, 'Hamari Amrita', at the festival."
Hamari Amrita
This is Amrita Pritam's centenary year and in the session, 'Hamari Amrita', actress Divya Dutta, and writers Harjit Singh, Chander Trikha and Nirupama Dutt spoke about the author's literary calibre and personal demeanour. Dutt first interviewed Pritam in 1978 and wrote an article: 'Bringing up Naagmani'.
Top News
According to Rushdie's agent Andrew Wylie, nerves in his arm...
Natwar was Minister of State for External Affairs when Rushd...
All the four employees were dismissed from service under Art...
State government issues notification, move expected to save ...
The exam was postponed for 11,000 candidates to accommodate ...