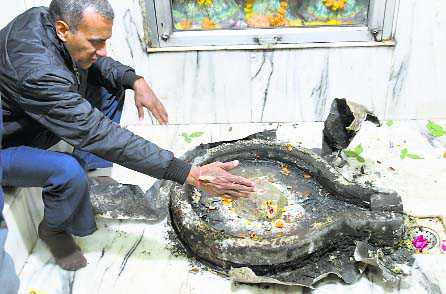 Tribune News Service
Chandigarh, January 8
Thieves broke into a temple in Sector 24 here and made off with silver articles, including ornaments, worth around Rs 12 lakh on Sunday night. The incident was captured on a CCTV camera installed at the temple.
The theft came to light at around 3 am when a devotee, Balbir Singh, reached the temple to pay obeisance. He immediately alerted the priest, Ram Gopal, who further informed the police.
Ram Mehar, a staff member at the temple, said all temples inside the complex were locked at night but their locks were found to be broken later.
Ram Gopal said silver ornaments in six temples were stolen. "They cost somewhere between Rs 10 lakh and Rs 12 lakh," he said.
Sources said thieves did not break the cash donation boxes. The thieves had also bolted the doors of the staff members from outside, which were opened after the theft came to light.
Sources said 18 CCTV cameras were installed in the temple. CCTV footage was scrutinised which showed two persons committing the theft. The incident took place between 1 am and 1.30 am. A case has been registered at the Sector 11 police station and an investigation has been initiated. Inspector Lakhbir Singh, SHO, Sector 11 police station, said involvement of more persons could not be ruled out.
Top News
Were returning from Amarnath yatra duty
Portfolios allocated: While Nitish keeps home, Tejashwi gets...
Jammu and Kashmir Lt Governor Manoj Sinha has condemned the ...
A prime minister for six years between 1998-2004, Vajpayee d...
The men, who are non-exclusive partners living in the same h...