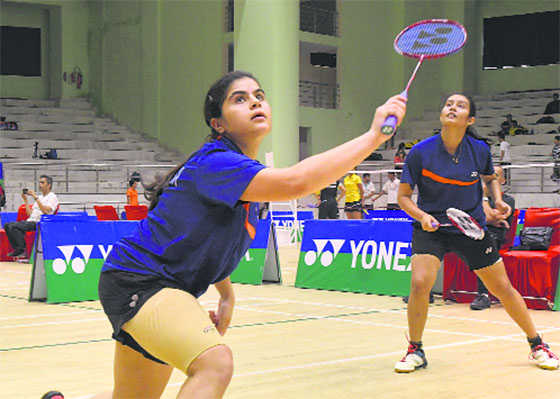 Panchkula, September 28
Top seed Aakarshi Kashyap registered a 21-15 21-11 win over Drithi Yatheesh in the girls' U-19 singles pre-quarterfinals in the ongoing 27th Smt Krishna Khaitan Memorial All-India Junior Ranking Badminton Tournament at Tau Devi Lal Stadium, Sector 3, here, on Friday.
Second seed Malvika Bansod of Maharashtra drubbed Delhi's Anaya Goel 21-8 24-22, while third seed Gayatri Gopichand dismissed Amolika Singh 21-16 21-12 to enter the quarterfinals.
Fourth seed Ashwini Bhat, meanwhile, succumbed 8-21 22-20 to Deepshikha Singh. Fifth seed Nivetha also crashed out after losing 17-21 17-21 to Uttarakhand's Aditi Bhatt. Samiya Imad Farooqui registered a 21-13 21-13 win over Medha Shashidharan in the pre-quarterfinals.
Kiran in quarters
Second seed Kiran George of Kerla dispatched Monimugdha Rajkonwar 21-11 21-20 to ease into the boys' U-19 singles quarterfinals.
Third seed Priyanshu Rajwat had an easy outing against Assam's Iman Sonowal, winning 21-8 21-8. Fourth seed Orijit Chaliha defeated Sai Charan Koya 21-18 22-20 and eighth seed Jaswanth came from behind to overcome Siddhant Gupta.
Jaswanth lost the opening game 18-21, but came back strongly to win the next two games 21-11 21-14 to stay alive in the competition.
Podile-Jupudi advance In the mixed doubles, top seeds S Podile and S Jupudi defeated Sudish Venkat and Thanushree 21-9 21-6 to seal a spot in the quarterfinals.
Second seed pair of Edwin Joy and Nafeesah Siraj overcame Yovan Dabas and Kavya Gandhi 21-18 17-21 21-18, while third seeds Akshan Sheety and Rashi Lambe beat Yash Ralkwar and Asihwarya Mehta 21-16 23-21.
Fourth seeds Navaneeth Bokka and Sahithi Bandi registered a 17-21 23-21 21-19 win over Dingku Konthoujam and Simran Singhi. —TNS
Top News
Congress' state in-charge says the party is tipped to get th...
Launches attack against nepotism and graft; seeks collective...
Says Congress will oppose attempts to put leaders like Gandh...
Chandrashekhar Harbola was part of a 20-member troop that wa...
One attack occurred at a minority habitation in Chadoora in ...