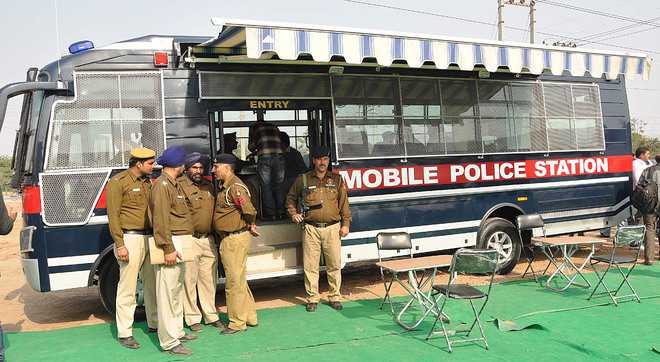 OP Mishra
Since independence, the police, as an organisation, have emerged as an important service delivery institution. People visit police stations to report crimes and voice their grievances, which are myriad in nature. In all cases, preliminary response of the police is of utmost importance.
Although, the response mechanism has substantially improved in metropolitan cities, where people use mobile applications and resolve their non-cognizable cases, such as loss of identity documents, without visiting police stations. Applications to file loss reports, introduced by the Delhi Police and the Chandigarh Police, have substantially reduced the number of citizens visiting police stations.
This has also led to reduction in "harassment" and "petty corruption" at police stations. Despite this, residents of resettlement colonies and slums still struggle to report their grievances with the police. These issues also plague the City Beautiful.
The Chandigarh Police has introduced a structured response system to resolve the day-to-day grievances of those staying in rural areas and on the periphery. One such initiative is the 'mobile police station' (MPS). The objective behind the introduction of the MPS is to provide residents — especially backwards and weaker sections of society, women and senior citizens — with services at their door steps.
The MPS vans are stationed beyond the planned sectors. They are mostly in the jurisdiction of Mani Majra, Maloya, Burail — areas mostly inhibited by the migrant population.
Each MPS has a staff of six persons and is equipped with a wireless base station and computer operator for quick transmission of message and other logistics. The staff members undertake the receipt of petty complaints and resolve it on the spot and carry out servant, tenant and PG verifications. They receive complaints regarding the loss of documents and generate their computer receipts instantly. From December 1, 2017, to December 31, 2017, one of the MPS vans generated several loss reports — mobile phone (202), sim cards (386), Aadhar cards (196), voter card (196), PAN card (37), DL (187), RC(171).
The second initiative which was introduced by the police is 'pick-and-drop' facility. To facilitate safe journey for working women and girls in Chandigarh, the police have introduced the facility from 10 pm to 6 am. Any women can dial 100 and ask for the service and the dedicated police control room vans will reach the caller and drop her home safely and report back to the PCR. Each van has a lady police staff in it. Till July, 2018, 49 women have availed the facility in Chandigarh.
Charles Rovan and Richard Mayne, first Metropolitan Police Commissioners, had quoted: "Every member of the police force must remember his duty is to protect and help members of the public, no less than to apprehend the guilty person, consequently, whilst prompt to prevent crime and arrest criminals, he (she) must look upon himself (herself) as the servant and guardian of the general public and treat all law abiding citizens, irrespective of their position with unfailing patience, courtesy and good humour."
Accessibility to the police during emergency is very important. Each distressed individual expects patient hearing and proper response to his/her grievance from the responding agency. Thus, the law enforcing agencies require proper institutional mechanism with trained manpower at grassroots level to handle the grievances of citizens. This can be easily done with a sensitive and empathetic organisational leadership.
(The writer is DIG, Chandigarh)
Top News
Cane growers will get Rs 391 per quintal, says Bhagwant Mann
Polling draws to a close | Counting of votes on Dec 3
On Thursday, Supreme Court nullified the reappointment of Ra...
The PM is in Dubai to attending World Climate Action Summit