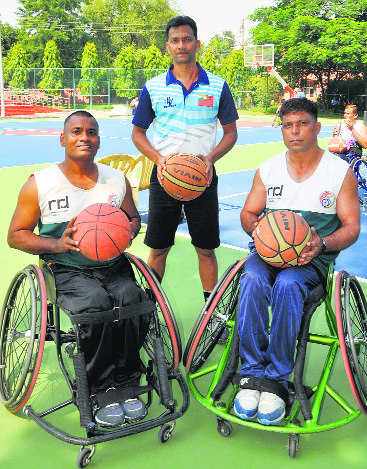 Akash Ghai
Tribune News Service
Mohali, October 12
Major tragedies in their lives might have brought two Army bravehearts on wheelchairs but certainly failed to dampen their spirits as the duo is now eying to make the country proud on the basketball court.
Former gunner Ajit Kumar Shukla and military commando Mohammad Lateif Bhat are part of the 14-member wheelchair basketball squad for the upcoming Asia Oceana Zone (AOZ) Championship and the Tokyo 2020 qualifying round at Bangkok, Thailand. Preparations for the event are on at the Paraplegic Rehabilitation Centre in Phase 6 here.
Talking to Chandigarh Tribune, Shukla, who was deputed with the 58 Rashtriya Rifles at Rajouri, J&K, said an encounter with two Pakistani militants at Dongi on February 25, 2005, had changed his life. "During the encounter, I had received two bullets, one in the chest and the other in abdomen, which also pierced through my spine and left me paralysed," said Shukla, who had received three best gunner awards. He added that the mishap could not keep him out of action for long and he started playing wheelchair basketball in 2006.
Shukla, who plays on point guard position, said he felt proud in saying that he also got the Man of the Tournament award in two national tournaments. Bhat, a military commando posted in 10 JAKLI (Jammu and Kashmir Light Infantry), was confined to a wheelchair after sustaining a spine injury during patrolling in Naushera area in 2001. "After the mishap, I didn't lose my morale and was determined to continue with the action. Though the action has been shifted from battleground to sports field, my spirit is equally high," said Bhat, while practising in the basketball court at Mohali.
"Apart from basketball, I also participate in shot-put and javelin throw events," said Bhat.
The team's head coach Sharad Nagane, who serves the Indian Army, said the spirit of the team was high. "Our drilling is on in the special camp, which is being organised for Asia Oceana Zone Championship 2019 and Tokyo qualifying championship to be held at Bangkok, Thailand, from November 27 to December 8. We would definitely have the podium finish in the tourneys," said Nagane.