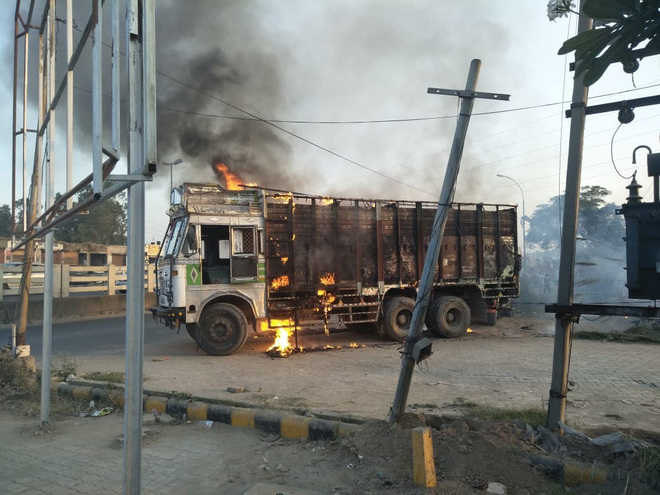 Our Correspondent
Dera Bassi, October 28
Timely and coordinated action by the people standing nearby averted a tragedy when a truck parked along the Ambala-Chandigarh stretch caught fire on Sunday evening. However, nobody was inside the truck at the time of the incident.
According to sources, the truck was stationed near the vicinity of the transport area meant for parking of heavy vehicles and was not loaded. The reason behind the fire is yet to be ascertained.
According to eyewitness, truck owner Ravinder Singh noticed the fire and raised an alarm. The flames soon engulfed the entire vehicle, including tarpaulin. Commuters travelling on the Ambala-Chandigarh stretch were taken by surprise seeing the truck go up in flames.
Timely spraying of water from a pipe by onlookers helped douse flames before the fire brigade reached the spot. Things could have been catastrophic had the fire reached other trucks parked near the site of incident. For some time, panic gripped the people. People heaved a sigh of relief only after dousing the flames. However, no case was registered in this connection.