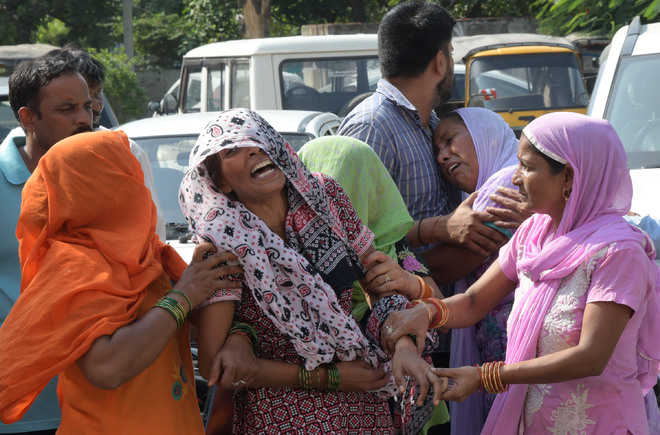 Tribune News Service
Panchkula, September 29
Two children drowned in a water treatment plant of the Haryana Urban Development Authority (HUDA) at Chonki village near Panchkula's Sector 1 this afternoon.
The deceased have been identified as Tushar (13), a student of Class VI, and Jatin (14), a student of Class VII. Both were residents of Bir Ghaggar village and were students of Government High School in the same village.
Chandimandir police station SHO Lalit Kumar said after their examination got over, these children went to the water reservoir at HUDA's water treatment plant along with three other students. Though there was a fencing of 4 ft around the reservoir, these two children entered it to take a bath and later drowned.
The police have initiated a probe under Section 174 of the CrPC, he said.
The HUDA plant was constructed two years ago for cleaning raw water from Kaushalya Dam in Pinjore before supplying it to the city. On seeing them drowning, other students, who had not entered the water reservoir, informed a villager, Karan, who was passing from there, about the incident. They also informed their parents about the incident. Karan brought both children out of the water reservoir. The children were immediately taken to the General Hospital, Sector 6, here, where doctors declared them brought dead.
Tushar was only son
Tushar, who drowned in the water reservoir, was the only son of his parents. Tushar's father Ravi Kumar runs a meat shop at Bir Ghaggar village. After seeing his son's body, he felt unconscious. Jatin's father is bedridden due to lung infection for the past several months. His grandfather Jai Parkash said their family was facing a tough time. Now another tragedy had struck their family.
'Negligence by HUDA'
Area councillor Vinod Kumar alleged that the tragedy took place only because of negligence of HUDA officials. He, along with the family members of the deceased, would lodge a complaint against HUDA with the District Administration.
Warning ignored
The Haryana Urban Development Authority (HUDA) had even installed a warning signboard at the site asking people not to enter the water reservoir. The students still ignored the warning board and entered the reservoir to take bathe.
Top Stories