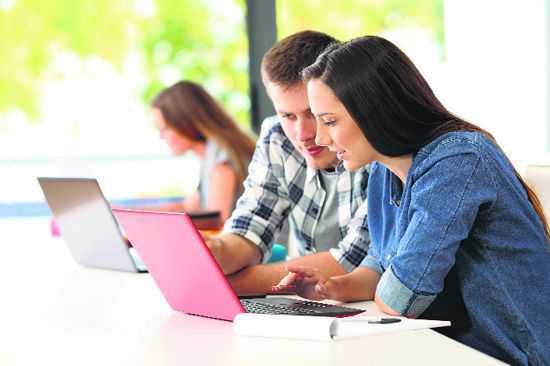 Naina Mishra
Tribune News Service
Chandigarh, June 22
Students appearing for the Programme for International Student Assessment (PISA) in 2021 can now begin preparation at their own level as the State Council of Educational Research and Training (SCERT), Chandigarh, has uploaded study material on its website.
The preparation material, developed by the State Resource Group under the UT Education Department, for mathematical literacy, scientific literacy and language literacy, can be downloaded from the SCERT website.
Under language literacy, the students will have to comprehend non-continuous text, which will include pictures. As per the material, the students will need to grasp ideas, interpret, infer and evaluate information explicitly stated in the text. They need to understand beyond the information and/or ideas stated in the text.
Students to explore multiple dimensions
Teachers can work towards enhancing learning competencies such as reading text graphics, creative thinking and critical thinking. To begin with, a warm-up activity can be initiated wherein the teacher can assist the students in reading and decode the given text.
The teacher may initiate a question-answer session on sales, discounts, etc. Multiple dimensions will be explored such as global dimension through discussion about advertisement hoardings (blocking city skyline, bright lights and images distracting drivers) and environmental dimension sensitisation such as excessive paper wastage through pamphlets, etc.
The students can decipher various hidden catches in ads and pamphlets, thus learning for life.
Advanced topics in science
Scientific literacy comprises topics, including health, natural resources, hazards, frontier of science and technology, environment and experiential learning, while advanced topics in science comprise average speed camera, carbon footprint, computer vision syndrome (CVS), white button mushroom and monocots and e-waste.
The students while attempting science questions will identify an investigative question, spot evidence needed in a scientific investigation, draw or evaluate conclusions, communicate valid conclusions and demonstrate an understanding of scientific concept or scientific attitude.
For mathematical literacy, the topics have been selected from Classes VII and VIII based on six difficulty levels. Questions from topics such as integers, data handling, linear equations in one and two variables and probability have
been compiled. PISA aims at measuring how many skills the students have acquired for participation in the exam.
Its surveys are carried out every three years in a large number of countries that together make up close to 90% of the world economy.
The primary objective is monitoring the outcomes of education systems in terms of student achievement to provide empirically grounded information which will inform policy decisions. PISA is steered by representatives from participating countries through the PISA Governing Board.
PISA-type questions
How much do you agree with the following statement? Can this conclusion be drawn from the picture, multiple choice questions, comprehending non-continuous text, data handling and data comparisons.
The Directorate for Education at the Organisation for Economic Co-operation and Development (OECD) manages PISA and draws on the knowledge of a rich network of international experts. Chandigarh will represent the country in PISA to be held in 2021.
Top News
Congress leader has been trapped in the consequences of the ...
About 47.58 lakh government employees and 69.76 lakh pension...
LS secretariat has sent notification to EC to declare Wayana...
Prominent leaders stopped by police and detained at Vijay Ch...
Overrules a 2011 verdict by a two-judge Bench