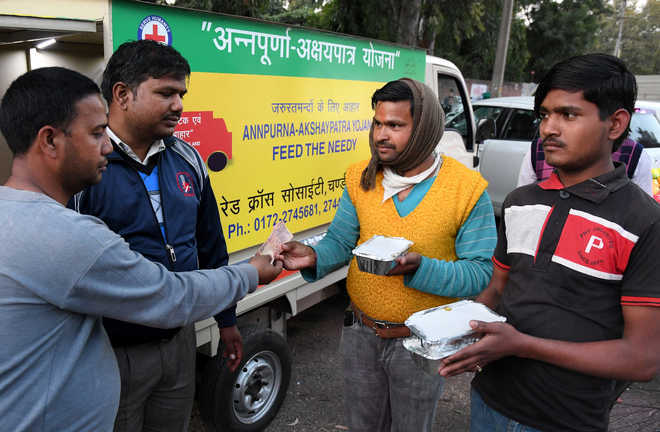 Nitin Jain
Tribune News Service
Chandigarh, July 21
In yet another feather in the cap of the Chandigarh Administration, the Union Territory's Annapurna Akshaypatra Yojana (food for all at Rs 10) and the Kalam Express (school on wheels for children with special needs) are all set to go national.
Prime Minister Narendra Modi has hailed Chandigarh's best practices and has asked all states and UTs to follow suit, a top government functionary told The Tribune here today.
Modi patted the UT's back during an interaction with chief secretaries of states and union territories in New Delhi on July 10. The interaction was part of the national conference of chief secretaries on the theme of "States as Drivers for Transforming India." This was the first time that the Prime Minister addressed such a gathering at such an event. The chief secretaries spoke briefly on one best practice each of their respective states.
On UT's behalf, Adviser Parimal Rai presented the best practices being followed in Chandigarh. They included the food-for-all scheme, which was launched on January 2 this year, and the school on wheels for children with special needs, which was launched on June 23 last.
The Prime Minister was told that 3,000 food packets in seven specially fabricated mobile food vans were being distributed at seven locations across Chandigarh thrice daily at Rs 10 each.
With an aim to supply affordable, hygienic and nutritious food, each packet consists of a vegetable, six chapatis and pickle.
Similarly, Modi was briefed that more than a year after the successful launch of the first Kalam Express, the second Kalam Express was rolled out in Chandigarh on July 13. While the first bus was a refurbished Red Cross van, the new vehicle has been customised for the purpose.
In Chandigarh, during the past one year, the Kalam Express has identified 260 children with special needs that qualify for this assistance. The team was currently catering to 168 children in city slums. Among these, they have helped 36 children get admission to various government schools and six kids to special schools such as Vatika School in Sector 19 and the Institute for the Blind in Sector 26, Chandigarh. The new bus has more seating capacity which means it will be able to cater to more children at a time.
Speaking on the occasion, the Prime Minister said priority and approach mattered a lot in governance. He said, "We have a lot to learn from the experiences of states, which could provide the best solutions to problems and challenges". He said top government officials had the collective vision and capabilities to overcome challenges. In this regard, experience sharing was important, he stressed.
The Prime Minister said a team of young officers from across the states should now deliberate and learn from these best practices, by visiting each state and UT. "This will help in efficient adoption of best practices across states and UTs," Modi said.
Stressing the need for replicating the success of small states and union territories like Chandigarh by large states in one district to begin with, the Prime Minister made a special mention of Chandigarh becoming the first kerosene-free city in the country.
UT's best practices
Food for all
The first-of-its-type Annapurna Akshaypatra Yojana to feed the needy is the brainchild of UT Deputy Commissioner Ajit Balaji Joshi. Interestingly, this innovative food for all, which a few other states and UTs have already followed, involves no funding by the government and is purely funded by various organisations under their voluntary donations and CSR programmes.
The food for all has been planned to cater to the needs of almost 1 lakh workers of the unorganised sector, including 25,000 industrial workers and street vendors each, besides over 10,000 auto-rickshaw pullers living in Chandigarh.
"I wish that no one in the city should sleep in hunger and shed tears for food," this was Joshi's idea behind the first such initiative in the country. The scheme, costing Rs 1 crore, has been funded by various PSUs and NGOs under their CSR and voluntary donation schemes. The Indian Red Cross Society, Chandigarh, is implementing the project with the help of the UT Labour Department.
School on wheels
Another brainchild of UT Deputy Commissioner Ajit Balaji Joshi and his wife and Panchkula Deputy Commissioner Gauri Prashar Joshi, the Kalam Express is an initiative that aims to promote, develop and maintain the skills essential for children with special needs so that they can perform better in their homes and social setting. This is a mobile educational-cum-rehabilitation unit for children with special needs living in slum, rural and rehabilitation colonies of the city who cannot commute to schools for attaining education and also require different therapies because of their physical limitations.
The initiative is to provide services to special children who cannot afford it or are confined to their homes, and there is need to include them in the mainstream. A team of a special educator and a physiotherapist has been visiting these children in the mobile unit equipped with audio visual and tactile teaching aids like Braille kits, toys and special oro motor kits.
Top News