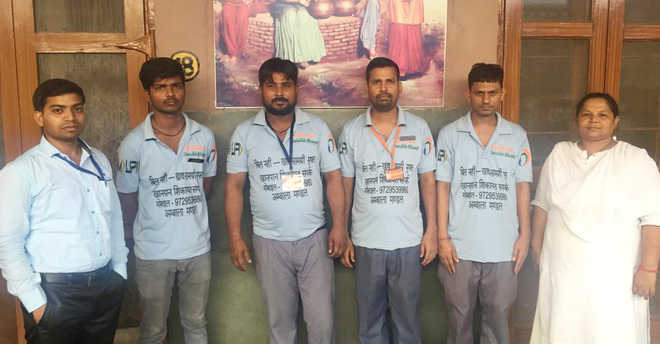 Tribune News Service
Ambala, September 8
In order to bring transparency, the Ambala Division has come out with an initiative to provide special uniforms (T-shirts) carrying a message, 'No Bill — Food is Free', to all catering unit vendors.
Hari Mohan, Senior Divisional Commercial Manager, Ambala, said, "In compliance with the instructions made by the Railways Minister, the division has taken an initiative to provide special uniform to bring transparency and discourage any sort of overcharging by catering vendors at the stations of the Ambala Division. The T-shirt also carries messages regarding Digital India, Swachh Rail-Swachh Bharat and payment through UPI/BHIM application."
The first-of-its-kind initiative taken by the Ambala Division has been implemented at all stations of the division such as Ambala Cantonment, Saharanpur, Yamunanagar, Jagadhri, Rajpura, Sirhind, Patiala, Dhuri, Bathinda, Kalka, Shimla, Abohar, Malerkotla, Sangrur, Nabha, Roopnagar and Nangal.
Earlier in January, in order to check overcharging, the Railways had implemented the 'No Bill — Food is Free' policy at the Ambala Cantonment Railway Station. Stickers were pasted on all catering stalls to make people aware that if the bill is not provided, the food is free. It is mandatory for vendors and stall owners to provide bill to customers. Also, POS machines were provided to the stall owners.
First-of-it-kind initiative
The first-of-its-kind initiative taken by the Ambala Division has been implemented at all stations of the division such as Ambala Cantonment, Saharanpur, Yamunanagar, Jagadhri, Rajpura, Sirhind, Patiala, Dhuri, Bathinda, Kalka, Shimla, Abohar, Malerkotla, Sangrur, Nabha, Roopnagar and Nangal.

The T-shirt also carries messages regarding Digital India, Swachh Rail-Swachh Bharat and payment through UPI/BHIM application."
Top Stories