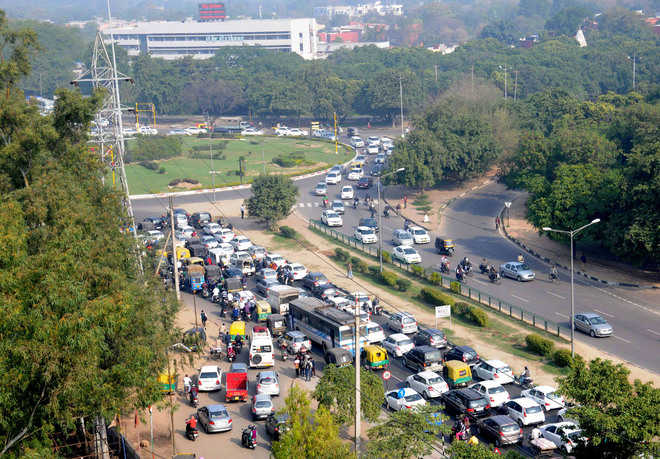 Flyovers are the only solution to traffic congestion in the city. As these can't be constructed due to space constraints in the city, such projects should be mooted for peripheral areas, which are still under development.
Ashish Uppal, Chandigarh
---
Will reduce accidents
The construction of a new roundabout at the Sector 46/47/48/49 junction is expected to check road accidents at the light point. To prevent mishaps, zebra crossings should be painted. Motorists should be educated to give way to the vehicles on their right at roundabouts. Honking-free driving should also be encouraged.
Priya Darsh Growar, Mohali
---
Rotaries needed for safer roads
Installation of traffic signals at busy intersections on main roads was never a wise step, particularly after demolishing the existing roundabouts as was done at Transport Chowk and Housing Board Chowk. Statics maintained by the traffic police prove that the frequency of fatal accidents is more near traffic signals than roundabouts. Therefore, a roundabout at the intersection of Sector 46,47,48 and 49 is a welcome proposal. It is always better to learn from past mistakes and take remedial measures rather than repeating the same mistake time and again.
SUbhash Luthra
---
Plan more roundabouts
Keeping in view the lower rate of accidents near roundabouts in the city, the construction of a rotary at the Sector 46, 47, 48 and 49 junction will have good results. The authorities may also plan more rotaries to check fatalities in road mishaps.
Gurjinder Singh Thuha
---
Keep rotaries small
Roundabout will help check accidents but their size should be small. It will facilitate quicker movement of vehicles. The construction of roundabouts will also be economical than fixing traffic lights in every corner of the city.
Tarlok Singh MHC, Mani Majra
---
Cooperation of commuters a must
It is essential to have roundabouts along with traffic lights. In addition to it, the Chandigarh Police should shoulder greater responsibility and create awareness among people about traffic rules. The cooperation of commuters is also desirable for road safety. Youngsters need to observe discipline while driving. No one should be given liberty to endanger others' lives.
Sardul Singh Dhawan, Chandigarh
---
Will save lives
It is very good idea to construct roundabouts to prevent accidents. There should be a rotary after every one kilometre as it will help check speeding. It is a life-saving exercise.
Vinod Shetty
---
Welcome proposal
The proposal of the Chandigarh Police to construct a roundabout at the junction of Sector 46/47/48/49 is right. It is in the interest of residents. All major intersections should have roundabouts along with traffic lights. This will help tackle the tendency of jumping red light.
BS Cheema, Mohali
---
Caution people about accident-prone spot
The construction of a roundabout at the most accident-prone light point of Sector 46/47/48/49 will save many lives. The traffic police should also install signboards, telling commuters about this accident-prone spot. Speed-breakers should also be constructed near the intersection.
RK Kapoor, Chandigarh
---
Will add to beauty quotient
The proposed roundabout can help reduce accidents. Moreover, these add to the beauty of the city. Chandigarh is known for its roundabouts and this will be a welcome addition.
Bharat Bhushan Sharma, Chandigarh
---
Ensure presence of traffic policemen
In addition to the proposed roundabout at the Sector 46/47/48/49 junction, all existing roundabouts should be retained. More rotaries should be constructed, wherever required. Traffic lights and CCTV cameras should also be installed to tackle rash driving. The presence of the traffic police should also be ensured all roundabouts and traffic lights. It will help tackle rash driving.
AS Ahuja, Chandigarh
---
Commuters don't care about traffic lights
The proposal to construct a flyover at the Sector 46/47/48/49 junction by the Chandigarh Traffic Police should be welcomed. Commuters are least bothered about traffic signals. Roundabouts in combination with traffic lights at road intersections help tackle speeding, reducing chances of mishaps. The proposed roundabout will certainly reduce accidents.
Renu Rajinder Pal Singh, Chandigarh
---
Be strict with violators
Despite functional traffic lights, the intersection of Sector 46/47/48/49 has witnessed the maximum fatal accidents. Rash driving and utter disregard to traffic rules are the reasons behind these accidents. Keeping this in mind, the police have proposed to construct a rotary at the intersection. It may be recalled that due to increasing congestion in the city, a number of rotaries have been replaced with traffic lights, which is not the solution. The need of the hour is to curtail rash driving by penalising the violators. Besides, an awareness campaign must be launched in this regard. Students should be told about the traffic rules. Strict action should be taken against the violators.
SS Arora, Mohali
---
Construct speed-breakers
The proposed roundabout should be welcomed as roads turn deadly in their absence. The police should also be deployed at roundabouts and speed-breakers should be constructed to check speeding. Awareness should be created about traffic rules and strict action should be initiated against the violators. The cooperation of people is a must.
Vidya Sagar Garg, Panchkula
---
Redesign roads for safety
Everyday, a large number of commuters meet with accidents. These accidents occur mainly due to the negligence and carelessness of drivers. There is a need to rein in the commuters who do not care for others. It is equally necessary that roads are designed keeping in safety of commuters in mind. The use of seat belts must be made compulsory. Traffic lights must be installed at all T-points and rotaries in order to prevent chaos and mishaps. The police should be strict with violators.
Dr Shruti K Chawla,
---
Safety comes first
India has one per cent of automobiles of the world but accounts for 15 per cent of road accidents. The most unfortunate part is that 16 people die in road accidents every hour. The construction of a new roundabout may reduce the number of accidents in the city. In addition to it, speed-breakers should also be constructed.
Harish Kapur, Chandigarh
---
Rotaries help regulate traffic
Roundabouts help regulate the speed of vehicles and ensure a smooth flow of traffic. In their absence, people drive rashly, ignoring traffic rules. This results in a large number of accidents. Constructing a roundabout at the intersection of Sectors 46,47,48 and 49 will be a right move, which will help check accidents.
RPS Chopra, Mani Majra
---
Reconstruct demolished roundabouts in city
Roundabouts make roads safer besides ensuring a smooth and continuous flow of traffic. Even if an accident takes place near roundabouts, the damage will be less. Roundabout and traffic lights are important to control traffic and accidents. So, the demolished roundabouts should be constructed again.
Opinder Kaur Sekhon,Chandigarh
---
Ensure lighting at road crossings
The proposal of the roundabout at the intersection of Sector 46/47/48/49 is a step in the right direction. It will curb rash driving. With this, commuters will also take care of a smooth passage of traffic. To curb accidents, proper lighting should be ensured at road crossings. If possible, small elevated speed-breakers can be installed to curb speeding. The traffic police should erect nakas to ensure that people follow traffic rules.
Dr Rajeev Kumar, Chandigarh
---
Top News
He will also take part in the International Dussehra Fair at...
The Ministry of Defence spokesperson from Tezpur says the mi...
45-50 people, including women and children, were on the bus
Reason for the crime not yet known
Another encounter at Moolu in the same district is in progre...