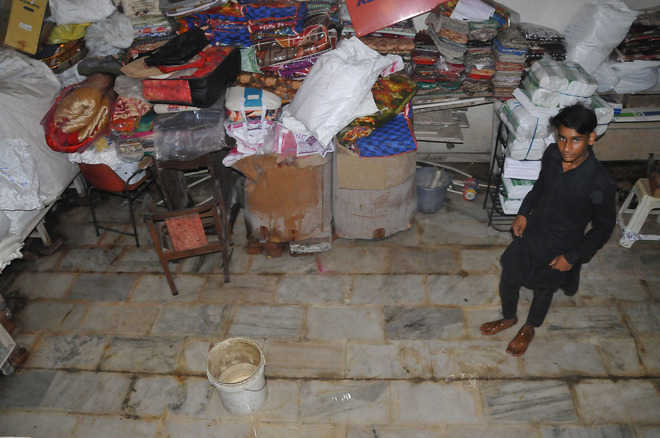 Akash Ghai
Tribune News Service
Mohali, September 12
After causing huge waterlogging in certain parts of Phase 11, choked storm water drains in the area have now started playing havoc in buildings having basements here.
According to occupants of showrooms in the main market here, water has seeped into the basements of their showrooms. Besides, paver block pavements have also given way at many places, creating pits.
Manmant Singh, owner of a showroom in the market, said he was shocked to see water in the basement of his showroom. "I have rented out my basement to a bank. On Tuesday, bank officials told me that underground water had seeped into the basement, damaging furniture and other wooden structures," he said.
Sumit Jindal, who runs a hardware shop in a showroom in the same lane, had a similar complaint. "There are a few more showrooms in the lane which are facing a similar problem," said Jindal, adding that some of them had suffered losses as the water had damaged their items.
Businessmen claimed that storm water drains alongside the road leading towards Sir Mcauliff School were silted heavily in the vicinity of the market.
"Due to the choked pipelines, accumulated rainwater is being absorbed by the soil instead of being drained away to the seasonal choe near the PCA Stadium. This is affecting the foundation of the showrooms in the area with water seeping into the basement of some of these," said a businessman, adding that they were spending a lot of time and effort in removing water from the basements manually or using motors.
The businessmen claimed complaints were being made to the authorities in this regard.
"We demand quick action before the situation gets worse," said one of them.
Top News
Teams conducting raids to arrest the BJP leader
Jaishankar meets UN Secretary-General Antonio Guterres and P...
Canada is home to about 770,000 Sikhs - the highest populati...
Canada has alleged that Indian authorities were behind Nijja...