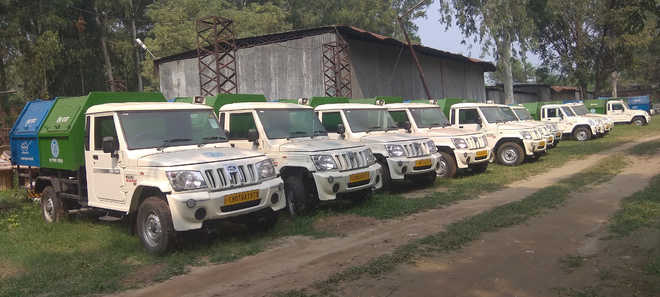 Sandeep Rana
Tribune News Service
Chandigarh, October 17
While the MC is challaning residents for not segregating waste, its 49 two-cabin vehicles worth about Rs 3 crore are lying unused as waste collectors prefer using rehris only. On top of it, the cash-starved MC is going to shell out Rs 10 crore on buying 135 more such vehicles.
MC officials said they had procured 99 two-cabin Boleros for wet and dry waste segregation in August for Rs 6 crore. Fifty of these were being used for collecting segregated waste in UT villages where the project had been implemented.
In the absence of a pact with garbage collectors, the civic body could not replicate the pattern in sectors where the segregation project was launched on October 12.
Many of such vehicles are lying at the MC store in the Industrial Area, Phase I.
Private collectors, who are presently receiving garbage from households in the city, did not agree to two main things — using vehicles instead of rehris and coming under the corporation.
Hence, uncertainty over the use of the remaining twin-compartment vehicles continues while the corporation is all set to splurge public money on more vehicles.
Expressing surprise, Devinder Singh Babla, Leader of the Opposition in the MC House, said, "They are only befooling public and councillors. They do not have money for urgent works like road recarpeting. From where do they get funds for vehicles? There is something fishy about the whole thing. They should first make people aware before wasting huge public money. No vehicle is used in the city for segregation and not even 25 per cent segregation is done here."
Charanjiv Singh, nominated councillor and chairman of Chandigarh Beopar Mandal, said, "Why are vehicles lying dumped? These should be put into use in markets as soon as possible."
Officials concerned said they would use these vehicles in markets from November 1. Some of these vehicles are used for creating awareness about waste segregation in the city. MC Additional Commissioner SK Jain said, "The remaining vehicles with us will be used in markets soon."
OP Saini, chairman, Door-to-Door Garbage Collection Society, said, "Officials say they will use these vehicles in the areas that are not being catered to by private waste collectors. But we are covering all households. At some places in markets, we are collecting garbage while at others, owners manage it themselves. We do not know when and where they are going to use these."