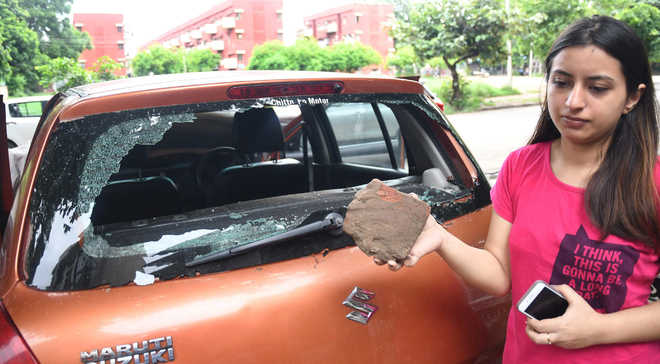 Tribune News Service
Chandigarh, July 27
Miscreants smashed the windowpanes of 14 vehicles in Sector 37, 40 and 41 in the wee hours of Friday and stole valuable items. According to police sources, the number could be higher as many people did not report the matter to the police. However, the DSP of the area and the SHO denied the same.
The first call was received from Sector 40-A at 2.26 am when the police were informed that two Activa-borne miscreants had smashed the front windscreen of a Ford Figo car. An Audi car was next, which lost its rear glass.
As the night passed, the police received more calls; the next came at 3.55 am saying that someone had smashed the rear glass of an Innova car, parked outside a house in Sector 40-A, and also the driver side window of a Safari nearby. At 5.41 am, the front windscreen of an Etios car was smashed. An i20 and another Ford Figo were similarly damaged.
Yet another call was received at 6.20 am from Sector 37 where the rear glass of a car had been smashed. Six minutes later, a Swift car in the same area lost its driver side glass in a similar fashion. A Skoda and a Ritz car lost their rear glass as well. Three other cars in Sector 37 — an Alto, an Innova and a Fortuner — met the same fate.
While the crimes were reported to the police, it failed to nab any accused. According the Sector 39 police station SHO, Inspector Rajdeep Singh, "There are six or seven accused, who used motorcycles and Activas. However, we have yet to identify them."
The police are gathering CCTV footage from the areas to narrow down on the accused, but have failed to get any vital clue as the cameras lacked night vision. The lone white Activa scooter that was reportedly used in one of the incidents had a Haryana registration plate.