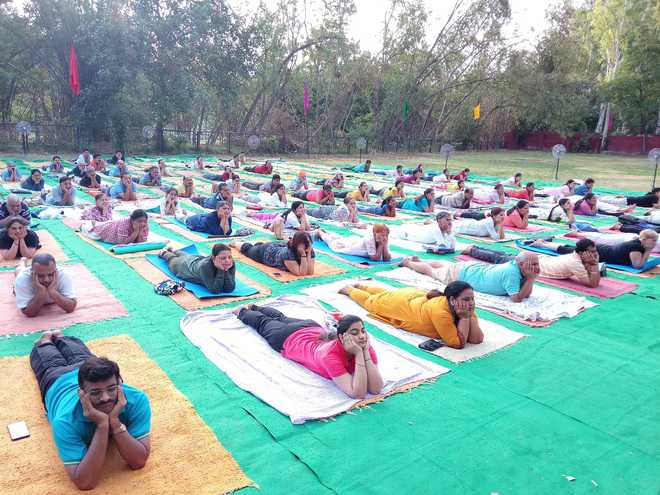 Chandigarh, June 14
The two-day workshop and seminar on 'Yogadhara-Explore Yourself with Yoga' concluded at Government College of Yoga Education & Health, Sector 23, here today.
The event was conducted as part of the celebrations of the 5th international day of yoga. The workshop started on June 13 with a practical session in the morning by Prof Dr GD Sharma, former chairman of the Department of Yoga Studies at the Himachal Pradesh University and head of the Department of Yoga Science at Patanjali University, Haridwar. He emphasised on the importance of Vajra Asana, Mandukasana to strengthen the digestive system.
The second session of the workshop was conducted by Srinivas Murti, an eminent personality in the field, who gave dietary tips that are to be followed in daily life. A seminar was conducted today with a lecture on "Authenticity of Yoga amongst Youth in the Modern Scenario" by Dr GD Sharma, followed by a session on yoga therapy for modern disorder by Dr Kashinath Metri from SVYASA Bangalore.
A lecture on "Ayurveda and its Relevance in Modern Life" was delivered by Dr Rajiv Kapila, nodal officer, National Ayush Mission.
This was followed by a practical session on 'Bhakti Yoga' by Pandit Harish Sharma and Dr Gunanidhi Sharma. Dr Mahender Singh, Principal of the college, presented a vote of thanks to the participants. Around 450 persons participated in this event. —TNS