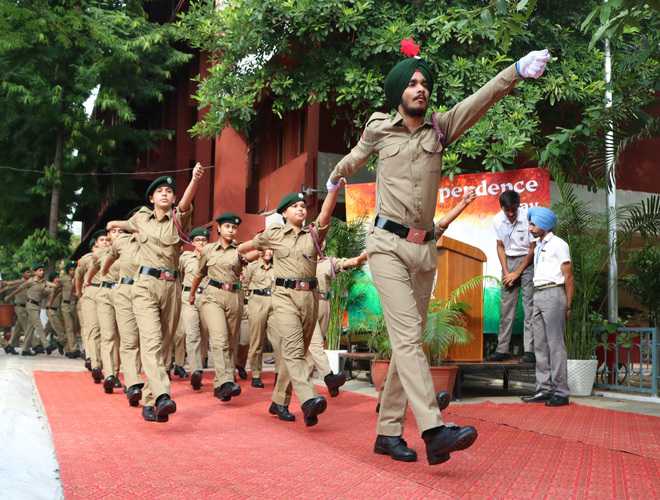 Saluting the nation and its freedom fighters on the occasion of Independence Day, the staff and students of Yadavindra Public School marked the occasion with a march past by two contingents of NCC cadets. After the flag hoisting ceremony, Head Boy Tanveer Mangat asked the students to be respectful and responsible citizens of the country and abide by the law.
Tribune Model, Chandigarh
As many as 145 students of Classes I, II and III celebrated song and rhyme day on to mark Independence Day. Principal Vandana Saxena congratulated the team for putting up a wonderful show. Students presented handmade rakhis for soldiers in Ladakh as a gesture of love and gratitude.
KB DAV, Chandigarh
KBDAV-7 echoed with the patriotic beats to mark Independence Day. The celebrations ended with the national anthem. Principal Pooja Prakash congratulated the participants who made the Independence Day celebration a success.
Guru Nanak Public, Chandigarh
The 73rd Independence Day was celebrated with grandeur at Guru Nanak Public School, Sector 36D, Chandigarh. The day started with 'shabad' recital followed by the flag hoisting ceremony and the national anthem. An impressive parade by NCC volunteers filled the air with patriotism and national spirit. The students presented a programme which was a perfect blend of various dances, speeches, poems and patriotic songs.
Saint Soldier, Chandigarh
Grandparents Day was celebrated at Saint Soldier International School, Chandigarh. Students of nursery put up a splendid show for their grandparents. The grandparents were presented with handmade cards as a token of love by the students. Everyone participated enthusiastically in various games.
Shishu Niketan, Panchkula
A cultural fest — TARANG — was organised at Shishu Niketan Public School, Sector 5, Panchkula. It depicted tradition, culture and eating habits of different states. Parents in large number were present on the occasion and enjoyed the delicacies and culture of Rajasthan, Haryana and Punjab. They appreciated the efforts of teachers and students and also shared their views that such events helped children to gain knowledge and give them an exposure to the culture and tradition of different states.
Govt Model-45, Chandigarh
Member of Parliament, Kirron Kher, inaugurated a basketball court, assembly stage and cycle stand at Government Model High School, Sector 45C, Chandigarh. Chandigarh Mayor Rajesh Kumar Kalia, Deputy Mayor Kanwarjeet Rana and Deputy Director Adult Education Rajinder Kaur were present.
Tribune Model, Chandigarh
The Science Department of Tribune Model School organised an exhibition — Sciencbition. The topic was 'Science from trash'. The objective of the exhibition was to make students understand the interdependence between science and daily activities. The exhibition was inaugurated by Principal Vandana Saxena. The exhibits included science activities, working models, fun games and projects to reduce carbon footprints.
Mount Carmel, Chandigarh
The environment fortnight celebrations concluded at Mount Carmel School. Ajay Shukla (India News Editor-in-Chief) was the chief guest. The programme began with a welcome dance and the guests were felicitated. The School Cabinet & NSS Volunteers presented the school magazine, 'Excelsior', and a sapling to all guests. Bhangra and a fusion dance mesmerised the audience. tns