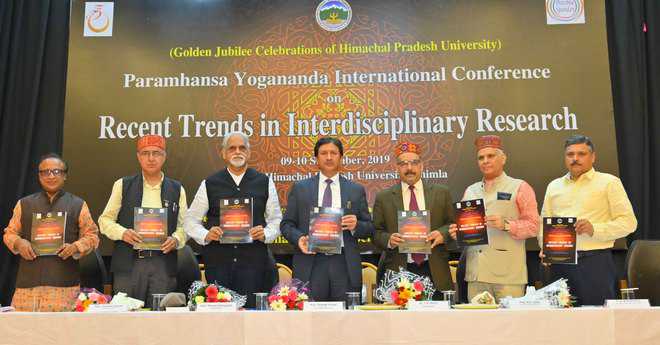 editorial@tribune.com
The Himachal Vigyan Adhyapak Sangh (Science Teachers Union) has opposed the proposed amendments to the Recruitment and Promotion Rules. Members alleged that misinformation was being spread to reduce the quota of trained graduate teachers (TGTs). "At present, there is promotion quota of 50:50 for lecturers and TGTs, but due to shrinking posts of headmaster, the promotion avenues of TGTs have been blocked and a large number of teachers have not got even a single promotion," president of the union Manojpal Singh Parihar said. The TGT cadre with a strength of 25,000 is concerned over reports of amendments to the rules for promotion to posts of headmaster, principal and deputy director as the strength of headmasters has been reduced from 1,459 to 822 due to upgrade of high schools.
Trends in inter-disciplinary research
A two-day international conference on recent trends in inter-disciplinary research is being organised by the department of visual arts, HPU, in collaboration with Pratibha Spandan Society. Speaking at the inauguration, chief guest Vice-Chancellor Prof Sikander Kumar said earlier, research was confined to single discipline, but when it came to solving big problems, the research goals had to cross the borders of single discipline, paving the way for the inter-disciplinary research. Chairman of the department Prof Him Chatterjee said it was the right time to discuss the issues related to inter-disciplinary research, which could meet the increasing demands of contemporary world. More than 175 delegates from different countries and states are participating in the conference.
World Physiotherapy Day
Students of Bahra University, Waknaghat, organised a free physiotherapy camp on the occasion of the 68th World Physiotherapy Day. Vice-Chancellor of the university Dr Piush Verma was the chief guest. The camp was organised under the supervision of head of the department Dr Kanika Singh and Dr Sunil, Dr Parul Sharma and Dr Aatika. Many patients from nearby places came to get examined at the camp, while a special fitness test was conducted for athletes. People were educated about the correct posture and precautions to be taken during back, neck and knee pain. The event was successful in promoting awareness about the benefits of physiotherapy in prevention, maintenance and treatment of injuries.
Cities