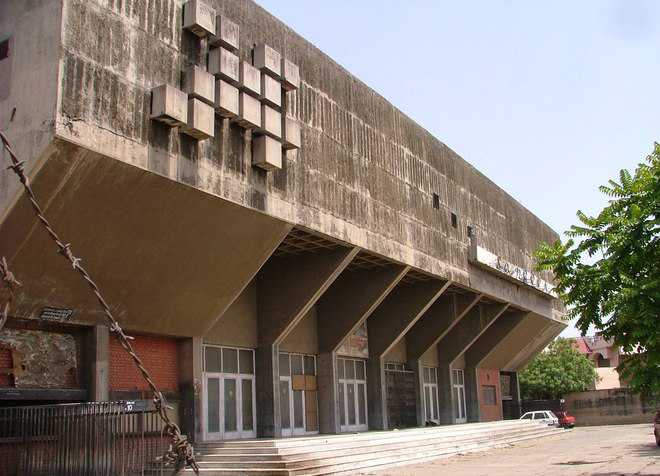 editorial@tribune.com
Manav Mander
Tribune News Service
Ludhiana, March 5
City's cinemas, which were once considered a favourite hangout for people of all age groups, are now going into oblivion. Sprawling malls with multiplexes are fast catching on. While a few cinemas are forced to screen Bhojpuri films, others have been demolished to make way for malls.
These cinemas might be in ruins but residents still call the roads and chowks named after them as earlier. Malhar Road, Naulakha Road, Aarti Chowk and Kailash Chowk are some of the landmarks named after the cinemas. Except Aarti cinema, all other cinemas have either gone or are lying in ruins.
The city's oldest movie theatre, Minerva, which existed since pre-independence times, was the first to be demolished to make way for a shopping complex, Minerva Complex. The second oldest cinema, Reikhi, which came up in 1933, has gone into oblivion and the third oldest theatre, Naulakha, made way for a shopping complex in 2011.
Sadly, Society cinema, which was among the posh cinemas of old times and hosted many premieres, have also given way to a shopping mall. Stars like Raj Kapoor and Mala Sinha had visited Society cinema during various premieres. The premiere of Rishi Kapoor's debut movie "Bobby" was also held here. Raj Kapoor visited the cinema then.
A few from the city knew that the Society cinema also housed one of the oldest Billiards Club of the city.
The club was formed in 1960 exclusively for the members and partners of the cinema after it was started in 1957. National-level billiards players, including Michael Ferreira, Geet Sethi and Satish Mohan, have played on the tables of this club.
Old-timers say things were not always like this. Before the multiplexes came up in the city, the cinemas remained full to capacity during their boom days.
"Gone are the days when these cinema halls were full of audience. These were, in fact, the only source of entertainment. But as the time passed, things changed. With the entry of multiplexes, cinemas have taken a back seat. I have even watched many premieres here but today, nobody likes going to these single-screen cinemas," said Gurdev Singh, a senior citizen.
"Today, we have multiplexes but this concept started a long ago. Arora, mini-Arora and midi-Arora were three movie theatres in the same complex. Although it was different from multiplexes, we can definitely say it was the beginning of the era of multiplexes," said Santosh Kumar, another senior citizen who is a retired teacher.
Deepak Cinema, which is also among the oldest cinemas, has been turned into a parking lot. A man standing outside the gate instructs visitors to park their vehicles properly. Instead of the poster of a film, the wall of the cinema has a poster with parking rates mentioned on it.
"Screening of films has long since been stopped here as people no longer show interest in watching movies at a cinema. For a brief period, Bhojpuri movies were screened here but since things were not working out, screening of those movies was also stopped. Customers visiting Bhadaur House and AC market face a lot of parking problem, so the place has been turned into a parking lot," said Raju, a tea vendor.
While most cinemas are screening Bhojpuri movies, Aarti and Orient are doing a hand-to-mouth business.