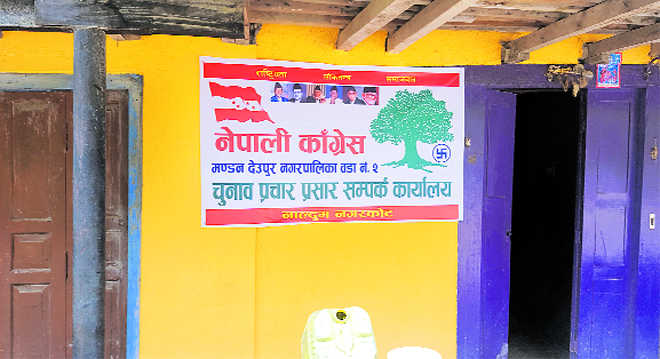 LAST week I was in Nepal for a spot of hiking and trekking and a lungful of fresh air. I had last visited Nepal in 2013. The mood in Nepal since has discernibly changed. An audible ping of unfriendliness can be heard. The bad and bitter memories of the unofficial economic blockade we inflicted on Nepal two years ago have not faded away. The sour mood has travelled beyond Kathmandu.
It is not what the Nepalese say; it is what they do not say. And what they no longer display is the old warmth, instant effusiveness, the pleasant welcome-ness that the Indians could smell.
The cabbie who drove us from Kathmandu to our northerly destination, Nagarkot, just refused to engage in a dialogue about the Nepali politics. And when a question was asked about the madhesis, he simply turned up the volume on the car radio. End of conversation. A point made.
Compared to my recollections of the last visit, there was this time a marked reluctance to use Hindi by the ordinary Nepalese. An articulate young Nepali, who runs a health NGO in the interior area, politely told me that he would rather speak in English because he found conversing in Hindi somewhat tiring. A motorcycle-taxi man insisted on not using Hindi because, as he put it, "I am trying to improve my English." And in all this "no Hindi, English only" demeanour was a tinge of gentle defiance: "If you feel offended, so be it."
The most glaring and disconcerting change is the non-acceptance of the Indian rupee. Earlier, the Indian rupee was the king, the most acceptable currency even in the remotest part and it was this that would give an Indian visitor a sense of easy acceptance and brotherly oneness in Nepal. Now, after demonetisation, the Indian currency is worthless.
The hotel displays exchange rates in Nepali rupees for US dollar (98), euro (106), pound (123), Singapore dollar (70), Chinese yuan (13), Canadian dollar (73), Australian dollar (75), Japanese yen unit 10 (08.00). No Indian rupee, traded or accepted.
China is pretty visible. For two days in a row, the local newspapers headlined Nepal's association with China's One Belt, One Road. Nepal and China signed an MoU just two days before the May 14 Beijing summit. Nepal's Foreign Minister Prakash Sharan Mahat was quoted as saying that it was the beginning of "a new chapter" in "areas of foreign investment and trade promotion in Nepal." India was no longer the only option for partnership and commerce.
Nagarkot seemed full of tourists from China - besides the usual quota of the European backpackers. The Indian tourists were conspicuously fewer.
Of course, there was an inward preoccupation with the local elections, taking place after a gap of 30 years. Yet the absence of India could be easily felt.
Admittedly, not all links with India are snapped. Yes, matar paneer and dal makhani are still being served in the restaurants; and, lots of Indian goods are on display in the bazaars. And, there is no overt hostility; no marked unfriendliness; just surliness towards India and Indians.
*********************************
FOR a walker, there are miles and miles of forest around Nagarkot. Trails are enchanting, though rather poorly marked. One day I was out on a solo hike. At one stage, I seemed to have lost my way; rather I was confused at a particular crossroad and had to make a decision; I was waiting for some motor-cycle rider or a local person to pass by and from whom I could seek correct direction. Just then I spotted a foreigner, seemingly confronted with the same dilemma, though she had a map. I walked over to her. She was from France but spoke fluent English. She had a detailed map of the area; after a consultation, we agreed on the route I needed to take to make it back to my hotel.
It was a brief conversation. The young lady was understandably wary of prolonging the conversation, leave alone injecting any warmth in the brief interaction. I politely thanked her for letting me consult her map. As a parting shot, I said: "You had a good election in France recently."
Those turned out to be magical words. She grinned and smiled. She fell in step with me and prattled about the French election. She animatedly shared her sense of relief that Marine Le Pen of the National Front has been comprehensively rejected, that Emmanuel Macron has been elected President, and that France has been saved.
Yes, she was pleased to tell me that like a good and responsible French citizen, she too, had done her bit and voted, with a postal ballot.
The young lady was quite emphatic: "France cannot have a Donald Trump-like vulgarity."
*********************************
NOW that I am in a mood to talk about difficult treks, let me talk about the Char Dham yatra in Uttarakhand. This involves pilgrimages to the holy shrines at Kedarnath, Badrinath, Gangotri and Yamunotri.
According to a news item a few days ago, as many as 17 pilgrims have died in that many days at these four arduous and difficult destinations. Similar casualties are periodically reported from the Amarnath yatra. Most of the time, the pilgrims are far from physically fit and predictably unable to cope with the demands higher altitudes make on stamina.
In the last two decades, organised attempts have been made to mobilise and motivate people to undertake these pilgrimages. This is part of a larger political design to inject 'religion' into our collective affairs. The case of the Amarnath yatra gets particularly laced with nationalistic feelings; the yatra gets almost reduced to a flag-waving exercise. And, no one seems to give a thought to all the environmental damage we inflict in the process on all these sacred sites.
*********************************
A few days ago, the news channels were all excited about raids on the offices and residence of Karti Chidambaram, son of P Chidambaram, the former finance minister. As is the standard operating procedure in such "raids", the ubiquitous "agencies" tell the world that "incriminating" documents have been seized. Guilt is immediately deemed to have been proven — and, political brownie points made.
Now, Karti is not the world's most likeable man. I have met him only once; he had loutish airs, very becoming of a son of a Union minister. Nor did he come across as a particularly bright young man. But, now the two agencies — the Central Bureau of Investigation and the Enforcement Directorate — would have us believe that this boy is an accomplished financial wizard.
An NDA member in the Rajya Sabha (who does not deserve to be named) has complained that the "many media houses whose owners are friendly and in collusion with Chidambaram (the father) tried to black out the news." This gentleman has, therefore, taken to social media to put out details. How an outsider can have access to the agencies' internal reports need not bother us, for now.
Of course, the veracity of these details would have to be proven in a court of law. And we do know that the CBI and ED have a very poor record of winning their cases in a court of law; they are happy to play second fiddle to their political masters' needs to paint the rivals with selective leaks and mudslinging. All this is par for the course.
I am most impressed with the presumed "achievements" of this young man. If the damning details are to be believed, Karti is worth at least $10 billion. I believe only a man with a crooked brilliance can squirrel away the kind of humongous wealth that Karti is supposed to have made. Simply being a minister's son does not make anyone a financial genius. He must be a natural.
If the Finance Minister, Arun Jaitley, believes even one-tenth of what the ED and income tax investigators are putting out about Karti, then this not-so-young man should be immediately drafted into his ministry and his services should be used to go after the trillions of dollars in black money that are yet to be retrieved from the Swiss banks. The old principle: it takes a thief to catch a thief.
And, no, I will not invite Karti to have a cup of coffee with me. But, you do join.
Top News
The minister's comments come against the backdrop of the US ...
Describing the allegations levelled by Justin Trudeau agains...
Raids 51 places in Punjab, Haryana, Rajasthan, UP, Delhi
7 fire tenders from nearby areas rushed to the spot
Ashwani Kumar's work on potential reduction in TB treatment ...