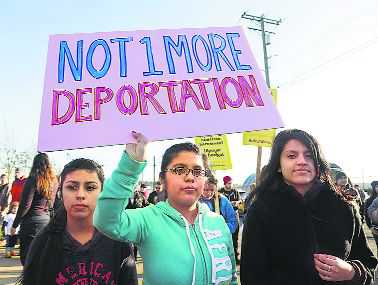 Tanushree Ghosh
Just approximately a week before the US mid-term elections on November 6 (possibly to recharge his base assumed to be anti-immigration), US President Donald Trump created sound waves announcing he will be pushing for the removal of privilege granted by above 30 nations to children born on their soil — birthright citizenship.
Whether or not that would be feasible to push through, and whether or not President Trump would continue on this agenda after the election result is doubtful, but the announcement itself calls for profound reflections.
A point to remember here is that India largely follows citizenship by the right to blood, not by right to the soil. But the point of this article is not to debate the merit and rationality of one versus another philosophy. The attempt here is to understand why and how a nation mostly made of immigrants and having predominant population inheriting citizenship through right to the soil (after-all, there is historical pretext on the US (and any nation) have chosen one philosophy over another for citizenship) is considering this possibility. If not for citizenship through right to the soil, most of the Americans (US citizens) today won't be so.
It's no secret that it is believed that a lot of immigrants choose to make the US their long-term or permanent home and give birth to children here to have US citizenship availed to their next generation. And the belief is largely true. Human ambition is to seek betterment, and there obviously are significant benefits to being a US citizen — from convenience to access. So the base that has concerns on diversification of the US and the changing face of the country's population, doesn't want this right to be available to people here illegally, temporarily, or unjustly (real or perceived), even if the undertone of intolerance and racism is left alone.
Although the intended target of this latest in the series of anti-immigration rhetoric of the Trump administration are the children born in the US to folks who are in the country illegally (and that too primarily from Latin America as hinted), the effect of the sentiment weighs heavy on immigrants of all nationalities, irrespective of their legal status. A huge section of the first generation immigrant population in the US is from India, China and the Philippines, and once here in the country — they bear children (like I did too) who are born US citizens. The ripples, therefore, are going far and deep, from disbelief and hurt to panic and dismissal.
Yes, it would be very hard, if not impossible to do — for changing the Constitution in any country is no small task. But still, it's the thought that counts. From holding off on having children to dashing for US citizenship — the whispers, fears, and speculations have ranged wide in the Indian diaspora, as has denial. There is no way this could be allowed to happen. Can it be?
Well, who knows? Post-2016, nothing seems impossible anymore. But now that the mid-term is over, President Trump's pre-occupation has shifted to a few other concerns and this agenda of his that has faced strong criticism from most of America might be left alone. At least for a while.
Top News
Says one of the Bills seeks to give representation in Assemb...
Among the 10 who put in their papers are nine Lok Sabha MPs,...
Resignation of Union ministers also revived speculation of r...
The withdrawal of statement by MP Senthil came when the Hous...
The Punjab DGP office had written a letter to Rajashthan Pol...