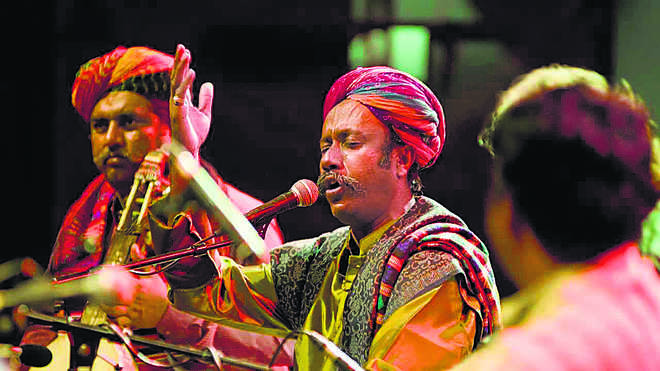 Saba Naqvi
This Eid has passed without someone being lynched and that is a relief. But as we try to lynch the Muslim out of the Hindu, a civilisational past is perhaps being rendered irrelevant. Take Rajasthan where we have seen some horrific hate crimes. Besides the lives lost, a delicate civilisational strand is being crushed as the state is a part of India that has nurtured several liminal communities and shrines.
Liminal means existing at the boundaries of absolute identities' a more familiar word in India is syncretic and the common phrase used is "composite culture".
Alwar, the same district where Rakbar Khan was lynched just a month ago, is part of the belt known as Mewat that can today be called the ground zero of lynching (last year Pehlu Khan was killed in the same region).
Mewat is also the home of Meo Muslims, who claim to be descendants of figures in the Mahabharata; they have traditionally followed many Hindu customs. They are known for their narration of folk epics and ballads and among the epics derived from Hindu lore is their telling of what is called the Pandun ka Kada, the Mewati version of the Mahabharata.
The recent spiral of hate crimes has only contributed to an unravelling of such strands. In the face of the "Us versus Them" narrative, those who stand on the peripheries face the greatest existential challenge. And greater security is often seen in embracing a more absolute religious identity.
Caught between the Hindu fundamentalism and Islamic puritanism, most syncretic communities in the Hindi belt are undergoing a gradual transformation and the Meos are no exception.
Yet, folk songs are part of shared memories that cannot be forgotten so easily. In the desert districts of the state, the Manganiyars and Langas are Muslims, whose fame has now spread across India as their distinct songs have also been incorporated into the music of Hindi cinema. The Manganiyars, in their colourful turbans and dhotis, have traditionally performed at ceremonies in Hindu homes and have a large repertoire that includes bhajans.
How deep these cultural links are can be illustrated by the fact that one of the most popular Sati cults of Jaisalmer district, that of the Bhattiani Sati Rani, has a link to Manganiyar singers; the legend goes that it was a Manganiyar who came across the spirit of Sati Rani and promised to appease her by building a temple and singing songs in her praise. Because they are associated with the origins of this Sati cult, the Manganiyars have a right to perform and collect a part of the offerings at each shrine dedicated to the Bhattiani Sati. Yes, there is a shared culture even in regressive customs.
Folk deities have a far greater following in Rajasthan than the Brahmanical high gods. The five major folk gods of the state are Tejaji, Pabuji, Mehaji, Gogaji and Ramdevji, and the last two are worshipped by Muslims as well. Ramdev baba has been seen as the deity of all lower castes, Hindus and Muslims. While Hindus consider him an avatar of Vishnu, Muslims say he is the reincarnation of a Sufi named Ramsa Pir. Baba Ramdev's main temple complex is in Ramdevra village between Jodhpur and Pokhran. It houses a samadhi built over his last resting place, which marks his prominent followers and the tombs of five Sufi Pirs, who are part of the Baba Ramdev lore.
It's a classic example of a syncretic tradition, but there are attempts by some to delink Ramdev from the Sufi connect and present it as part of the Brahmanical pantheon as another Vishnu avatar. Yet, in the popular culture, he is still known as Ramdev pir or Baba Ramdev pir. Some things cannot be killed. Changes in perception are, however, taking place faster than we can understand the anthropology around the popular religion. But we must accept that be it Rajasthan as in other parts, our composite culture has not been any protection from doctrines of hate. Yet, it exists, even in the midst of hate, as a beautiful reminder of what could have been. So no, it's not a compost heap just yet.
Top Stories