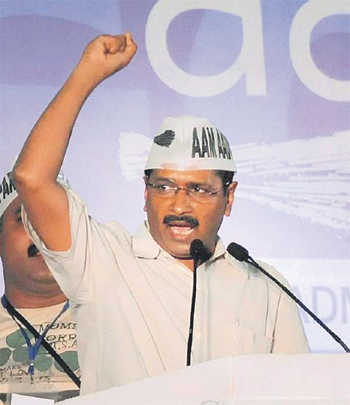 Let me confess. I've been having a vacation in Goa and pretending to work. Honestly, that's what journalists often do. We take off for what appears to be a long grueling assignment, after which we are supposed to be bestowed with greater wisdom about matters such as the electoral preferences of Indian voters.
Confession number two is that after a week I'm no wiser as to what the outcomes will be in Goa, but I can say that AAP is running the most charming and energetic campaign. They have hit the ground running before the BJP and Congress firmed up their candidates besides which there are a host of small parties and popular independents that actually make Goa politics quite complex.
But back to AAP, often presented in the mainstream media as an anarchic force that has no business being in politics. So I decided to check up on what sinister activities they could be up to. First I went to an evening rally in a lovely little town called Vasco. It was suspiciously like a party. There was a pop group called Vision 3 belting out popular Hindi and Konkani songs. A pretty young girl in very high heels and a young man were singing and dancing and I thought that could be against the public order but maybe things are different in Goa. Then the local leaders started to speak and they had lovely names like Karl Vaz (not Marx I joked) and Elvis Gomes (not Presley) and Olencio and Loretta and so on.
Then Arvind Kejriwal arrived and started with full throated cries of 'Bharat Mata ki Jai', 'Inquilab Zindabad' and 'Vande Mataram.' I was happy to note that he's not missing any slogan before he went on to deliver a thumping speech. In the end he told the people to accept all cash inducements offered by other parties, to make sure it's in new notes, but vote for Jhadu. (The local BJP would later lodge a complaint to the EC over this speech but that's another story).
To stick with AAP, the next morning I made my way to a building in Panjim where the national team of AAP was lodged. In one flat volunteers had set up an office. In another, Arvind was talking to local journalists. It was the third flat that gave me a shock: I realized that the national luminaries of AAP handling Goa were bunking it like college students in an overcrowded dorm. AAP figures like Ashutosh (former TV anchor) and key people behind the Delhi win such as Pankaj Gupta were living in rooms shared with volunteers, eating in a common kitchen and plotting politics. (Ashutosh even showed me the washing line where the clothes that he'd washed himself were drying and an iron they all use).
I then sat down with this cabal aiming to bring chaos to India and asked them about costs. What costs, snapped Ashish Talwar, Arvind's usually amiable political advisor who has also been temporarily sent to the boondocks. He added that costs are there if you live in a five star hotel and hire workers and cars but AAP was managing on the goodwill of local supporters and the faith of some volunteers. I pressed on, what about the costs of a helicopter for Arvind in Punjab and Goa. What chopper, he snapped again, Arvind goes everywhere by road.
That I concluded is strong evidence that AAP is out of touch with the times: in age where every campaigner from Rahul to Mayawati to Laloo moves in choppers and the Party of Patriots hires an entire fleet, Kejriwal (also a chief minister) is chugging along on roads between two states! It just doesn't feel right and I'm very suspicious especially on nights that I watch the TV news and find the very articulate people described as ex-AAP going on and on about abandoned values and corruption.
After my shocking discovery I had to rest at a lovely home of a friend for two days, eat great food, visit beaches and watch the sunset to recover. But then on my last day in Goa, two AAP volunteers suggested I visit a slum. I didn't want to believe there were slums in Goa (it was the sort of reality I was trying to escape) but I was also pretending to work so I went.
The slum known as Zuarinagar, built around a large Birla factory has 10,000 voters which is a lot in Goa where the average for each seat is 25,000. The dwellers were divided but there were some who were going to vote AAP. Their big demand was toilets as everyone defecates in the open and during the long monsoon they do so with umbrellas walking through slush.
One of the volunteers who took me was Apoorva, educated in Doon school, just 26, who gave up his job as a teacher a year ago to work full time for AAP. He arrived in Goa on a 2nd class sleeper in September and gets Rs 70 per meal. He's committed to something larger than himself and works round the clock. But of course we know from the TV debates that he's a potential anarchist.
I'm still trying to crack the conspiracy but life in the slum certainly woke me from the sunset stupor.