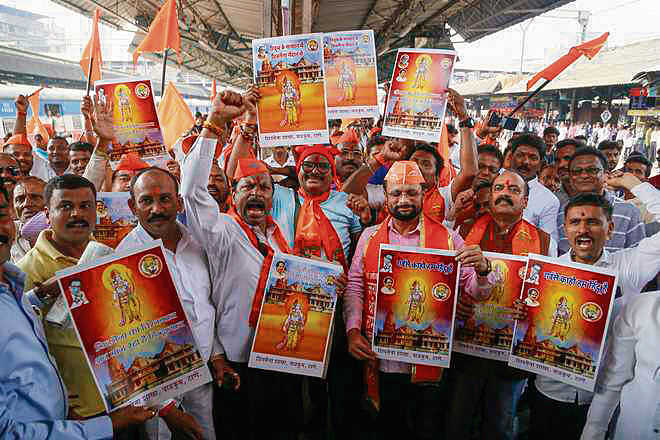 Saba Naqvi
Is "Jai Shri Ram" the emblematic slogan of New India? There is the old and very pleasant greeting in the Hindi heartland that goes "Ram-Ram" and there was a time when "Jai Siya Ram" was invoked in religious gatherings. In Siya Ram, Sita came first and there was feminine grace to the words. But the three words "Jai Shri Ram" (Hail Lord Ram) have been turned into an angry masculine slogan, be it by MPs of the ruling party in Parliament or thugs on the streets who thrash Muslims, occasionally killing them.
Here's the history of the phrase:
"Jai Shri Ram" became an agitational slogan when Lal Krishna Advani began the famous journey on a chariot from Somnath to Ayodhya in 1990 to demand the construction of a temple to Lord Ram at the site where the Babri masjid then stood. Advani had chosen and picked from the Vishwa Hindu Parishad agitation over three sites in Kashi, Mathura and Ayodhya.
The Ram janmabhoomi movement worked insofar as it launched the BJP as a significant national force. Another popular slogan of those days was: "Garv se kaho hum Hindu hain (say with pride we are Hindus)".
Atal Bihari Vajpayee, the old Jan Sangh parliamentarian, more inclined to moderate politics, was then chosen to lead the BJP in an age when they needed alliance partners after the demolition of the Babri mosque in 1992. He was the PM face of the party in 1998 when I covered his campaign. I remember following him to Surat on a campaign trail and one incident remains embedded in memory. As Vajpayee stepped out of his car, a volunteer who appeared to be in a state of frenzy began shouting "Jai Shri Ram". Vajpayee stopped, looked at the worker and snapped: "Bolte raho Jai Shri Ram; aur karo mat koi kaam (Keep chanting 'Jai Shri Ram'; do little else).
In hindsight, one can say that perhaps Vajpayee was not attracted to the aesthetics of a majoritarian "Hindu-first" push of the BJP. We shall never know for sure as he excelled in ambiguities — that also suited the BJP of those days which under Vajpayee would go on to become the first coalition regime to complete a full term.
Things have changed now that we have entered the second decisive majority win of the BJP. There apparently is no need to hold back the punches, so to speak. There is a great triumphalism in the air and one incident after the other makes the news about mobs forcing Muslims to chant "Jai Shri Ram". The most lethal incident took place in Jharkhand where Tabrez Ansari was tied to a pole for 18 hours. He was beaten. He was forced to chant "Jai Shri Ram" and his fear and humiliation was recorded. Yet that did not appease the crowd and the man was beaten for so long that he would eventually die.
The excuse offered was that he had stolen a motorcycle. But let's make no mistake he was killed not for being a thief but being a Muslim. This happened in a state where a former Union minister had honoured and garlanded men who had lynched another hapless Muslim, named Alimuddin Ansari. That minister, Jayant Sinha, has not been included in the new council of ministers, but the probability is that it was for other reasons as his father, Yashwant Sinha, had become one of the biggest critics of the Modi regime.
The Prime Minister, meanwhile, has indeed expressed regret for the lynching in Jharkhand. He did so with the caveat that one state should not be given a bad name. He is right, as it's happening outside Jharkhand as well. After the May 23 election mandate, other incidents have also taken place in other parts of India. A Muslim teacher was thrown out of a train in Kolkata after being made to chant "Jai Shri Ram". A Muslim taxi driver was thrashed on the outskirts of Mumbai after being made to chant "Jai Shri Ram". In my morning walk, a group of regulars walked up to me and shouted "Jai Shri Ram". It was their idea of a joke and I'm happy to say that they showed no intent to lynch me.
But that is how the cookie now crumbles in New India. For those inclined to "show" minorities their place, "Jai Shri Ram" is the slogan. BJP spokespersons are technically correct when they say they are not responsible for each criminal act. But surely they can see that the name of Lord Ram is being invoked in vain, in hate and that is not a good place. Every random mob in the country may not be in their direct control but surely the MPs who use "Jai Shri Ram" to heckle Muslim MPs taking oath, are setting an example that will be followed outside Parliament, often with deadly consequence.