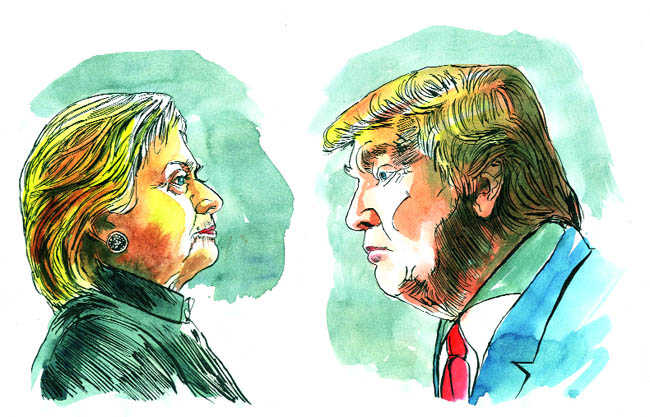 Between now and the first week of November, the world would watch with amusement and fascination the American presidential contest. On Thursday night (Friday morning, our time), Hillary Clinton accepted the Democratic Party's nomination to take on the Republican candidate, Donald Trump.
The American presidential politics has increasingly become a no-holds-barred contest. The adage 'all is fair in love and war' is practised with considerable gusto. The presidential contest becomes also a battle of wits between two presidential armies, each determined to pull down the other. No one is spared and no one expects any mercy. There are no rules. That is what the "Watergate" scandal was all about — a campaign stooping to illegalities and criminalities in order to get an advantage over the rivals.
The Republicans have, over the years, perfected the art of political smearing. The Bushes, father and son, allowed their campaigns to question their democratic rivals' patriotism and manhood. And, this year under Donald Trump, the Republicans can be relied upon to regale the world with new 'lows' in campaign tactics.
In fact, Donald Trump has already redefined election tactics, as he crow-barred his way to the Republican presidential nomination. Till the other day, it was unthinkable that anyone in America could question the service, sacrifice and valour of so distinguished a military officer as Senator John McCain. In 2008, when Senator McCain was the Republican standard-bearer, the Obama campaign was always careful to never be seen as doubting his iconic status as a former prisoner-of-war. But during the Republican primaries, Trump ridiculed Senator McCain. And, got away with it.
What the rest of the world finds difficult to understand is why the American media becomes so partisan in this partisan slugfest. It is often incomprehensible to non-Americans how the American media — otherwise vibrant, vigorous and vigilant — gets divided into the Conservative and Liberal camps.
According to one estimate, each presidential candidate ends up spending more than two-thirds of his or her budget on 'advertising'. Most of it is negative campaigning. Each campaign tries to find the 'silver bullet' which would 'kill' the other presidential candidate. In 2004, for example, a new word was coined— "swift-boating" — for negative tactics. That year, the George W. Bush campaign invented 'facts' to try to deny Democratic nominee Senator John Kerry's military record.
This year, the world can only watch with amusement and trepidation as the Trump campaign tries to tear apart Hillary Clinton. Insinuations have started about her health. One analyst in a conservative website notes: "Hillary Clinton, who is 68, has suffered multiple blood clots, one in her brain after a traumatic closed head injury. She takes the blood thinner Coumadin. She takes thyroid supplements. She's recently had numerous unexplained coughing fits, and she's worn glasses in recent months as she has in the past, to correct double vision."
Coughing fits??? Wow! And, here in India, Arvind Kejriwal has coughed his way to a famous victory.
Though I have enormous respect for the Army as a national institution, I confess that have found it difficult over the years to whip up much respect for individual officers. Of course, there are some very honourable exceptions. The armed forces are trained and conditioned to keep it to themselves, away from the temptations and contaminations of the civilian hustle-bustle. And just as well.
But there are exceptions. It was a pleasure the other day to receive Lt-Gen KJ Singh at The Tribune and do a spot of Kaffeeklatsch.
He is retiring from service after a very successful innings as the General Officer Commanding-in-Chief of the Western Command, headquartered at Chandimandir. He is a much-decorated officer and has a barrel chest full of medals to prove it.
I recall that during the Pathankot terror attack business, he had telephoned me, with a subtle message that the media ought to be careful in reporting the standoff at the Air Force Base. He was gentle and reasonable in tone. He politely declined my offer for a cup of coffee, almost suggesting that everybody would be better off if army men like him kept away from the media.
The first time I got to meet him was about six weeks ago when I was invited to speak at the opening seminar, organised by Gyan Chakra, at Chandimandir. This "Gyan Chakra" is Lt-General Singh's initiative and the idea seems to be that it would evolve into a think-thank, drawing up the talent, experience and intelligence of the vast community of former serving officers, in and around the Tricity. It makes a lot of sense.
On Friday, Lt Gen KJ Singh came across as a military man who likes to read and think. A kind of thinking general.
What impressed me the most about him was that he understood very clearly that the Indian Republic was a constitutional arrangement and that the Indian armed forces, like any other institution, were constrained to operate within the four walls of the Constitution of India. This kind of clarity reflects a mature mind, and a thoughtfulness that seems to be escaping many serving and retired officers. On that count alone, Lt-Gen KJ Singh deserves a salute.
I am not an admirer of the Aam Aadmi Party. Nor do I particularly care for Arvind Kejriwal's kind of politics of constant protest and confrontation. Nor has the party notched up any record of substantive governance in Delhi. But somehow, I find it a tad unfair that all other political parties are ganging up on Kejriwal and his party.
There is something very wrong in the manner in which the BJP, the Congress and the Akalis pooled their lung power and parliamentary numbers to hound Bhagwant Mann in Parliament.
Mann was being plainly foolish in videographing his parliamentary persona. But it takes quite a bit of imagination –and, mal-intent — to suggest that he would have compromised 'security' at the Parliament House. In this age of "Google map" when anyone can buy satellite images of any building, this issue of 'security' at the Parliament House is laughable. Security of a building depends, invariably and always, on the professional alertness of those guarding it.
All these three established parties find themselves rattled because of the kind of traction the AAP is getting in rural Punjab. Of course, they are under no obligation to give a free passage to the AAP, simply because it claims itself to be an 'anti-corruption' outfit.
The AAP is a product of a certain kind of dissatisfaction with what the conventional political parties have had to offer to the people of India. Its astounding victory in Delhi may be a source of discomfort to the Congress and the BJP, but its success has only deepened the Indian democracy.
The manner in which the Central government is using the Delhi Police and other agencies to harass and hound the AAP MLAs should be a matter of concern to all democratic voices. There is something blatantly unfair and unwholesome about this witch-hunting.
A few days ago when I waiting in line at the immigration queue at London's Heathrow airport, I could not help notice that quite a few Indian visitors were breaking the line to come and greet a gentleman just two spaces ahead of me. They were getting themselves 'selfied' with this gentleman who looked vaguely familiar. The man ahead of me seemed to be this distinguished visitor's aide. I was curious and I asked the aide who his boss was. Almost in a hushed and reverential voice he whispered: "Mika."
The famous pop singer, Mika Singh.
I felt constrained to go and chat up the singer. He seemed to be vaguely cognizant of The Tribune. He seemed to be offended when I told him that we were more or less even because I, too, had not heard his songs as I was not well-versed in Punjabi. He sharply reacted that he sang mostly in English and Hindi. He made me feel culturally deprived.
Nonetheless, he seemed very pleased that I had noticed his alligator-skin shoes. He was even more pleased that I could correctly guess the price of his fancy shoes. Well, well, we all have our little, secret vanities.
Now, who is ready for some coffee?
kaffeeklatsch@tribuneindia.com