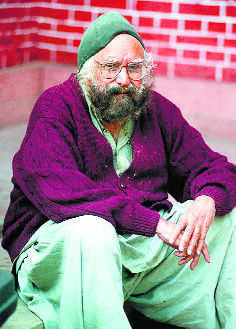 RAHUL SINGH
My father, Khushwant Singh, passed away a little over five years ago. He was 99 years old, yet mentally active right till the end (just minutes before he died he was solving a crossword puzzle). He had an unquenchable zest for life and spent much of his time in Kasauli, a military cantonment where my mother had inherited a home. He loved it there, taking long walks, noting the birds, trees and animals. Leopards were a common sight. He did a great deal of his reading and writing in tranquil Kasauli, where he was undisturbed. At 7 pm, he would have his two pegs of Scotch, usually with friends, even with strangers who simply wanted to visit him. But, at exactly 8 pm, they would be shown out.
His love of nature and the importance of preserving the ecology were nurtured in Kasauli, and since it was a cantonment, the military was also very much in his thoughts. Successive brigadiers in charge of Kasauli became his friends. While he was still alive, though too old to travel to Kasauli, the idea of having a literary festival there in his name, reflecting his values and concerns, was suggested by my long-time companion, Niloufer Bilimoria. Then brigadier in charge Anantha Narayan and his wife, Aparna, were extremely enthusiastic with the idea and promised all assistance, including providing the Kasauli Club as the venue of the literary festival.
That is how the Khushwant Singh Literary Festival (KSLF) was born seven years ago. We were apprehensive about getting a large-enough audience. We needn't have worried. Kasauli in mid-October became a magnet for all those who loved books and ideas and who wanted to mingle with some of the finest minds, achievers and celebrities in the country. From an initial audience of 500, we have grown to over 1,000. And they come from all over the country, even abroad.
For the first few years, we had some eminent Pakistanis coming as well, since one of my father's abiding concerns was improving ties with our neighbour. Needless to say, the Pakistanis who were invited were on the same page as my father, keen to increase people-to-people contact. They were big hits with the audience, many of whom were serving and retired military officers. Sadly, in the past three years we have been unable to invite any Pakistanis, due to the deteriorating bilateral relations. Nevertheless, other passions of my father, such as his love for Urdu poetry, education of the girl child and the importance of humour, have been discussed and debated at the KSLFs, and successive brigadiers have been very supportive, including the present one, Vikram Chopra and his wife, Ruchi.
About three years ago, Navtej Sarna, an unusual combination of diplomat, scholar and writer, said, "Why not bring the KSLF to London?" He was then our High Commissioner to Britain. And we thought to ourselves and replied, "Why not." After all, Khushwant Singh had done his higher education in King's College, London University, where he had studied law and qualified as a barrister. His first posting, after joining the diplomatic service was also in London. Britain made him an Anglophile and imbibed in him many of its democratic values that he cherished all his life: tolerance, secularism (though he was a proud Sikh), and the importance of dissent and humour. In the last three decades of his life, he was perturbed with the growth of religious fundamentalism among Muslims, Sikhs and even Hindus. He spoke up boldly against it, despite threats to his life.
So, we decided on a small half-day "pop-up" London KSLF last May. Unfortunately, Sarna had moved to the USA as our Ambassador. London's Nehru Centre, which comes under the Indian High Commission, and which was going to be our KSLF venue, suddenly withdrew the invitation and the hosting, three days before the event! We still don't know why. A friend of Niloufer's, Zarir ("Zed") Cama, who once headed HSBC bank, came to our rescue by getting in touch with Indraneel Singh, a Sikh who owned the centrally-located Mayfair Hotel. Amazingly, at two days' notice, Indraneel, agreed to host us entirely. His family had been thrown out of Uganda by Idi Amin but, starting from virtually scratch, they had made good. Good for us as well!
When King's College learnt of the KSLF, Tayyeb Shah from the college contacted us and offered my father's alma mater as the venue of the second London KSLF (dates June 1 and 2, all are welcome). Again, there were funding problems. And again, we were bailed out, this time; first by Chan and Pushpinder Chowdhury, who run a successful South Asian Film Festival in London, then by the ever-generous Vikramjeet Sahney of the Sun group, innovative pharmacist Dr Kartar Lalvani, restauranteur Camellia Panjabi, artist Prafulla Mohanti, and lawyer Kim Lalli — all admirers of Khushwant Singh and what he stood for.
The theme of this year's London KSLF is "At home in the world". It will cover issues like migrations, partitions, Brexit, Indo-Pak ties, an appreciation of the late Nobel-laureate VS Naipaul, who made England his home, even though he remained essentially an outsider, observing societies with a discerning eye. Imtiaz Dharker, who was offered the position of UK's Poet Laureate, the first person from the subcontinent to get such an offer, but turned it down because it would interfere with her poetry writing, will be among the star speakers. Hovering over the proceedings, unseen, will be Khushwant Singh, having a good, benevolent laugh, sipping his Scotch and wondering if the values that he held so dear will endure and strengthen.
— The writer is a veteran journalist
Top News
Says unprecedented assault on corruption has angered those w...
As part of the special drive, the regulators have identified...
Behind him, Papalpreet Singh, who is said to be his mentor, ...
Punjab CM accuses Jathedar of favouring the Badals; Giani Ha...
7 others, including Ahmed's brother Khalid Azim alias Ashraf...