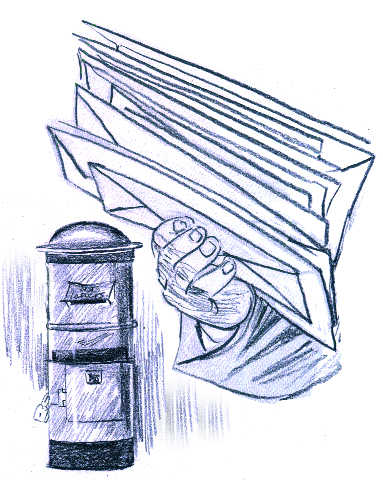 Air Vice Marshal Manmohan Bahadur VM (retd)
We all remember the song "Sandese aate hain" with Akshaye Khanna running with a bag of letters from the movie Border. But how many of us noticed the happiness of jawans in the previous scene as they saw the despatch rider on the motorbike arriving with the khaki canvas bag of the Field Post Office (FPO) with those priceless items? Seeing that movie frame at a cinema hall in Delhi took me back to my younger days in Leh, where the weekly letter came from my mom — and the daily one from my fiancée! You had to be a fauji in the 1970s to experience the absolute thrill of getting that inland letter (for the uninitiated of the present cell phone and email generation, it is a light green pre-stamped sheet of paper of the post office that you write on and fold before licking the gum on a small flap to seal it - and the gum tastes awful!). And on the other side, the thrill of your mother or fiancée receiving the purple-coloured Forces Inland letter — once a week or once a day, as the case may be! And there were some lucky fiancées who got more than one letter a day — can you guess how many a young lady in a small UP town got? Well, I played a small role in that delivery!
Those days there was a thrice-a-week Indian Airlines flight to Leh and hence, the task of transporting mail was with the Air Force. The importance that the forces place on mails for soldiers can be gauged from the fact that the first early morning sortie from Chandigarh always carried these as priority cargo. News from home depended on that one aircraft's successful landing and how one wished that it landed. And well, all 'lover boys' would then make a beeline for the FPO on the tarmac to get that letter, as waiting for three to four hours till the despatch rider delivered it was much. Thereafter, we helicopter guys stepped in, as one of the task of the IAF's helicopter detachment was a weekly mail courier to remote Army posts — to deliver those khaki canvas FPO bags and bring back the purple fauji inland letters for families. The helicopter was the lifeline for most posts, especially for some that would be cut-off for weeks due to bad weather.
Tsogsalu was one such post, close to the China border — godforsaken would be a mild word for it. A long bad weather spell resulted in no helicopter going to Tsogsalu for two months and I happened to be the first to land there after that gap. We were mobbed by the ITBP jawans that manned the post and the first question was mail layae hain sahab? And off they went with that canvas bag!
A young officer approached me and asked if I could do him a favour. Of course, I replied. He ran to his Igloo and came back with two neat, pretty thick, bundles of fauji purple inland letters and asked if I could post them at Leh. I asked whether they were of the jawans to which he sheepishly replied, "No sir, these are mine." It turned out that he had been engaged some months ago and wrote one letter a day to his fiancée - and since there was no mail courier helicopter sortie for two months, there were 60 letters in my hand for posting. That was some lucky girl in UP destined to get them all in one day! I remembered my days and could imagine the ecstasy of the young lass!
So, those letters winged their way via Chandigarh to that small UP town — and I forgot about it till I ran into the officer six months later at an ITBP function in Leh. He recognised me and introduced me to his wife. My obvious question to that shy girl was, "Did you get 60 letters in one day?" The coy smile she exchanged with her hubby of a month didn't need an answer!
Postscript: My advice to the GenX guys who write only emails — pen a letter to your mother/wife/fiancée and see the fun — the fragrance of love comes along with in the scribble that comes back!
— The writer is Additional Director General, Centre for Air Power Studies, New Delhi
Top News
Resolution gets the backing of 13 Council members, while the...
The written answer to unstarred question number 980, uploade...
Punjab Police tell Punjab and Haryana High Court that the in...
Move comes day after Ali walked out of Lok Sabha proceedings...
The tax department has deployed about 40 large and small mac...