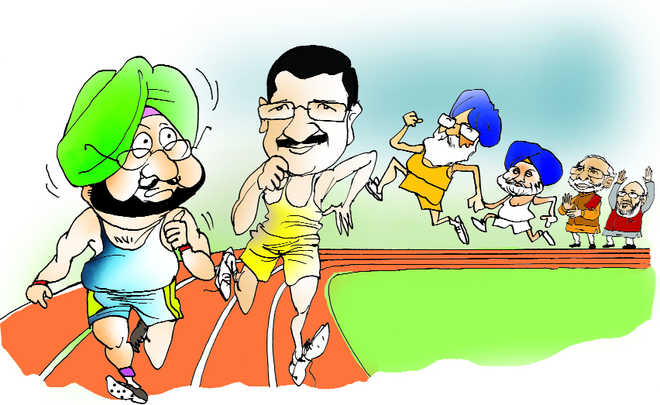 Another six days, and all the noisemakers would fall silent, at least in Punjab. This state has been in the election mode for over one year, partly because the political class has a low level of engagement with the processes of governance, and partly because the ruling Akali Dal leadership was very much mindful of the gathering anti-incumbency mood. The last three weeks have only accelerated the election-time tensions and turmoil.
The Prime Minister, Narendra Modi, came to Jalandhar last Friday and performed his coalition dharma, sang praises of the alliance partner and its very ageing (but very fit) leader, Parkash Singh Badal, even as in his own party, the BJP, the Prime Minister has erected a 75-year age barrier. The Prime Minister was in his usual acerbic mood, but the crowds were not overly enthused. He is scheduled to put in one more appearance for the ruling SAD-BJP alliance. Punjab seems to remain unreceptive to Mr Modi's charm.
The Congress leadership, finally, overcame its reservations and named Capt Amarinder Singh as the party's chief-ministerial face. Perhaps, the decision has come a few weeks too late. The Congress should be the natural beneficiary of the anti-incumbency sentiment. But the Congressmen have the unique gift for self-goals and internal sabotage. The Punjab Congress is no stranger to this phenomenon, and the Punjab Congressmen appear to be not in awed of the 'high command' and are reported to be quite active in subversion games. A party that cannot present a united face to the electorate cannot possibly hope to convince the voters to trust it with coherent and purposeful governance. Nor has the Congress succeeded in overcoming its vision-deficit.
This 'more-of-the-same' syndrome from the traditional political parties has opened up space for AAP. Through sustained campaigning and some inspired ground-level engagement these last three weeks, AAP appears to have recovered some of its lost sheen, especially in the rural Malwa constituencies. It is in the countryside that the populace is particularly annoyed with the Badals, for all the excesses and indignities heaped on the folks by the halqa-jathedar system. And, it is in the rural areas that AAP is reported to have made its most formidable breakthrough.
The most unpredictable — and, mostly unmentioned — factor at work is the note-bandi. Both the urban and rural areas have felt the disruption, and February 4 would be the first occasion when the voters get a chance to have their say. Strangely enough, 'black money' has been totally absent from the leaders' discourse in Punjab. Too many sinners around for any one political leader or party to pretend to be uncontaminated! In any case, the Punjab voter is not easily swayed by the moral humbug.
And then, there is the Central Budget, three days before Punjab goes to the polls. Though the Finance Minister has been constrained by the Election Commission not to make any poll-bound states specific announcement, he can still change the mood with his general proposals and concessions. Populist measures and populist talk are no longer frowned upon.
Mercifully, the electioneering has been mostly free of violence and it should remain so. Booth-capturing is rare; though, bogus-voting is rather rampant. And, there is the social media and its potential for incendiary fake news.
Old-time observers of the Punjab scene tell me that AAP is fast catching up with the Congress. Many of them reckon that the state is heading towards confusion and stalemate. Some even insist that the SAD-BJP should not be ruled out in a triangular scenario. There are no clear-cut winners and losers, as yet. There is no all-Punjab sentiment. The 'hawaa' is changing by the day.
Of all the Padma awards this year, I am most in agreement with a Padma Vibhushan for Dr Murli Manohar Joshi. He deserves it fully, for the simple reason that over the years, he has evolved beyond the narrow confines of his political party. To begin with, he was an odd man out — an educated man in a party of quasi-literates. Even though he belongs to the old RSS, he always impressed his interlocutors as a suave, polished man of ideas. And, more importantly, he is cheerfully willing to listen and discuss and, if need be, argue a contrarian point of view. Nothing dogmatic about him. Nor has he ever allowed himself to be influenced by petty concerns or petty men.
I came to know him well during his stint as the HRD and Culture Minister during the NDA days. He was Atal Bihari Vajpayee's secret ally in many internal battles he had to fight as Prime Minister. Though intriguers and factionalists saw to it that he never became a member of the all-powerful Cabinet Committee on Security, Dr Joshi was always heard with respect by Prime Minister Vajpayee.
However, I think his best years in public service began after the NDA government got voted out. He effortlessly took to the role of an elder statesman, a respected parliamentarian and a thoughtful voice on issues of culture and education. He has friends and admirers across party lines. Unlike others who command attention on the basis of some kind of power base, Dr Joshi gets heard because he has ideas.
He remains perhaps one of the very few public men who are not intimidated by technology — or, rather, he believes that we should be very wary of giving in to the dictates of technology. He does not believe in this new fetish that all issues of governance, equity and fairness can be sorted by application of appropriate technology. Too many of civilizational ills and doubts are sought to be resolved by a mindless belief that technology has all the answers. For this clarity alone, he deserves this high honour.
Lt-Gen Panag has assessed Dragon On Our Doorstep in the book review pages today. What enticed me to it was the very first sentence: "Let alone China, India cannot even win a war against Pakistan." So provocative, so blunt, and so unsentimental. And, bull's-eye.
Pravin Sawhney, a senior military analyst, has joined hands with a younger colleague, Ghazala Wahab, to produce Dragon On Our Doorstep-Managing China Through Military Power. It is a book that is considerably contrarian to the conventional, mainstream "strategic analysis", yet there is nothing woolly-headed about it. Their argument is that unless we find ways of arriving at some kind of modus vivendi with Pakistan, it would be impossible for India to acquire its potential and aspiration as a geostrategic player of any consequence.
Sawhney and Wahab refuse to be over-impressed by all the nationalistic noises we are becoming so good at making every night in our television studios; instead, a simple question: "why the mere 6 lakh strong Pakistan Army is not deterred by the 13 lakh-strong Indian Army?" Our domestic loudmouths may be content with their gratuitous anti-Pakistan tirade, but, as Sawhney argues, we would remain at a disadvantage because "while Pakistan has built military power, India focussed on building military force."
In our national narrative, we are prone to patting ourselves on the back for having "isolated" Pakistan internationally. Sawhney, on the other hand, sees Pakistan managing its relationship with China so sophisticatedly that this partnership has become a new threat to India. This partnership is the central strategic challenge to India.
The long-term threat from China is unmistakable, perhaps it is even inevitable. The contest, though, need not be a zero-sum game. Sawhney's argument, precise and straightforward, is: "India needs to understand that the road to managing an assertive China runs through Pakistan."
This would mean a new approach to dealing with Pakistan and all the issues related. "Whether we like it or not, the path to India becoming a leading power is through Pakistan." It is easy for an analyst to advocate such a new approach but not so easy for the Indian political class to consider it. After all, all our domestic disputes and bitterness come down to who can stare Pakistan down better. Clever bureaucrats and cleverer diplomats keep manipulating the political leaders who love to fool themselves and the nation "through bean counting and bravado." The Sawhney and Wahab book deserves a read for its lucidity and clarity.
Clarity is not our civilisational strong suit, but a cup of coffee does induce clear-headedness. Join me.
kaffeeklatsch@tribuneindia.com
Top News
Polling began at 8 am and will continue till 5:30 pm
Over 1.45 crore electors are eligible to exercise their fran...
Discuss Russia-Ukraine war, highlight emerging security chal...
Rahul Gandhi skips meeting as Bharat Jodo Yatra led by him i...
The seized drugs are the spurious versions of leading brands...