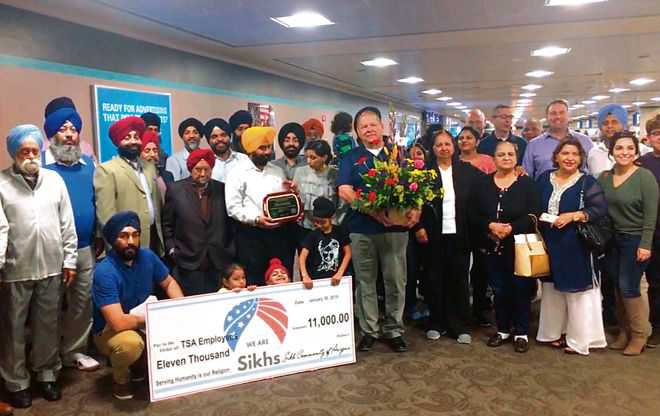 Tanushree Ghosh Dhall
It is quite well known now that the US went through an extensive 35-day period of government shutdown last month when while ending 2018, the US President declined to sign a compromise and an appropriation Bill and insisted on funding from the US Congress instead for a border wall.
For quite a lot of folks, understanding the notion of a 'government shutdown,' let alone for something as debatable to be useful as a border wall, understandably, is not easy. The 'shutdown' doesn't mean that all government workers are on a strike. This kind of 'strike', if it can be called so, is initiated at the top, and legally. And most workers affected are fully expected to be on the job and working while certain departments (nine executive departments to be exact) close partially or fully to comply with the Anti-deficiency Act.
Although Federal workers are required to work, especially in critical functions, they are not paid while the government remains shut. So thousands of government employees in the US, therefore, during this period of the longest shutdown in the US history, reported to work daily and did not get salary for those 35 days.
Federal workers in the US in most rank and class have adequate salaries but are not rich. Most households are just one pay check short from going into debt. So it wasn't surprising that the middle class and lower middle class was hit hard by the shutdown. From border patrol, to cleaning services, to park workers; from permanent employees to large number of federal contractors (the later group's position even more precarious, given possible omission of back-pay), stories of hardships emerged all through the US.
Several businesses and non-profit organisations set up food and item donation centres in parking lots across cities. US media covered tougher individual stories — of people falling behind on rent, having to request creditors and landlords to be not evicted, and relying on credit cards but building up debt to get through.
It is ironic that an immigrant community (the Sikhs in the US) came forward in several notable instances to share the cost of this shutdown that the lesser privileged were left to fend with while the political clout debated if a wall is meaningful in keeping 'illegal' immigration low. Though it is not even clear going by the current President's US-first policies if legal immigration is not equally frowned upon by his administration. In fact, his concerns on migrant caravans and asylum seekers crowding US' southern borders is referring to people coming in through legal ports of entry and joining the lines to enter the US.
However, the US is a nation of immigrants. Out of these, the Sikh community is known for its philanthropic acts. During the shutdown, the community remained true to its spirit. Langars were set up by several gurdwaras and Sikh organisations, from Detroit to San Antonio. Some provided weekend meals while others served daily with volunteers chipping in enthusiastically. Not just food, they helped financially as well. In Phoenix, Arizona, Sikhs gathered at Sky Harbor International Airport, Phoenix to donate gift cards worth $11,000 to the Transportation Safety Administration (TSA) employees.
TSA workers were facing a tough time. At busy airports like LA, NYC and Atlanta where Superbowl was coming up, workers were under increasing duress, overstretched and short on staff, guarding the crowded security checkpoints. The Sikh community wanted to thank them for keeping people safe even when some of them might have had difficulty in putting food on the table for their families.
A total of 11,000 US dollars were donated in the form of small denomination gift cards bought from Costco so that the recipients could divide these among themselves. The TSA later confirmed this was the largest donation they had received.
The Sikhs are often on the receiving end of suspicion and discriminatory screening by TSA doing their job owing to mis-identification and debates and debacles over turban removal at security checkpoints are known.
Over 800,000 Federal employees were affected by the shutdown. While government remained shut over a wall, the Sikh community, through supporting and spearheading actions of support, contributed in breaking another wall.
Top News
Says one of the Bills seeks to give representation in Assemb...
Among the 10 who put in their papers are nine Lok Sabha MPs,...
Resignation of Union ministers also revived speculation of r...
The withdrawal of statement by MP Senthil came when the Hous...
The three Bills are Sikh Gurdwaras (Amendment) Bill, 2023, P...