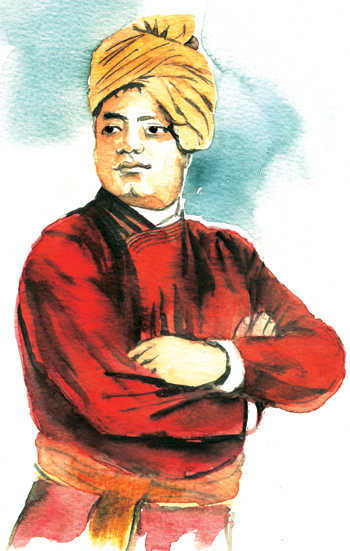 On Thursday, I was told by Dr Krishan Chand of the Centre for Research in Rural and Industrial Development that, that day was Swami Vivekananda's birth anniversary. Dr Krishan Chand was keen to present me a copy of a book he had edited — Relevance of Swami Vivekananda in Contemporary India. The Swami ji always makes a good read. The book is a compilation of the seminar CRRID had organised two years ago on Swami Vivekananda's 150th birth anniversary. And, by sheer coincidence, that very day, another book, The Modern Monk — What Vivekananda Means to Us Today, landed on my table.
Swami Vivekananda was undoubtedly the incarnation of a profound spiritual force. And, thousands of books and commentaries have been written on and about him. We have raised monuments in his name, named schools and colleges after him; even a presumably think-tank has been set up in his name. Yet, it is somewhat of a mystery that despite our elaborate homage-manufacturing for the saint, our national life remains mostly untouched by his lofty teachings and enlightened preaching.
Scholars may have much to say on the subject, but it seems to me that somehow Swami Vivekananda has been made into a partisan project. This great teacher has been appropriated by the right-wing for selfish political reasons, and in the process, we as a nation have deprived ourselves of the guidance and nudging of this wonderful seer, who was only 30 years old when he mesmerised the World's Parliament of Religions at Chicago in 1893.
At Chicago, the Swami had exhorted against "sectarianism, bigotry, and its horrible descendent, fanaticism." He was a supreme nationalist. Mahatma Gandhi's observation still holds valid for each one of us: "I have gone through his works very thoroughly, and after having gone through them, the love that I had for my country became a thousand-fold."
And, as Nehru noted, the Swami was "one of the great founders of the national modern movement of India." Yet, his nationalism was not a narrow creed; his brilliant espousal of the Vedanta philosophy was never at the expense of other religions and doctrines. Nor was he seeking to establish the supremacy of Vedanta over any other theological school. He was not a forerunner of any clash of civilisation.
It is nothing short of a national tragedy that the Swami ji has been reduced to a partisan figure, invoked by unwholesome politicians to gentrify themselves and sell their dubious wares. As a nation, we remain spiritually poor.
THE Americans are working themselves into a lather over the Russian hacking of the Democratic Party's computer networks and over their other purported involvements on behalf of the Donald Trump camp. The allegations should surprise no one. The Russians have a well-ingrained institutional habit of snooping, bugging, spying, first on their own citizens and then on others beyond their borders. The KGB has its tentacles spread all over.
I recall a hilarious passage about Russian meddlesomeness from Beyond Reason, a book by Margaret Trudeau, once Canada's First Lady. Margaret Trudeau, it would be recalled, was seduced by a much older but dashing, charming Pierre Trudeau, already Prime Minister of Canada. It was a most noteworthy marriage. Had to be. She was beautiful, gorgeous, rebellious, an ex-hippy, irreverent, and undiplomatic; he had all the burdens and constraints of office and public life.
As she recalls in Beyond Reason, the Trudeaus were on an official visit to Moscow. Before the visit, she was briefed by the Canadian officials that the Russians could be relied upon to bug every single corner in the Prime Minister's quarters; the hint was that she was to curb her romantic exuberance. She would not believe it and put it down to the western paranoia about the Soviets.
Just before they leave, she is delighted to learn that she had become pregnant (with Justin, the current Prime Minister of Canada). The news had not been officially shared with the Canadian public. The hosts do not know of her altered state. The first day, the Prime Minister and his charming wife had been through a gruelling schedule; bone tired, the couple retire to their austere bedroom in the Kremlin, but the pregnant Margaret has the urge to eat an orange. The exhausted husband tells her to go to sleep. Suddenly, she remembers the briefing in Ottawa about the bugging.
The impish woman shouts loudly across the room to her husband that she very badly wanted an orange. And, then, she writes: "Five minutes later came a knock at the door. Outside stood an expressionless waiter, holding a tray in his hands. On it sat a banana, an apple and, in the middle, occupying the pride of place, an orange..."
Concludes Mrs Trudeau: "I came to respect the technology of their bugging greatly..."
Old habits die hard. Hacking of computers is only the new version of the old-fashioned bugging.
SOMETIME ago, a sincere reader and occasional contributor of The Tribune and concerned observer of Punjab, Karthik Venkatesh, had drawn my attention to an interesting online magazine called the Café Dissensus (https://cafedissensus.com/) being brought out of New York by two students, Mosarrap H Khan and Mary Chacko. This is a forum devoted simply and unwaveringly to "dissent." There is so much official wisdom, masquerading as "mainstream" opinion, and these young dissenters seek to question and critique the issues and ills of our times from a different perspective.
Its quarterly version brings together agitated minds and troubled souls together to meditate on a selected theme. The result is often stimulating — and toxic. Some of its recent issues have focused on topics such as Faiz Ahmed Faiz, JNU and its tradition of dissent, Bollywood, nationalism etc.
The Café Dissensus proposes to devote its April 2017 issue to "Punjab: Marginal and Central." And, Karthik has been asked to guest-edit the issue. Karthik is hoping to invite papers, reviews and photo-essays; he wants to "unpack its (Punjab's) 'centrality' and people-centric 'marginality' in the national discourse."
I do hope that Karthik would be able to induce insightful writers and commentators to discuss social and economic contradictions Punjab. He says he can be contacted at [email protected] The last date for the submission of articles, he says, is February 28. By that time, the Punjab voters would have cast their vote. The commentators and analysts would be available to reflect on issues beyond the winners and losers in the election.
LAST week, I had expressed my sense of dismay over the lapse of judgment by a former chief of the Indian Army in allowing himself to become a candidate in an assembly constituency. Very many readers and former generals wrote to share their sense of embarrassment. I found this response from Sarjit Singh Gill of Ludhiana very illuminating. Mr Gill wrote:
"More than sixty years back, when I was a child, my Phupharh ji settled down in his village after retirement as Subedar from the Army. Soon thereafter came the panchayat elections. Some village elders came to him with a request to contest the election for the position of the sarpanch. He politely declined the offer by saying that 'the rank of Subedar enjoyed by me for fifteen years has satisfied me fully and the position of sarpanch is not higher than a Subedar'. I think a Subedar of the last century was wiser than a General of the current century and upheld the Izzat of his rank."
Touche!
And lastly, a friend of mine from New York sent me the following, and wanted to know if that reflected the Punjab voters' mind on the eve of elections:
Martin Luther King once said:
"If u can't Fly, Run;
If you can't Run, Walk;
If you can't Walk, Crawl;
But keep Moving."
The Punjabi responded:
"O ta theek hai Luthra saab, par jana kithe hai?"
I can answer that for "Luthra saab": Come and have coffee with me.
Top News
Situation in Sasaram and Biharsharif normal, say police
Notably, Shah's tour of Sasaram in Rohtas district has been ...
The Kabul-born Durani played 29 Tests
Bodies of eight persons were found on Friday in a marsh on t...
'Plot to impose President's rule in Punjab'