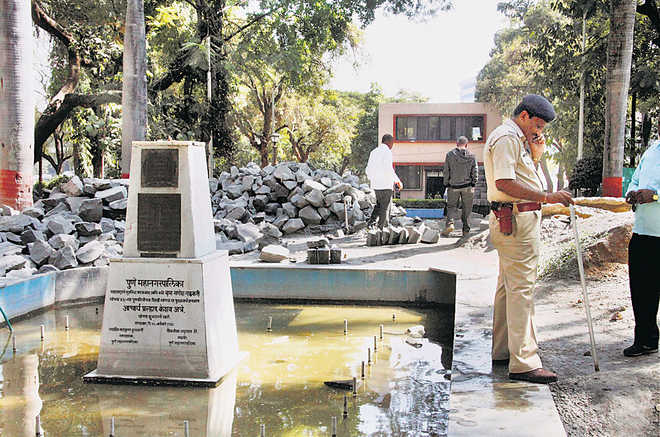 Salil Desai
ON January 5, 2004, internationally renowned Bhandarkar Oriental Research Institute (BORI) in Pune was attacked and vandalised by a big group of miscreants, calling themselves members of the Sambhaji Brigade, claiming to represent 'Maratha' pride.
Armed with sticks and nan-chakus, over 100 men ransacked the premises of BORI, tore valuable manuscripts and documents, also stealing some in the process, smashed furniture, computers and windowpanes, even defaced the paintings of the venerable founders, Ramakrishna Bhandarkar, PV Kane, Kashinathshastri Abhyankar, PV Bapat and PL Vaidya.
All this fury was unleashed ostensibly because BORI had hosted and helped American author James Laine in researching his book 'Shivaji: A Hindu King in Islamic India', which apparently contained some remarks and passages, that the Sambhaji Brigade considered derogatory to the great Maratha king.
Nearly 14 years later, on October 28, 2017, a Pune sessions court acquitted all the 68 accused, because evidence on record was insufficient for a conviction on any of the charges, which included unlawful assembly, rioting, voluntarily causing hurt, damaging public property and criminal conspiracy.
What is one to make of this? The incident had been widely reported in the national media and the Sambhaji Brigade, a little-known fringe outfit then, had proudly claimed responsibility for the violence. There had been widespread outrage and condemnation and, yet, at the end of a 14-year meandering legal process, the alleged perpetrators are going to walk away scotfree, because the state has been unable to prove beyond reasonable doubt that they carried out the attack.
Truly, shouldn't the state police, prosecution and home ministry be ashamed of themselves for being unable to bring the vandals to justice and reaffirming the rule of the law in such a widely publicised, open-and-shut case of despicable mob violence in the name of pride? Without doubt, it has to be one of two things - complete incompetence on the part of the official machinery or, in all likelihood, they deliberately left glaring loopholes to enable the culprits to cheat justice, given the political affiliations and nuisance value of such groups.
In either case, the cynical message it sends across to citizens is that the law taking its own course, is a euphemism for facilitating those with connections or nuisance value to get away with breaking the law for their own narrow gains, as the incident fades from public memory. A 14-year-long process followed by no punishment whatsoever for the alleged perpetrators is an absolute mockery of justice, because if these people didn't do it, then who did?
No wonder then that the culture of impunity and lawlessness is rampant in our country, because every such case corrupts the beliefs of our society further. We lose a little bit of faith in the system each time and become still more cynical. It robs the majority of the incentive to be law-abiding, when time and again it is demonstrated that the law is enforced and upheld selectively. That all you need to escape punishment for breaking laws is the ability to manipulate, influence or fix public servants at different levels in the system over a period of time.
Moreover, when this is done in the case of a serious or heinous crime, it also strengthens the morale of potential law-breakers, encouraging them to stage similar crimes and wanton acts of violence as a low-risk tactic to achieve their objectives - commercial, political, personal or ideological - secure in the knowledge that they can count on the state and its minions to turn a blind eye or go soft or even actively collude in avoiding legal consequences.
Whether it's the increasingly frequent muscle-flexing unleashed under the guise of this or that group's sentiments getting hurt or cow and love jihad vigilantism or the cold-blooded murders of Kalburgi, Pansare, Dabholkar and Gauri Lankesh, political and other goons have repeatedly become emboldened by the state's deliberate inaction or pusillanimity in combating mobilisation around regressive or volatile issues.
In that sense, the establishment is thoroughly compromised and keeps losing credibility. What's particularly damaging is that this loss of credibility is not restricted to the government, its mechanisms and people who run it but to a citizen's faith in the very concepts of the rule of law. Rather than being considered a fair and reasonable instrument of democratic equality that regulates our rights and responsibilities, it is perceived as a clever contrivance to keep honest, decent, peaceful, straightforward citizens in check, while affording different degrees of leniency to those who break the law.
A law-abiding human being is, therefore, considered a weak or meek citizen while those who take liberties with it are thought to be smart, brazen or powerful. What could be a more perverse commentary on the state of affairs than this widespread perception, which means laws are abided only until people find a way to break them safely, by insulating themselves from the consequences?
The acquittal in the BORI case was splashed in the media, but has barely created a ripple in Pune, since people have long forgotten about it or ceased to care, 14 years having passed. No one is surprised, perturbed or outraged that no one has been held guilty. This is exactly what law-breakers want - an atmosphere of passive acceptance. The damage was done and instead of facing punishment for it, the group achieved salience, influence and political leverage (today Sambhaji Brigade is a political party that contested civic elections in Maharashtra earlier this year).
And like good Indians, we have moved on, letting bygones be bygones!
The writer is a Pune-based crime novelist and filmmaker