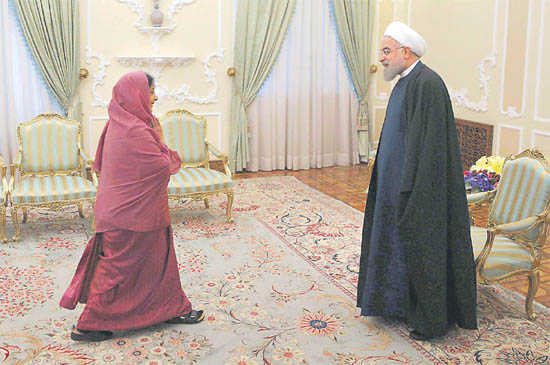 In the modern world we inhabit today, there are rules and then there are no rules. The internet and globalisation has made every choice rational, or so it would appear. We have become great believers in personal choices and that includes our dressing style. However, our clothes and our fashion choices reflect the person we are. That is why on her recent visit to India, Kate Middleton's dresses at every occasion were noticed and talked about. Her skipping the traditional Indian sari but still sticking to hues and motifs that were close to home, displayed an astute understanding that her clothes were doing the talking for her. Now, one wishes that External Affairs Minister Sushma Swaraj had understood this subtle game too. Draped in a pink sari and matching shawl, her head covered, while meeting the Iranian President Hassan Rouhani, the minister cut a strange figure. Did the minister do so to please the Iranians, out of respect for the local culture, as some put it? And while pleasing others, did she go a little overboard and forget that her image would speak a thousand words. As former members of the protocol division in the foreign affairs ministry spelled out, that even if the Iranians had requested her to cover her head, the final prerogative would always be hers. At the end of the day, it was her choice, and a poor one at that. She could have taken a cue from the American First Lady Michelle Obama, who on a visit to Saudi Arabia refused to cover her head. As women, we felt good and liberated. Sushma just went backwards and made us all feel a part of a patriarchal set-up where the good girls always cover themselves head to toe. But more importantly, the minister forgot in that instant that she was representing a country where the majority of women today don't cover their heads, out of their free will. She forgot, and we assume all her advisors forgot too, that women in India don't want to be represented in that fashion. She also forgot that as a minister her sartorial choices reflect not only on her personality but also on the country and the millions she represents. But maybe she is taking the cue from the leader, the Prime Minister himself, who refuses to wear a neck tie and instead takes pride in wearing these informal, open neck shirts at formal events. Or maybe the cue is coming from the Defence Minister, who wears open-toe sandals when meeting with the three chiefs of the Army, Navy and Air Force. They all seem to be ignorant, or maybe arrogant, of the point that their clothes reflect the respect or lack of it, to an individual, an institution or a country and its culture. When Michelle Obama refused to cover her head on her visit to Saudi Arabia, most of us women cheered for her. She represented us, the strength in us which quietly ridiculed the impositions of a society where women are lesser mortals than the men. Without saying a single word, Michelle conveyed to the entire world what she thought of Saudi Arabia and its treatment of women. And we all applauded her. Sushma, by contrast, did not evoke a smile. Her photographs that went viral on the internet, inviting both positive and negative commentary. India-Iran ties are of immense importance to us and the minister's visit there was to build on this partnership between the two nations. But by covering herself from head to toe, Sushma gave a tacit approval to a society where women are not even allowed to watch men's sports in stadiums. Indian women diplomats who have served in this region in the past didn't always cover their heads. A woman diplomat who had served in the region once told me she always wore her saris and never covered her head during her postings. She said she was never forced to cover her head and that it was more a matter of personal choice.
Which brings us to our main point here; it was a matter of choice for Sushma also. She could have stayed true to herself and quietly refused to cover her head. Maybe the Iranians would have been a little unhappy, but her message could have gone down simple and clear. India has great ambitions of becoming a global power. It wants a permanent seat on the United Nations Security Council. India sees itself as the only player in this region that can potentially balance out China. India also wants the world to acknowledge the good that has come out of our culture, like yoga. But its politicians forget that great nations stick to their values and don't change appearances as and when a situation demands.
The reason why Michelle Obama got a thumbs up was that she stuck to her American values and gave two hoots to the Saudi restrictions on women; the reason why we all smiled at Kate's choices this last week was that she chose Indian designers like Anita Dongre but stuck to her flowery dresses; and the reason why we are giving a thumbs down to Sushma is that she made us all feel antiquated and party to those who feel women don't have rights or choices. For the head scarf in Iran is not a matter of choice for women, they are forced to wear it. Wonder who was forcing Sushma?
simraj68@yahoo.com
Top News