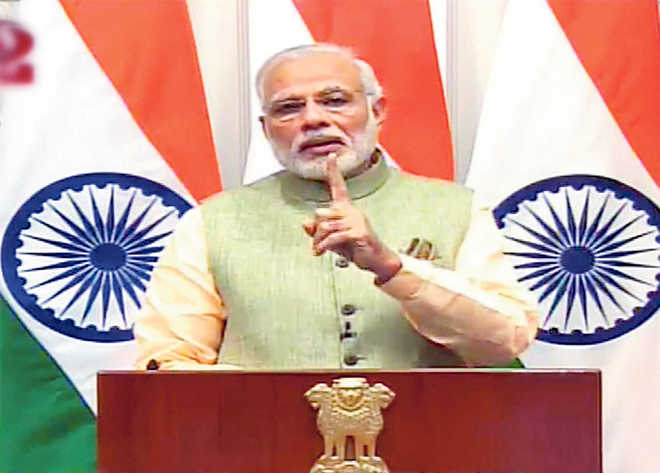 He must have had the Polyjuice Potion. Perhaps too little, as it wore off in the middle of his speech." This is how my children reacted as I described to them the Prime Minister's televised New-Year's Eve address to the nation. "What's Polyjuice Potion?" I was stumped. I suspected it was yet another attempt on their part to educate me in the charms of Harry Potter, something that both of them have been trying for some time. So I turned to pottermore.com.
"The Polyjuice Potion, which is a complex and time-consuming concoction, is best left to highly skilled witches and wizards. It enables the consumer to assume the physical appearance of another person.…The effect of the potion is only temporary, and, depending on how well it has been brewed, may last anything from between 10 minutes and 12 hours. You can change age, sex and race by taking the Polyjuice Potion, but not species."
Now it made sense. I could see how the PM had assumed many appearances, all within a 43-minute speech. I could also see why it wore off towards the end, leaving us all bewildered. He had the Polyjuice Potion, but hadn't brewed it well.
The PM began as a spiritual leader. He invited all of us to a "Shuddhi Yagna", a moral project of purification. If I had any misgiving about his use of a Hindu metaphor, it was belied soon by his invocation of Iqbal. Like any great leader, he had the courage to confront us with our pettiness, the evil inside us. He invoked the yearning for truth and good inside all of us to create a collective moral force, an "antar-urja". For a moment, I saw a glimpse of a Leader. For that moment the PM appeared to be Mahatma Gandhi.
Soon the PM stepped down, as he should, into matters of statecraft. He was blunt and firm. He confronted us with the fact of rampant tax evasion. He promised to befriend law-abiding citizens and vowed to spare neither the guilty citizens nor officials, just as you would expect from a statesman who happens to be the head of government. Now the PM appeared to be Sardar Patel.
This raised my expectations. Now I expected the PM to present an honest report card on demonetisation. He had asked the country for 50 days. The people believed him and not the naysayers. They went through a lot of pain, setbacks and trauma but trusted that they were doing so for the greater good. Now was the time for the PM to look into their eyes and give them all the facts — how much cash had been deposited back, how much new currency released and the exact quantum of black money unearthed.
I also thought he would use this address to make amends. No experiment is perfect; this was the time for him to acknowledge mistakes. If the Yagna was going to take longer, this was the moment to ask for more patience. If the scheme had inflicted some avoidable trauma, this was the opportunity to offer an apology. People are willing to forgive their leader if he is well-intentioned.
Instead, the PM suddenly turned track to what looked like a preview to Part B of the Finance Minister's speech: 3 per cent relaxation in the interest portion of the PM Awas Yojna, additional Rs 20,000 crore for NABARD, an enhanced credit guarantee for MSMEs, 8 per cent fixed interest for senior citizens and Rs 6,000 for every registered pregnant woman. I wasn't sure how it fitted into this address to the nation on demonetisation, unless he was offering us a deal: don't ask me too many questions, just look at these gifts. From a statesman, he was now a salesman. This was the Garibi Hatao style of populist welfarism. The PM now appeared to be Indira Gandhi, perhaps at her best.
As soon as the PM had announced these schemes, the TV and the Net were abuzz with facts that punctured his claims. The provision for Rs 6,000 for a pregnant woman was nothing but a legal requirement under the National Food Security Act, 2013. If anything, the PM was guilty of delaying this announcement for two years. The interest cut in the PM Awas Yojna would have little impact as the scheme suffers from severe design defects that have rendered it useless so far. The RuPay card he promised with the Kisan Credit Card has existed since 2012. Concessions for senior citizens and businessmen are minor tweaking of the existing schemes. Not a word about compensating the citizens for the loss of livelihood and other indignities so many of them suffered due to demonetisation. From truth we had descended into economy of truth. The PM now appeared as Indira Gandhi, at her worst.
The speech was not over yet. I was still waiting for a declaration on further steps in the war against black money. Some measures on cleaning up the real estate and the share market, a declaration about invalidating P-Notes that allow benami foreign investment into the country, or curbs on re-routing of dubious money through tax havens like Mauritius.
The country also waited to hear something on political corruption, the fountainhead of black money. All those who had enthusiastically endorsed the PM's war against black money had done so in the hope that he would take this war to its logical conclusion. They had read the PM's reference to Indira Gandhi and how she had turned down a proposal for demonetisation that might have hurt her election funders. They had seen a vulgar display of wealth in the weddings of sons and daughters of BJP leaders. They thought he would do away with the black hole of non-reporting of all contributions below Rs 20,000 to a political party.
The PM did not utter a word about all this. Like a highly-skilled wizard, he attempted a smokescreen: simultaneous Parliament and assembly elections. It didn't work. He attempted a word trick: the political class should give up its "holier-than-thou" attitude. It failed to distract. The truth stood naked: the national Yagna against black money needs everyone to give ahuti, except for the political class. The wizard was now a trickster. The Polyjuice Potion had worn off. Now the PM was himself, Narendra Damodardas Modi.
yogendra.yadav@gmail.com
Top News
Jammu and Kashmir Lieutenant Governor Manoj Sinha and politi...
Cops say case cracked within three days with the arrest of a...
Indonesia football association suspends league to investigat...
Samajwadi Party patron is under treatment in Gurugram hospit...
DGP dismisses Mansa CIA Incharge, FIR registered against err...