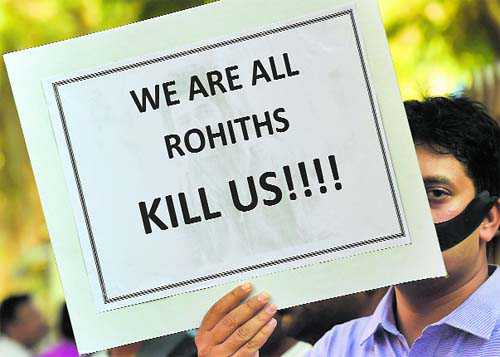 IF you have not read Rohith Vemula's suicide note, just stop here. Please find it on the Net and read it.
And after you have done so, it will not matter if you come back to this column or not.
But if you have already read it, and can bear to read anything about something that is too deep for words, too free to be chained by quote-marks, too altogether real to be repeated post-facto, then, if you so wish, you may continue reading this.
On Republic Day, the Tricolour will be unfurled by our President in the national capital, by Governors in the state capitals, by Collectors in their district headquarters. The national anthem will be played or sung to salutes given and taken. "Jai Hind" will resound across the country in varying tones of patriotic self-persuasion.
But what should drown all these sounds and sights is "Jai Bheem", the two-word salutation with which Rohith signs off his 'letter'.
Does it invoke Babasaheb Bhimrao Ambedkar? Of course it does. Does it castigate our times? Of course it does. Does it speak for Dalit India? But of course!
Is that it? Certainly not.
Rohith Vemula's letter says "Jai Bheem" in a resounding self-assertion that comes after a lacerating self-analysis that becomes, even before we realise it, an analysis of all of us, our thoughts, our habits, our ways of lying to ourselves, to others, about ourselves, about them, about our times.
And it not just says "Jai Bheem", but "For one last time, Jai Bheem…"
For one last time, as a final call to us. Jai Bheem.
I cannot but recall how we are asked at rallies "Saath milkar teen baar kahein… Jai Hind!" And the choreographed shout from the assemblage goes "Jai Hind, Jai Hind, Jai Hind!"
This "one last time" and those "teen baar" hold a profound difference.
The difference between being human and being a digit. There was a time, not all that long ago, when Jai Hind resonated powerfully. It evoked love of India and of everything Indian. But now something has gone out of it, something that enveloped all of us, made us a family, made us whole. Peoplehood has given place to an enumerated digithood.
I have not read in a long time, if ever, words as searingly honest as Rohith's: "The value of a man was reduced to his immediate identity and nearest possibility. To a vote. To a number. To a thing."
Suicide is called cowardly. I cannot accept that casuistry. Entering a realm of unknown pain is not cowardly. Murder is cowardly. Rohith's letter is stunningly brave. And it asks for a new courage among us, identified, digitised, enfranchised, unified identified or UDI "things". He says in words that can only come from a modern Fire Sermon: "I am just empty. Unconcerned about myself. That's pathetic."
Are we not, today, as individuals, as a people, in some essential way, empty, unconcerned about our emptiness, and therefore unable to help the emptiness in others for whom, in Rohith's words "life itself is a curse", and for those whose birth is, in Rohith's excoriating phrase, "a fatal accident"? Are we not unconcerned? And is that not pathetic?
Instead of letting this act of self-extinguishing occasion silent thought and active correction, what we find is a host of "We are not responsible", "This is not our doing", "This is beyond our jurisdiction". And I have had Rohith's letter sent to me by a frank exponent of Hindutva to suggest that the suicide was the result of a personal turmoil, unconnected with the recent events at the University of Hyderabad, the conflict between the Ambedkar students' body on the campus and the ABVP. He has said there was "a growing gap between my soul and my body" and that makes it a personal, not a political thing. I am not suggesting that his death had political compulsions, no sir! That would be crass. But let us not run away from the fact that he was troubled beyond endurance by what is called, and what he himself has called in better words, an identity crisis.
The people of this Republic are facing an identity crisis because they have been reduced to the de-humanising bare bones of this or that identity. Worse, their identity has become a market commodity, to be bought, branded and bullied into adherences or antagonisms.
'We the People' are meant to be political beings, not a political game.
And it is time those in charge of our destinies realised this.
No one is responsible, Rohith has said about his decision, "no one has instigated me". This must come as a shower of mercy to many. But Rohith's bigness only shows up their littleness. For shame's sake, is there no one who will say "I am responsible, I am complicit, I must go"?
No one has abetted the suicide. But there are those who have abetted the emptiness that Rohith speaks of.
He has had the intellectual courage to say "I have become a monster". It will take the most mind-understanding psychology to tell us what he meant by that. But is there no one who can say that he had become a monster for Rohith, the monster that made him feel the edge of alienation's blade?
But more, much more important than resignations or relinquishments, is it for us, on Republic Day, to see the great truth about India: We are a Republic more in name than in reality.
In such a Republic the voices of people, who are not political leaders or social activists, but thinkers, philosophers, men and women who feel with their minds, have to be heard. They have to be nurtured.
Bright, eager, impatient minds are being constantly co-opted into political organisations, parties, into religious orders. That is not nurturing, that is exploiting.
Rohith Vemula says in his letter that a man has to be seen as a mind. If only his mind had been spotted by a mentor for what it had, what it said, he could have become something much more than the specious 'public intellectual'. He could have become a social philosopher.
No Republic Day address can give us the message Rohith gives us, with a calm passion. And with no expectation of applause.
Read, dear reader, please, Rohith's letter with the Buddha's last sermon and Socrates' final words. The Buddha and Socrates did not take their lives. That is the only difference. And one that adds an edge to the edge of truth as written down in a lonesome Hyderabad room.
— The writer is a distinguished Professor of history and politics, Ashoka University
Top News
Jammu and Kashmir Lieutenant Governor Manoj Sinha and politi...
Cops say case cracked within three days with the arrest of a...
Indonesia football association suspends league to investigat...
Samajwadi Party patron is under treatment in Gurugram hospit...
DGP dismisses Mansa CIA Incharge, FIR registered against err...