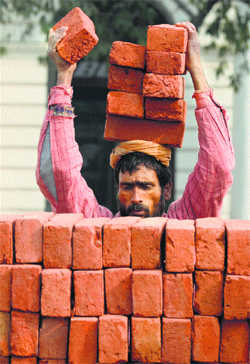 IT felt good when a taxi driver in Hong Kong told me recently "India is a powerful country" because people you meet abroad usually say polite things like "India is an interesting country". But is India really getting the label of a strong and powerful country away from its image of a poor, dirty, overpopulated nation? Indeed, India has the highest concentration of billionaires and dollar millionaires in Asia and the ratio of billionaire wealth to GDP in India was at 12 per cent in 2012. India is now being recognised as the fastest growing country in Asia and Indians when they go abroad have spending power.
Even PM Modi recently said the Indian economy is doing much better now. But India's soft underbelly should not be forgotten — India has the highest number of malnourished children under five years of age in the world and maternal mortality remains high. To become strong, the government has to make all citizens economically secure.
India does have a huge middle class — 300 to 400 million people — but it also contains 350 million people who are very poor. The number of the poor varies depending on how you define the poverty line. But multinational companies see India as a huge market for luxury products, and even for ordinary items like soft drinks and noodles. The world famous brands are vying for a market share in India. One just has to look at the galaxy of ads this festival season to realise the multiple brands that are available in the Indian markets today. Indians are also spending much more and saving less than before. Yet there are complaints of sluggishness of demand and inventory pileup in industry.
This is because the buying spree that we are witnessing all around is by the top layer of Indians. There are many who cannot afford any luxuries at all and are deep in debt. We tend to ignore the sad news of farmers' suicides but the fact remains that India is the suicide capital of the world. It is mainly indebtedness that is driving farmers to commit suicide in rural areas but in urban areas, too, suicide cases are on the rise. The urban population is facing unprecedented stress in cities and towns today due to health problems, domestic violence and job insecurity.
There has to be a balance between the consumption patterns of the rich and the poor and every person should have the right to live a decent life. In all the EU member states, social security plays a very prominent role. The government provides security from cradle to grave. It raises revenue through taxes and people have to abide by tough tax laws. Scandinavian countries have the best forms of social security as well as the highest tax rates. The standard of living of all the citizens is more or less equal and most people can afford the basic amenities and comforts. Their children have good quality education free of cost and there is universal healthcare. Teaching young people skills and giving them basic secondary education are the responsibilities of the state in developed countries. Even when unemployed, citizens get dole on which they can subsist.
The quality of primary education has to improve in public schools in India. The rich send their children to private schools and colleges abroad and as a result they have a head start over the locally educated. Many from the middle and lower middle classes also send their children to private schools, making great sacrifices in the hope of their getting admission to good colleges and later land up with better jobs.
Competition, however, is making Indian industry go high-tech and adopt automation and robotics. As is well known, India has experienced 'jobless growth' for a period (2005-2010) in the past. In the future, there will be a problem for educated youth to find employment because India is creating jobs mainly in low-productivity construction sector and there are few high-productivity formal jobs in manufacturing. Hence the unemployment rate for the youth may rise. More than 1 million youth are entering the job market every month. What will happen to them if for months and years they cannot find jobs? As is becoming clear, Modi's 'Make in India' dream may take a long time to materialise. Many foreign investors are waiting for the ranking of World Bank's "ease of doing business" to improve. It may take years to climb up from the 130th position India currently occupies. Manufacturing growth is still slow and investment in manufacturing is yet to pick up. And nobody wants to become a farmer.
It is indeed a matter of concern that agriculture has become an unattractive option for the youth because it has not experienced fast growth, and innovative capital. Agriculture growth is marked by low technology and 53 per cent of agricultural land lacks irrigation facilities. Farm credit is also not easily available.
More reforms and opening up the economy for foreign investment cannot be the magic wand that will solve all problems. As Modi rightly said the aim of reform should be to transform society. Some reforms, especially tax reforms like the introduction of GST, eradication of corruption, land reforms are badly needed. But the state will have to play a very important role in governance, housing, water availability, power, garbage disposal and maintaining law and order. Agriculture, health, education are all state subjects and a lot of responsibility rests on how the states allocate funds to these sectors. Infrastructure is the responsibility of the central government, for which it will have to spend $1 trillion in the future.
India can be truly strong and powerful not because of its military might and growing number of people who are super rich, but if the welfare of the people is looked after by the state. The Modi government has started well by providing low-cost schemes covering accident, life insurance and pension and there are 120 million subscribers already. Wider coverage would spread benefit among the poor. We should be able to curb rising inequality and lack of concern for fellow citizens who are deprived. Giving economic security to all ought to be the prime responsibility of the state in the future.
Top News
Sindhu outplays Canada's Michelle Li 21-15 , 21-13, while Se...
The 40-year-old paddler had earlier won gold in men's single...
India finish a fantastic badminton campaign with three gold,...
The Congress, Left parties, TMC and DMK voice strong opposit...
Tears into the Centre for 'weakening the foundations' of the...