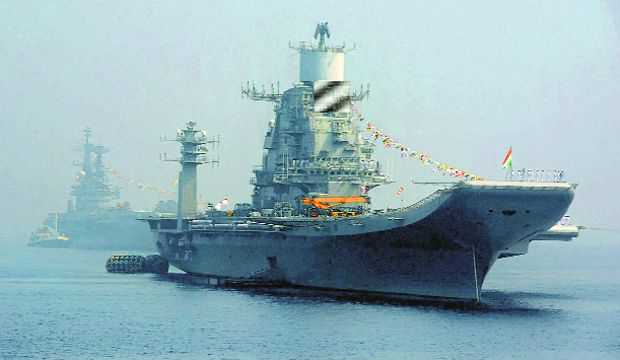 Pravin Sawhney
Strategic affairs expert
The 800-km Andaman and Nicobar (A&N) archipelago, comprising 572 islands of which 37 are inhabited, was recently in news. With visits by the PM, Defence Minister and the Navy Chief; Rs 5,650 crore promised over 10 years for military plans; and the commissioning of the Naval Air Station, Shibpur in north Andaman as INS Kohassa, with promise to extend the 3,000-ft airstrip to 10,000 ft for dual-use: combat and heavy-airlift, and commercial aircraft, the Indian media declared that the maritime outpost (which overlooks the Malacca Strait) would act as India's pivot (military fulcrum) to counter China's strategic moves in the Indian Ocean Region.
China was not impressed. The only time the Chinese media had closely watched and commented was on the November 2017 five-day 'Defence of Andaman and Nicobar Islands Exercise' (DANX), conceptualised, planned and executed by the 2001-raised and Port Blair-headquartered tri-service Andaman and Nicobar Command (ANC). DANX saw fighter operations, amphibious landings, and Special Forces operations. However, three notable issues of the impressive joint operations were: most assets were pooled in from different commands; it was a rehearsed performance with no operational surprises; and importantly, it was defensive, meant to protect the island chain.
Moreover, the ANC lacks capability to defend A&N. It is tasked to defend the A&N chain, and to watch the Indian Ocean North, 10 and six degree channels. With growing People's Liberation Army Navy (PLAN) capabilities and maritime footprints, the A&N — in the absence of desired infrastructure, assets and command profile — is India's maritime Achilles' heel.
With naval reinforcements on the mainland being 1,200 km away, there is enough scope for PLAN to do the 1999 Kargil-type operation or worse; especially when China is in talks with Thailand to build the Kra canal as part of its One Road (maritime silk route), which would open into the Andaman sea, 600 km from Port Blair. Given this, four serious limitations would place A&N into perspective.
One, A&N lacks connectivity and effective communications, made worse by the fact that a naval flotilla at 12-knot speed takes four days to cover a distance from Deglipur/Shibpur in north Andaman to Port Blair. In March 2011, BSNL, which was awarded to lay 2,164-km submarine cables (optical fibre cable connecting mainland with nine A&N islands), bid further and a Chinese company, as the lowest bidder, won the contract. The whole project has since been frozen. While offshore patrol vessels (the biggest ships held by ANC) can plug their master radar into the dedicated naval satellite Rukmini for voice, data and video communications, they remain vulnerable to China's cyber challenge to outer space. Since all space-based assets depend on Electro Magnetic Spectrum (EMS) as the sole medium of transport, and as satellite EMS frequency cannot be changed after launch, satellite remains susceptible to cyber attacks.
Two, the total power supply within A&N is by diesel generators, with no transmission cables coming from the mainland. In Port Blair (most populated city), these generators are in clusters and hence a lucrative target. Pakistan's Shaheen 3 missile has a 2,750-km range, meant to cover A&N. What if a PLAN cruise missile or Shaheen 3 were to target the diesel cluster to plunge Port Blair into darkness? Nothing less than a unit of the Russian S-400 air defence system would plug this vulnerability.
Three, Port Blair lacks a civilian and defence equipment maintenance ecosystem. All civilian building material comes by ships. It is not unusual for cargo ships to wait up to two days outside the harbour before they find space to squeeze in. Similarly, without a credible defence ecosystem, permanent placement of specialised naval assets like submarines and destroyers with large drafts needed for offensive action is not doable.
And, importantly, the ANC profile is skewed and unassertive. It is under the dysfunctional Chiefs of Staff Committee (comprising three chiefs), and reports to the chief of the Integrated Defence Headquarters for its management and budgetary needs. In 2016, when the Modi government elevated the ANC to a strategic-level command, it had indicated that the Commander-in-Chief, A&N (CICAN), post would be held permanently by the Navy (at present, it is by rotation within the three services). This never came in writing.
Either way it does not matter. Until the ANC is not owned and led by the Navy and placed under the National Security Adviser, the services would remain unwilling to part with their assets and resources.
The Navy had in 2000 proposed the formation of the Far Eastern Naval Command (FENC) at A&N. This would have changed the mission, mindset and concomitant capability and capacity building. From the defence mission of the FORTRAN (Fortress Andaman and Nicobar was formed in the sixties), it would have changed to deterrence (with in-built offensive capabilities) for FENC to safeguard India's strategic interests in Southeast Asia. Ironically, when the ANC was created in 2001, the first CINCAN, Vice-Admiral Arun Prakash, had formulated an offensive vision statement which remained on paper.
The then government had refused to see the naval HQ vision. The reason given was that FENC would scare friendly littoral neighbours. Given the heavy commercial traffic through the Malacca Strait, FENC would be viewed as an alliance between India and the US. Now, with China knocking at the ANC door, the government did not consider it wise to do much beyond announcing the ANC as a strategic command.
Top News
Odisha government has issued helpline 06782-262286. The rail...
At least 50 people died and 350 were injured in a three-way ...
12837 Howrah-Puri Superfast Express, 12863 Howrah-Bengaluru ...
WFI chief demanded sexual favours in lieu of supplements and...
Said agitation will be intensified by holding panchayats acr...