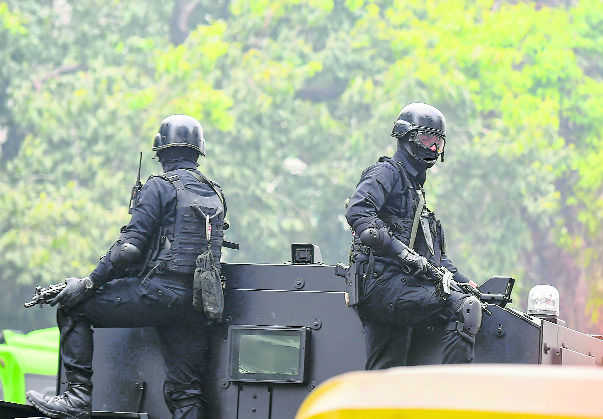 Shyam Saran
Former foreign secretary and Senior fellow, centre for policy research
THE Pulwama terror attack has again led to a desperate search for options to deal with its aftermath and prevent a repeat of such incidents. There is no existing carefully crafted template which could guide the Indian State's response, drawing upon accumulated experience from the past and factoring in any new situation which may have arisen. In the absence of such a template, the State has to fall back on ad hoc responses whose implications are not fully thought through. For example, withdrawing Pakistan's MFN status is an admission of lack of options to penalise Pakistan rather than a serious and substantive measure. It is unlikely to discomfit Pakistan.
Despite the repeated urgings of strategic thinkers and practitioners, India still does not have a national security strategy which could guide the State in dealing with crisis situations as well as longer-term challenges. Precisely since a crisis is often unexpected, the political leadership and its security establishment need to respond with calm and sobriety and convey to the public a sense of confidence and assurance in handling the crisis. This is possible only if possible scenarios such as a terrorist attack, a plane hijacking or a political assassination are anticipated in all their dimensions and several alternative options for the State's response are considered and evaluated in advance, taking into account likely political and geopolitical environments in which they may occur. This is in the nature of a drill which may be swiftly activated as soon as a crisis erupts, with each arm of the government knowing what its role must be. This then, leaves the political leadership to deal with the larger political and strategic issues that may arise.
It is also very important to have a communication strategy to handle a crisis situation, such as the fallout of a terrorist attack. The government should not be pushed into taking decisions under the pressure of public opinion or media hype. It is natural for there to be anger among families of those who have lost their loved ones. There will be calls for stern action and revenge from an emotionally charged public. Governments need to calm such reactions rather than fuel them through aggressive pronouncements. Actions in the best interest of the country are unlikely to be taken in situations when the priority becomes assuaging public sentiment rather than ensuring national security. In the Kandahar hijack case, the then government had to acquiesce to the release of dreaded terrorists under pressure from family members of the passengers. One of those released was Masood Azhar, the leader of the Jaish-e-Mohammad, which claimed responsibility for the Pulwama attack.
A national security strategy would also enable a thorough and careful evaluation of military options that may be available to the government in responding to such a terrorist attack. What may be militarily feasible may not be politically sensible. Issues of war and peace are political decisions and must be taken by the political leadership. They cannot be left to the military to decide, and therefore, it is not wise to declare that the military has been given a 'free hand' to decide on what the response should be to the Pulwama attack. A national security strategy would look at the entire spectrum of deterrence and compellence and go beyond the simple binary of appeasement or war. There would be several options and combination of options that the political leadership could choose from in taking decisions to respond. These cannot just be conjured up in an ad hoc manner after a crisis has already erupted.
With respect to diplomatic options, there should be efforts to mobilise international opinion against Pakistan. However, any careful analysis would have shown that isolating Pakistan on the basis of its terror record would have limited traction because powers like the US and China continue to have important strategic stakes in Pakistan. They would be unlikely to go beyond rhetoric in restraining Pakistan's continuing use of cross-border terrorism as an instrument of the State policy. We have witnessed this before. Expending too much effort in pursuing this diplomatic offensive may not add up to an effective response.
We have looked at crisis management as an aspect of the national security strategy. Even more important is crafting a longer-term strategy which locates the pursuit of national security in the overall national endeavour encompassing domestic, external and military security, economic and ecological security and strategic communications. One needs a concept of comprehensive national power in all its dimensions. For example, while condemning cross-border terrorism should we not look at the failures of governance and porous borders which are exploited by hostile external forces? Are we doing enough to meet the aspirations of restive youth and addressing the economic and social grievances which create social unrest? National security cannot be delinked from our overall strategy for development and our vision of where we want India to be in 10, 20 or 30 years' time. Understanding these deep inter-linkages among different domains, anticipating change and likely disruptions that may occur and have plans to cope with them will be the essence of national security in a rapidly transforming world. India can no longer muddle its way through this complex reality without paying a heavy price.