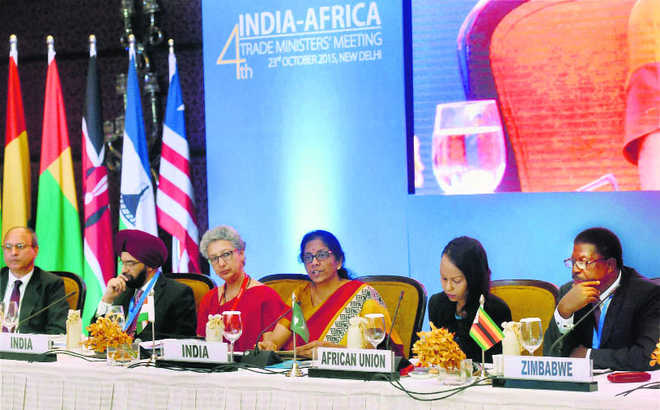 So, Prime Minister Narendra Modi has now turned his attention to Africa, a continent with which we share a lot besides Mahatma Gandhi and the Indian diaspora. Understandably, the third India-Africa Summit is being organised with clockwork efficiency in Modi's mega style with lavish hospitality, a lot of colour and fascinating pageantry. Of course, India is also keeping a keen eye on serious and substantial discussions and negotiations about trade, business and investment and possible collaborations on global issues. To claim that the primary objective of this summit is to help Africa to accelerate its economic development is, rather, patronising.
It's not a secret that Africa, with a population of 1.1 billion (2013), and an estimated GDP of $3.7 trillion, is a hugely resource-rich continent with a diverse economic growth pattern. Some countries have been growing fast and have embraced the democratic process, while others have witnessed bloody conflicts and economic devastation. Not only China but the US and the EU too have been exploring the African continent for years. India has a relatively modest foothold in Africa; India's bilateral trade with Africa has touched $72 billion, as against the bilateral trade of $220 billion with China; India Inc has invested around $30-35 billion in Africa. Besides, initiating Enet for connectivity, tele-medicines and tele-education and helping in fighting the scourge of HIV and AIDs, India had set up numerous technology and IT centres in various countries to help in capacity building. About 24,000 scholarships have also been offered. With the Chinese economy slowing down and the Euro zone still not out woods, this Summit offers India a golden opportunity for upping its relations with Africa for mutual benefit. The three-day-long extravaganza should, to a large extent, address widely shared sentiment in African countries that India doesn't take them seriously and very few African Heads of State get invited. By getting representation from 54 African nations, India has stolen a small march over the China-Africa Summit organised in 2005 in Beijing, which was attended by 42 African Presidents/Prime ministers.
Though the Marwari and Gujarati businessmen were disliked and resented by the local population in many African countries in the 1970s and the 1980s, now there is a feeling of disillusionment against the Chinese, who are viewed as exploitative. India can expand its bilateral trade with Africa five-fold in the next 10 years if it's able to compete against the Chinese, the American and the European companies. It can project herself as more reliable, less exploitative and more willing to customise services and products according to local needs. The one-size-fits-all approach cannot be a rewarding strategy in Africa; India must calibrate its approach as circumstances on the ground warrant in different countries. South Africa, Nigeria, Sudan, Southern Sudan, Angola, Libya, Kenya, Mozambique, Egypt, Tanzania, Uganda, Botswana and Morocco have been major trading partners of India. Namibia, Niger, Malawi, South Africa and Madagascar are top exporters of uranium to India. Both, Reliance Industries and Essar Energy have been bidding in Zambia, Malawi, Botswana, Namibia and Tanzania. ONGC Videsh and IOC have invested in Southern Sudan,Nigeria, Libya, Mozambique and Egypt.
Nirmala Sitharaman, Minister of State Commerce and Trade feels infrastructure, energy, agriculture and health offer bright scope for economic cooperation. PM Modi referred to environmental security, climate change, a sustainable blue economy, food production while meeting the trade ministers. In his interaction with journalists, he also underlined the power of science and technology and the Internet to change the lives of people and the need for UN reforms and fighting international terrorism.
Some observers expect 500 agreements from the Summit worth billions of dollars. But what would matter is the follow-up action after the Summit. Its success will not sustain momentum, unless our political leadership and bureaucratic machinery change their mindset. A majority of IFS officers are reluctant to serve in Africa; three years back a Foreign Secretary confided that as many 27 posts of High Commissioners were lying vacant in Africa as no one wanted to serve there! Obviously, he couldn't press them as he himself had never served there. As a matter of fact, very few Foreign Secretaries have served in Africa. Similarly, while Cabinet Ministers globetrot merrily, they visit African countries only when they are forced to do so. We aren't too keen to host African Presidents either. Before this summit, Arap Moi was the last Kenyan President to have visited India in1981; Indira Gandhi also visited Kenya in1981. African countries' general refrain is that India remembers them only when she needs their support for the Indian candidature for the UN or some other international organisation. Hopefully, this attitude will change after this Summit.
If the PM instructs the Ministers of commerce and trade, energy, transport, IT and telecom, health, agriculture and science and technology to visit African countries frequently, they would do so. Similarly, by laying down the rule that no IFS officer will be promoted to the rank of Additional Secretary or Secretary unless he has done, at least, one posting in Africa, Indian diplomats will make a beeline for African postings. As for junior diplomats, higher allowances and some credit points for serving in Africa could act as incentives.
Nigeria, Southern Sudan, Angola, Libya (before the fall of Gaddafi) and Mozambique, Egypt and Cote d'Ivoir are important for India's energy security. Ethiopia, the largest recipient of Indian scholarships, has emerged a significant player in India's outreach in IT and service sectors. Indian generic drugs, especially for HIV and AIDS, have saved thousands of African lives. With relatively lower costs and high standards, India is a favoured destination for African students and those who need medical treatment.
The writer is a former Indian Ambassador to Mozambique & High Commissioner to Kenya.
Top News
Kumar is meeting his MLAs to decide whether the alliance wit...
The strength of the Maharashtra ministry has now gone up to ...
The Bambiha gang in an FB post earlier had claimed that poli...
The suspects have been taking arms and drugs with the help o...
Tyagi, who is accused of assaulting a woman on August 5, had...