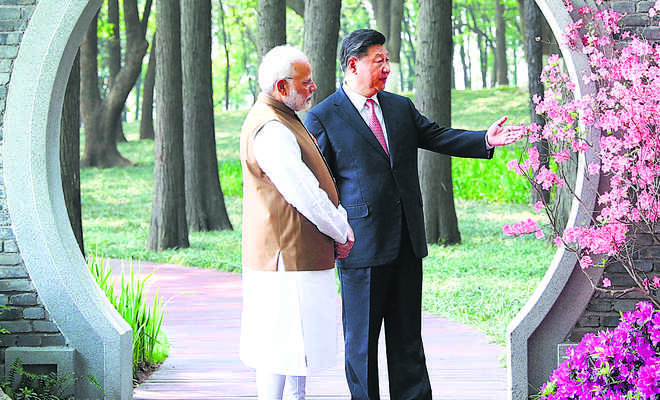 JAYADEVA RANADE
President, centre for China Analysis and Strategy
IN mid-October, Chinese President Xi Jinping is scheduled to arrive in India for his second 'informal' meeting with PM Modi in the coastal town of Mamallapuram near Chennai. Xi Jinping is likely to combine it with a visit to neighbouring Nepal, where China has acquired considerable influence, the pace of which has accelerated since the installation of the communist government initially under Prachanda.
China was keen that the visit takes place soon after India's national elections so that Xi Jinping would be the first foreign leader to have a summit meeting with PM Modi and the two would be able to build on their first summit at Wuhan. Developments in the interregnum, centring especially on India's robust punitive response to terror attacks sponsored by Pakistan, the air strike on the terrorist camp at Balakot and scrapping of Article 370 have, however, dimmed the prospect of meaningful progress at the summit. China's support to Pakistan has been overt. Curiously, Chinese state councillor and Foreign Minister Wang Yi has not yet visited India. It is unusual for a Chinese Foreign Minister not to personally approve arrangements prior to the President's visit. Wang Yi has on two recent occasions — the latest on September 27 — made specific reference to UNSC resolutions on Kashmir. Chinese and Indian security delegations have, meanwhile, visited Mamallapuram and Chennai.
Around the same period, Wang Yi travelled to Islamabad for the trilateral Afghanistan-Pakistan-China meeting and held talks with Pakistan PM, army chief and President. India-Pakistan relations and Kashmir were discussed, with Wang Yi assuring Pakistan of China's support.
This was followed by his September 14-15 trip to Kathmandu to prepare for a possible visit by Xi Jinping, which, if it materialises, will be the first by a Chinese President to Nepal since 1996. In Kathmandu, Wang Yi is reported to have expressed concern at the large Muslim population and the possibility of their staging embarrassing pro-Uyghur demonstrations during Xi Jinping's visit. The demonstration by the Tibetans protesting Wang Yi's visit added to his concern.
Importantly, Xi Jinping's meeting with Modi takes place amidst mounting difficulties for the Chinese leader. Dissatisfaction with Xi Jinping and his policies is spreading inside China. The country's economy is shrinking and growth has slowed. The cost of living is rising. Hundreds of small private enterprises have shut down, adding to rising unemployment and the number of protests by laid-off workers has doubled over the previous year. Demobilised and retired military personnel also staged public protests in Beijing last year, demanding re-employment, better benefits and 'respect'. Students and academics are disgruntled, and respected prominent academics, quite unusually and at personal risk, have gone public with their criticism of Xi Jinping's policies. The anti-corruption campaign continues to fell hundreds of senior party, military and government officials, widening the circles of the discontented.
The US-China trade war has accentuated Xi Jinping's problems and is a setback to China's technology sector. US curbs on the sale of critical components like laser micro-chips to Chinese companies highlighted how dependent China continues to be on the import of hi-tech components. Despite initial claims that they are equipped to weather the crisis, Chinese companies like Huawei and ZTE are in distress and laying off personnel. Xi Jinping's goal of achieving the 'China Dream' by 2021 and 'Made in China-2025' within the time limit declared at the 19th Party Congress now appears difficult.
Adding to these problems is the unending turbulence in Hong Kong, which has challenged the legitimacy of the Chinese Communist Party's rule. Describing the protests as a 'colour revolution' instigated by the US and the West, and making a few token concessions, China's leadership has thus far taken no substantive action to quell the protests. There are indications of intra-party differences, which would suggest a weakening of Xi Jinping's authority.
China's recent actions, including calling for a UNSC meeting in support of Pakistan, were avoidable. The strain on ties with India has been compounded by the critical official Chinese media reactions since August 5, reiterating that 'Ladakh has been Chinese territory since ancient times', it is by no means India's internal matter and that India's action 'seriously violates China's territorial sovereignty'. Accusing India of 'creating and expanding disputes', it warned 'the Chinese side will certainly not sit idly by'.
Also in August, China and Pakistan held their largest air force exercise, Shaheen-VIII. Suggesting collusive cooperation between the air forces, reporting of the exercise by the official military media highlighted that China's air force had for the first time sent its fourth-generation J-16 fighter to help train the Pakistan air force take on Rafale fighters being acquired by India. This exercise was held after the Indian Air Force strike on Balakot.
Modi will, on the other hand, be meeting Xi Jinping for a one-on-one summit after obtaining a huge popular mandate in the national elections. He has also just returned from a successful high-profile public event in the US, where President Trump shared a platform with him and Modi unequivocally signalled there would be no talks with Pakistan, so long as it did not stop terrorism against India.
In this backdrop, there is limited potential for progress at the upcoming summit, when leaders of the world's two largest Asian nations meet. If there is some agreement on keeping the borders quiet and limited moves to reduce the trade deficit, that will be a good outcome.
Top News
Action taken under relevant Section of Unlawful Activities (...
Says wants it to commit constructively to establish facts
Blinken says it is 'important for India to work with the Can...
Adhir Ranjan Chowdhury, the Congress leader in Lok Sabha, sk...
Current data from student visa processing agencies suggest t...