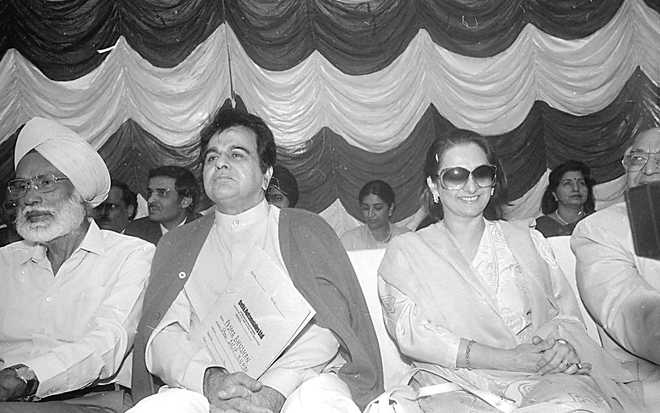 Vivek Shukla
A man of dignity, Ghulam Sarwar was known for taking swift decisions. Those were the days when the dates of Partition of the country were announced. When Sarwar was asked by his relatives in faraway Peshawar to leave the then Bombay and return home, he took a crucial decision. "No way, we will not leave Bombay. Now India is our home," he declared. Sarwar was thespian Dilip Kumar's father.
Dilip Kumar has narrated this incident in his autobiography, "The Substance and the Shadow". And by 1947, Dilip Kumar was already an actor. His first film "Jwar Bhata" had been released in 1944 and he was working for Bombay Talkies of the legendary Devika Rani.
Back in the Pathan heartland of Peshawar, a young Congress activist, Taj Mohammad Khan, along with his several relatives and friends shunned Jinnah's Pakistan for Gandhi's India in the second week of August 1947. Taj was the father of Shah Rukh Khan, the present-day monarch of Bollywood. Taj was a young Pathan when India was carved out on communal lines in 1947. He was greatly influenced by M.K. Gandhi, 'Frontier Gandhi' Khan Abdul Ghaffar Khan and Jawaharlal Nehru. And when communal riots broke out post-Partition, Taj Mohammad decided to leave his homeland for the secular India. He arrived in Delhi and remained a Congress activist.
It goes without saying that it would not have been an easy task for the likes of Ghulam Sarvar and Taj Mohammad to settle for India. Shah Rukh has said several times that his father was a Congress activist and totally opposed to the idea of partition of the country on the basis of religion. He came to Delhi along with his family members. Taj Mohammad was a lawyer and died of cancer in 1981.
Missing Delhi in Karachi
There was a large number of Muslims who shifted to India from the newly created Pakistan in 1947, a time when communal passions were running high. And the number of those who shifted to Pakistan but returned after living there for a couple of weeks, or even months, must be in the thousands. Dozens of Delhi and UP-based Punjabi Muslims shifted to Karachi only to return 'home' soon. Punjabi Muslims had been settled in Delhi for long. They even have a dedicated burial ground in Delhi. M.A. Abdullah, a young Punjabi and classmate of Gen Zia-ul-Haq at St Stephen's College, too shifted to Karachi. An uncle of writer Sadia Dehlvi, Abdullah came back along with his several cousins soon as they "dearly missed the life of Delhi-6".
Once H.C. Shourie — who was the Rehabilitation Commissioner of refugees in Delhi — told this writer that several Muslims families from the NWFP in Pakistan had come to India in 1947. They were not ready to live in Jinnah's Pakistan. That was a region that was not much impacted by communal violence that engulfed Punjab and Bengal. The local people were close to Gandhi and Ghaffar Khan. That was the major reason for many Muslims to leave Pakistan for a secular India. Also many Hindus, Sikhs and even Muslims migrated to Afghanistan at the time.
Massive human migration
Post-Partition, massive population exchanges occurred between the two countries. Once the lines were established, about 14.5 million people crossed the borders to what they hoped was the relative safety of religious majority. Based on the 1951 Census of displaced persons, 72.26 lakh Muslims went to Pakistan from India while 72.49 lakh Hindus and Sikhs shifted to India from Pakistan immediately after Partition. However, the census failed to identify Muslims who migrated from Pakistan to India. Returning to the likes of Ghulam Sarwar and Taj Mohammad, it goes without saying they would have taken that conscious decision after much thought. They would faced tremendous opposition from their close ones.
Others too
Among others, Mohammad Yunus, a close friend of the Nehru-Gandhi family, also arrived in Delhi along with many Muslims. Yunus, a close relative of Ghaffar Khan, never returned to his native place. For years together, he headed the Trade Fair Authority of India. Noted New Delhi-based author and theatre activist Dr Shamsul Islam's family came from Rawalpindi to Delhi after violence broke out there. His father, grandfather and other close relatives were not ready to live in Pakistan. Islam, who teaches at the Capital's Satyawati College, says no member of his family has ever regretted their decision to live in Gandhi's India.
It is surprising that the reverse migration, albeit small but significant, gets hardly any attention from historians. Unlike the general perception that only Hindus and Sikhs migrated to India in 1947, many Muslim families too decided to shift to India rather than live in an Islamic country.
And finally, spare a thought for what if Ghulam Sarwar had migrated to Peshawar with his family and Taj Mohammad had remained in his hometown? Unsettling indeed!
The writer is a Delhi-based journalist.
Top News
China is yet to name its Ambassador to India after Sun Weido...
In his police complaint, Sikh priest says 'Waris Punjab De' ...
Scotland Yard blockades area outside India House, several ad...
Minister for Water Resources Gurmeet Singh Meet Hayer moves ...