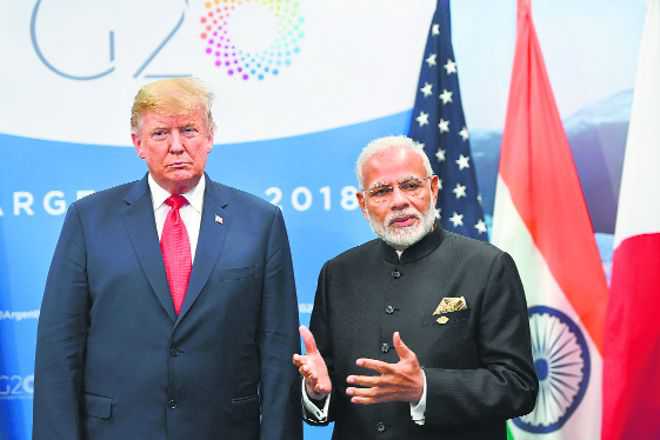 Karan Thapar
Senior journalist & commentator
It's not as esoteric a question as it seems but could Narendra Modi be going the Donald Trump way? This thought emerges from the increasing similarity between Trump's attitude to immigrants and, in particular, people of colour and Modi's, or more accurately, his party's perceived attitude to minorities and, to be specific, Muslims. Undoubtedly, they differ in detail, but there's a striking resemblance in the strategic thinking that appears to determine them.
Let's start with Trump. A recent article in The Times (London) calls his recognisably racist verbal assaults on the four coloured Congresswomen "a calculated political thrust." The paper says, "Trump is articulating the kind of anger felt by many white Americans after what they see as years of institutional efforts to promote the interests of minorities at their expense." And the consequences for America could be dire. As the paper puts it, "Trump is eagerly reopening, with potentially perilous consequences, the great faultline of America's greatest foundational flaw, the long, ugly and divisive history of race relations."
Those sentences seemed to ring a loud bell when I read them. Could they, with a few changes, also apply to Narendra Modi? The answer is a clear yes if you simply focus on his 13 years as Chief Minister of Gujarat. You only have to recall his references to baby-making factories, Mian Musharraf, James Michael Lyngdoh, 'hum paanch hamare pachees' to identify the Trumpean nature of his strategy.
However, is the answer less unequivocal during the first five years of his prime ministership? No doubt, as PM, he's said nothing to stir Hindu-Muslim tensions — and many believe he's begun his second term by extending the hand of 'vishwas' to India's minorities — but, equally, he's done very little to stop his partymen from stoking communal fire and only rarely has he spoken out against the spate of mob lynchings since 2014, which, actually, seem to have accelerated since his re-election.
This is not a difficult point to corroborate and let me do so by citing what I believe is the most telling example. During the last government, almost every month, a BJP minister, an MP or MLA would say hateful things about Muslims and they were generally, if not always, ignored. Has their fate altered in the new government? Have they suffered? Were they reprimanded? Sanjeev Balyan, who was initially dropped, was brought back to government, Niranjan Jyoti was retained and Giriraj Singh was promoted to Cabinet rank. In addition, Pragya Singh Thakur, who faces terror charges in the 2008 Malegaon case, was fielded as the BJP candidate from Bhopal.
Isn't this reminiscent of Trump's attitude to members of the Republican right wing who share his attitude to immigrants and coloured people in particular? He doesn't criticise them. Instead, he gives the impression of condoning or accepting their behaviour. Some, like Kellyanne Conway, are very close to him. Others, like Steve Bannon, were only allowed to leave after it became impossible to retain them. Trump is loyal to those who reflect his views and that cements their support.
The same is true of Modi. The impression he's given is that he does not disapprove of — and usually does not outspokenly condemn — the way Muslims are often demonised, contemptuously treated and, even, physically targeted by his legislators. Indeed, Modi and his BJP are political beneficiaries of the majoritarian mood and the inherent antipathy to Muslims that has spread throughout the country. They've done precious little to check it.
In fact, you could even legitimately argue that Modi has plans to exploit this sentiment and push it further. Many believe that's the hidden logic behind extending the National Register of Citizens to all parts of the country and his determination to pass the Citizenship Amendment Bill. Both measures have Muslims clearly in their sights.
Let's now turn to the impact Trump's attitude to migrants has had on his opponents in America. The Democrats are worried their party will be identified with the four Congresswomen and thus judged, as The Times puts it, "to be so extreme as to be unelectable." Does this not remind you of the Congress party's attitude on Hindu-Muslim issues? It seems to have turned its back on Nehruvian secularism and embraced a soft Hindutva of its own. For example, Rahul Gandhi does not proudly proclaim he's half Italian and a quarter Parsi but, instead, chooses to present himself as a janeudhari Brahmin.
Finally, let's come to The Times' conclusion on the impact Trump has had on America. "We may now be seeing… the more explicit legitimisation of white alienation and its embrace in national politics. That will have profound consequences, for the country, its cohesion and the relative economic and social condition of its ethnic groups for years to come."
Admittedly, India isn't quite there as yet, but that's also why I began with the question: Is Modi going the Trump way? Are we — slowly, perhaps, but steadily nonetheless — becoming increasingly majoritarian and, therefore, a country intolerant of minorities, where nationalism trumps liberalism and Hindutva, rather than secularism, defines the attitude of its citizens?
The conclusive answer is written in what is still invisible ink but the contours of its letters are becoming discernible and there's more than a hint of what they spell. We may not know for sure, but are we not deluding ourselves if we believe we have nothing to worry about?
Top News
Jammu and Kashmir Lieutenant Governor Manoj Sinha and politi...
Cops say case cracked within three days with the arrest of a...
Indonesia football association suspends league to investigat...
Samajwadi Party patron is under treatment in Gurugram hospit...
DGP dismisses Mansa CIA Incharge, FIR registered against err...