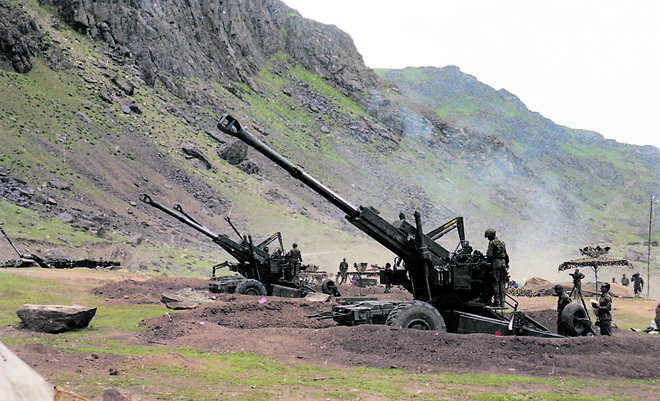 Another scam, another ban. This has become the standard practice of every Union government each time allegations of kickbacks surface after a defence deal is signed.
The latest major company to be banned is Agusta Westland owing to allegations of kickbacks in the purchase of 12 AW 101 transport helicopters. The government, which signed the contract in February 2010, froze it in February 2013 barely two months after a first batch of three helicopters arrived in December 2012. But even these three choppers fitted with special security features, meant for high-value dignitaries such as the President and the Prime Minister, have been unable to fly. Reason: they are grounded due to a crisis of spares and after-sales support along with the absence of political clearance.
India's continuing legacy of banning firms started in the mid-1980s when the government blacklisted the Swedish company, Bofors and the German company, HDW following allegation of graft in the purchase of 410 pieces of the 155mm FH-77B Howitzer and four Type 209 submarines, respectively. The "Bofors syndrome" ended up causing such an atrophy in decision making that for almost two decades thereafter successive governments either shied from purchasing big-ticket items from any major private foreign vendor or ended up banning companies each time allegations of kickbacks surfaced. Purchases during this period were mostly made on a government-to-government basis which, though relatively kickback-free, is an expensive route that limits options.
Due to severe shortcomings in indigenous capability despite a 58-year-old Defence Research and Development Organistion with 50 laboratories, eight defence public sector units and 40 Ordnance Factories, India's armed forces are dependent on imports for 70 per cent of their defence equipment. Due to this high degree of import dependence, every such ban has adversely impacted the modernisation of the armed forces and therefore India's defence capability. The fact is only a limited number of foreign firms are producing high-end defence equipment. In the corporate world's fast- paced environment, firms keep acquiring or merging or form conglomerates. They are also constantly collaborating with, sub-contracting or outsourcing components to other firms located in various countries. This has combined to complicate the world's defence military-industrial complex. Thus, a ban on one company may in effect tantamount to blacklisting other firms from which India may have bought an entirely different set of defence equipment. Blacklisting on occasions has been wholesale. For example, when allegations surfaced that the former Director-General of the Ordnance Factory Board (OFB) had taken a bribe, the government ended up blacklisting six firms — four foreign and two Indian — at one go in March, 2012. Among the four foreign companies was the Israeli Military Industries (IMI) which, in 2009, had won a $300 million contract for building a chain of ordnance factories in Bihar to manufacture ammunition for the Bofors 155 mm artillery guns. In addition to depriving the artillery of much-needed ammunition for the gun which played a critical role during the 1999 Kargil War, the government then almost put into jeopardy upgrade programmes of the Jaguar, MiG-21, MiG-29 and Mirage-2000, fighters, the An-32 transport aircraft, the M-1 series helicopters and supply of the Phalcon radars for India's Airborne Warning and Control System. The other three foreign firms banned were Singapore Technologies (meant to supply ultra-light Howitzers), Germany's Rheinmetall Air Defence and Russia's Corporation Defence.
Such is the level of petty politicisation that in February 2000, then defence minister George Fernandes went to the ridiculous extent of ordering an inquiry into every defence procurement made since 1985. Yet corruption in defence purchases seems near epidemic. In 2005 alone, the CBI was investigating as many as 47 cases of defence procurement. In the subsequent five years (2005 to 2010), India went on to cancel deals involving import of 400 anti-material rifles, 197 light helicopters (to replace the ageing Cheetah and Chetak) and 400 pieces of 155 mm towed artillery guns (from South Africa's Denel) after years of technical trials and negotiations. Then in just three years, from 2012 to 2014, the Central Vigilance Commission referred nine cases for inquiry; the CBI registered 23 cases in connection with defence purchases and the Defence Ministry debarred 10 firms for 10 years.
After spending much time and money, the fact remains that in most cases, starting with Bofors, investigative agencies have been unable to obtain evidence. Neither are firms taken off the blacklist. Due to the blacklisting of Bofors and Denel, the Artillery has been unable to add a new gun for the last three decades. It currently has less than the original 410 155 mm guns in service which is a far cry from the original 1,840 Bofor guns that were planned to equip 92 artillery regiments and 3,600 guns envisaged by 2025. Similarly, the Indian Navy, which is currently down to just 13 conventional submarines, lost an opportunity to acquire more HDW submarines. What a waste!
As it is India's procurement procedure involves 13 different agencies reporting to different functional heads. There are, by turn, eight stages of processing. Each consists of nine to ten approval points, with each approval point having at least three submission points.
With India expected to spend about $100 billion over the next decade on modernising the armed forces, surely there is a need to further simplify procedures and consider devising pragmatic policies in case allegation of kickbacks surface. Bribes must be investigated and the guilty punished but cancelling deals and blacklisting a firm in today's global village after such lengthy and cumbersome procedures that is always followed by a long delivery schedule is akin to shooting oneself in the foot. It only harms the country's armed forces and national security considering that "Make in India", although ideal, is currently only a slogan.