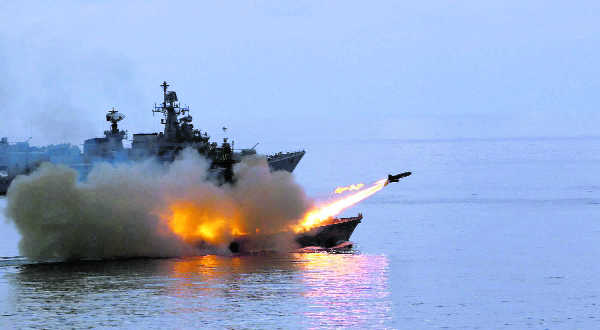 ON April 11, Ashton Carter became the first US Secretary of Defence to visit an aircraft carrier belonging to the Indian Navy when he was taken on board the 44,400-tonne Soviet-origin INS Vikramaditya. While New Delhi's intention was to showcase the Navy's currently largest and most powerful vessel, mandarins in South Block cannot be unaware of the serious deficiencies that afflict the Indian Navy, considered a vital instrument of diplomacy, power projection and credible second-strike capability in the event of a nuclear war.
In many ways INS Vikramaditya's pre-induction history and current status serves as a microcosm to what ails the Navy. Firstly, like the Army and the Air Force, the Navy is similarly largely import-dependent for all its submarines and fighter and maritime reconnaissance aircraft, most helicopters, a few ships and for many sub systems, including missiles.
The Navy continues to suffer delays in most inductions while remaining dependent on foreign vendors for requirements ranging from spares, servicing and mid life upgrades, to name a few. Inefficient ship-building yards and manpower-related problems have added to the woes.
In the case of INS Vikramaditya, a helpless New Delhi was forced by Moscow to renegotiate the contract to a significantly higher $2.3 billion. The purchase of 45 Russian-made MiG-29K fighters for the aircraft carrier cost another $2 billion. Secondly, considerable cost and time overruns in almost all production and developmental projects continue to be a cause of serious concern. INS Vikramaditya entered service in June 2014, almost 10-and-a-half years after the purchase contract was signed. Resultantly, the MiG-29Ks, first inducted four years prior in February 2010, had begun depreciating well before they could be operationalised.
Further, just as the Navy functioned with a solitary aircraft carrier (INS Viraat) for 19 years — from 1995 to 2014 — it is again back to being a one-carrier Navy, with the 56-year-old INS Viraat now practically retired.
A second aircraft carrier, currently under indigenous development (INS Vikrant), is already running six years behind schedule and is at least another three years from entering service. Meantime, its cost has risen six-fold — from Rs 3,261 crore to Rs 19,341 crore.
The three Kolkata-class stealth guided missile Destroyers, originally due for commissioning in 2009 and 2010, were inducted after a five to seven years' delay in 2014, 2015 and 2016 — at an over three-fold cost increase from Rs 3,580 crore to Rs 11,662 crore. Two of the four Kamorta-class anti-submarine warfare corvettes, originally scheduled for delivery in 2009, 2011 and 2012, were only delivered in 2014 and 2016 — with two more still awaited. The cost, meanwhile, has more than doubled from Rs 3,051 crore to Rs 7,852 crore. Also running behind schedule is the construction of five offshore patrol vessels, 80 interceptor craft and four attack crafts.
The worst is the submarine fleet, considered critical to complete the nuclear triad and to accompany the Navy's aircraft carriers among other tasks. The Navy's conventional submarines, which regularly require breaking surface to charge its batteries thus rendering it vulnerable to detection each time, is down to just 13, with 12 of them between 22 and 30 years old.
Even the solitary youngest submarine is already 16 years old. The Navy has not inducted a single submarine since 2000, even though the government in 1999 cleared a 30-year plan to induct 24 submarines by 2030.
The Navy will get its first conventional submarine (French-origin Scorpene) only in 2017, with five more by 2021 with no further induction decided and, therefore, 18 short of the original plan. India's indigenously developed nuclear-powered submarine, INS Arihant, is undergoing sea trials since December 2014. Two more are currently under construction, while six more have been cleared for construction for which, however, no deadline has been fixed. China, in contrast, operates about 60 submarines, nine of them nuclear-powered.
The Navy has a shortfall of 61 integral helicopters on its ships; has no deep submergence rescue vehicles for rescuing sailors from submarines; and is dependent on the US in case a submarine is disabled deep under water.
Most existing vessels are ageing and would necessitate decommissioning in the next 10 years. The current six mine sweepers, for example, are over 25 years old. Besides, it has suffered an unprecedented frequency of accidents and deaths a staggering 59 accidents between June 2007 and November 2014, 14 of which occurred in 2014 alone and 24 between 2012 and 2014.
The most serious was the sinking of INS Sindhurakshak, a Russian-made kilo class submarine, following a series of blasts in the torpedo section in August 2013. The shortage of officers and sailors is, respectively, almost 1,600 (14.5 per cent) and 1,11,000 (17 per cent).
The Navy is finding it hard to maintain a force level of 138 ships and submarines approved by the government 52 years ago in 1964, let alone increase levels to 198 ships and submarines approved by the defence acquisition council in 2012.
All this is hardly comforting for a 21st- century Navy, with a maritime responsibility that includes safeguarding a 7,517- km coastline, island territories across two seas at considerable distances from the mainland and a 2 million sq km exclusive economic zone; maintaining sea lanes of communication to ensure safe passage of ocean trade which constitutes 95 per cent by volume and 77 per cent by value.
In addition to these maritime responsibilities, the Navy also has to conduct anti-piracy and anti-terrorist operations and a wide range of maritime emergencies. Of course, it also has to counter the increased Chinese presence in the Indian Ocean region.
Top News
Says unprecedented assault on corruption has angered those w...
As part of the special drive, the regulators have identified...
Behind him, Papalpreet Singh, who is said to be his mentor, ...
Punjab CM accuses Jathedar of favouring the Badals; Giani Ha...
7 others, including Ahmed's brother Khalid Azim alias Ashraf...