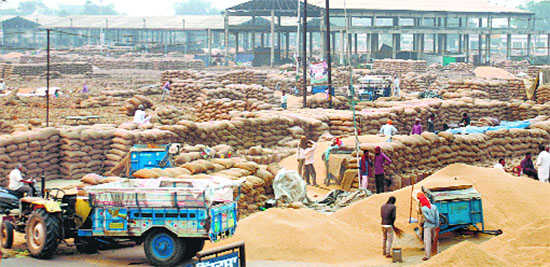 Siraj Hussain
Former Agriculture Secretary & Visiting Senior Fellow, ICRIER
BY June 2019, the government is again likely to face the challenge of excessive stock of wheat and rice (called Central pool stocks). Since MSP continues to be at the centre-stage of agricultural policy, it is unlikely that procurement of wheat and paddy would be lower. The government faced a similar situation in 2002-04 and 2012-14. Excessive stock will result in shortage of storage capacity, huge carrying cost, deterioration in quality and distortion of open market prices.
The highest level of stock in Central pool is reached at the end of wheat procurement, by June 30. This year the wheat stock on July 1 was 418 lakh tonne against the buffer norm of 275.8 lakh tonne. The stock of rice (including un-milled paddy) was 275 lakh tonne while the buffer norm is 135.4. Thus, the total stock of wheat and rice in central pool was 693.5 lakh tonne against the buffer norm of 411 lakh tonne. If this pattern of procurement of wheat and rice continues next year also, India may have about 800 lakh tonne foodgrains by next June. This will be a repeat of 2012 when the stocks were at a nearly comparable level.
Since 2000, the management of foodgrains has been examined by two expert committees. The first, High-Level Committee (HLC) on Long Term Grain Policy, headed by Prof Abhijeet Sen, submitted its report in July 2002. A number of its findings are still relevant.
Since MSP of wheat and paddy was already higher than C2 cost (all average expenses in cash and kind), the committee recommended that MSP should not be fixed too high and that of wheat and paddy must be lowered immediately to average C2 cost!
The HLC also said steps should be initiated to give statutory status to MSP. The committee also recommended warehousing system to benefit the farmers. Warehousing Development and Regulatory Authority was finally created in 2010, though the negotiable warehousing receipt system is yet to take off in real earnest.
The committee concluded that open-ended procurement of wheat and rice is compatible with WTO and it should continue with a focus on eastern states.
Between 2002 and 2005, due to heavy offloading of foodgrains for domestic sale and export, the stocks came down to a precarious level of just 19. 3 lakh tonne on July 1, 2006, and the country had to import 55 lakh tonne wheat in 2007 and 2008. In order to incentivise the production of foodgrains, MSP was substantially increased by the UPA government. For example, MSP of paddy was increased by 9.5 per cent per annum between 2004-05 and 2013-14. As a result, the production of foodgrains increased and the procurement of wheat rose from 92 lakh tonne in 2006-07 to 381.4 lakh tonne in 2012-13, helping the Central pool stock touch the record figure of 805 lakh tonne.
In August 2014, the Modi government appointed another high-level committee on reorienting the role and restructuring the Food Corporation of India under former Union Minister Shanta Kumar. The committee submitted its report in January 2015. It found that between 2011-12 and 2013-14, roughly 400 lakh tonne of 'excessive' wheat and rice was stocked. Its cost was assessed at nearly Rs 1 lakh crore. It recommended that a transparent policy for the sale of foodgrains should be formulated. The country is still waiting for this policy. Many other recommendations have also not been accepted.
This year the MSP of Kharif crops has been raised substantially but paddy farmers are about the only ones who are able to realise it. With no guarantee of receiving MSP for other crops, farmers of Punjab and Haryana are unlikely to switch to less water-intensive crops. The procurement of paddy is unlikely to come down any time soon. In fact, several states in east India, e.g. Bihar, procure much less paddy and wheat than their potential. If they were to become more efficient, the procurement would be even higher. So, the procurement of wheat and paddy will continue to be more than the requirement of public distribution system.
Unlike in 2012-14, Indian wheat is faced with stiff competition in the global market. Presently, it is quoted around $287 per tonne. Wheat from Russia, Ukraine and the US is quoting about $ 74 less. Therefore, the export of wheat without subsidy is not possible. In May 2018, the US filed a counter notification in the WTO on India's MSP operations for wheat and rice. The US sees India as a competitor in agricultural exports and any subsidy on wheat exports from Central pool stocks may face a challenge from the US and other major wheat exporters. Therefore, the government should consider three options to reduce the stock before Rabi crop arrives in April 2019 in order to create storage space and free up working capital.
1.The government may consider increasing the coverage under Antodaya Anna Yojana (AAY) for very poor families. Presently, 2.34 crore families have AAY cards and they are eligible for 35 kg of grains a month. Allocation to AAY families in poor districts can be increased to 70 kg, which will reduce their dependence on open market.
2.Procurement of maize in water-stressed blocks of Punjab and Haryana may be announced. Since maize prices have ruled below MSP, farmers in these states had no incentive to grow maize instead of paddy. Assured procurement of maize in these blocks can reduce rice procurement.
3.Surplus wheat and rice stocks can be put to diplomatic use. In 2011, India announced the donation of 5 lakh tonne wheat to Afghanistan. The government may again consider a similar donation. As a humanitarian gesture, rice can also be gifted to Bangladesh for Rohingya refugees. Several other countries in Africa may also welcome Indian aid in the form of grains.
Unless the government acts upon the recommendations of experts, the buildup of stocks will happen every few years, imposing a huge burden on the Central exchequer.
Top News
After the accident, people gathered around the temple lookin...
India reports 40 per cent jump in new Covid cases
The H-1B visa is a non-immigrant visa that allows US compani...