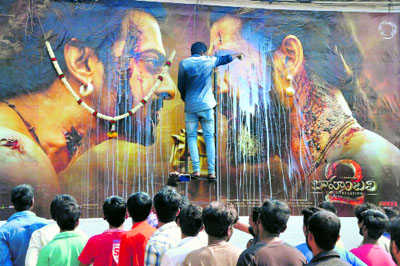 The movie Baahubali 2, which was released last week, broke all box-office records by generating ticket sales worth Rs 450 crore within just three days. Apparently everybody and their aunt watched Baahubali 2 over the weekend in over 9,000 screens across the country.
Social media, as always, has people gushing about it and is acting as a great force multiplier ensuring that those who haven't watched the movie yet feel like losers and will rush to the theatres next weekend. Such has been the resounding commercial success of the movie that it has overtaken even recent Bollywood hits of the three Khans — Dangal (Aamir Khan), Sultan (Salman Khan) and Raees (Shahrukh Khan) — by a huge margin.
What figure the film finally ends up earning, is anyone's guess but it's definitely going to be mind-boggling with the film-makers laughing all the way to the bank, beyond their wildest imaginations.
Now, nobody grudges films becoming blockbuster hits. Anything that entertains a nation as huge, diverse and populated as ours, in which life is incredibly tough for the majority, deserves applause for making existence bearable, being a stress-buster and even a happiness generator. And yet, why can't one help feeling that there is something obscene about a movie earning Rs 450 crore in a mere three days?
Indeed, this is not about the merits or demerits of Baahubali 2 or whether it is a great film or not in terms of the film-making craft. The question is more basic. Does any film, in fact any work of art, howsoever great possess such "intrinsic value" in the overall scheme of things, that it should generate this level of craze and commercial success? Most creative arts — high or low-brow — seek to appeal to and gratify one or more of three human sensibilities — entertainment, aesthetic and the sublime. It is also true that most creations rarely manage to satisfy more than one of these sensibilities, perhaps even none.
Yet, commercial success just as often goes to mediocre creations as it goes to excellent ones. This is because of the phenomenon of mass popularity, which has almost become the single decisive factor in defining what is considered great and good in our times. All other parameters being subjective, popularity and commercial success are indeed factors that must be accepted and respected. However, isn't it also true that more than the "intrinsic value" of the work of art, it is industrial-scale marketing that tips the scales in making it a success? For instance, it cannot be Baahubali 2's "intrinsic value" that made people throng multiplexes across the country to the extent they have, which added up to Rs 450 crores of revenue in just three days. Three days is too short a period, even now, for that kind of "word-of-mouth" to translate into viewer craze. So most people who watched the film last weekend, went not because they "knew" or 'heard' it was a great film, but simply because it was projected to them as one, through hype and marketing.
It is possible that the special effects in the film are the greatest ever, but there was no way for viewers to know that, till a critical mass of people had actually watched the entire film and given their verdicts, spreading the word. So whether we like it or not, Baahubali 2 became a phenomenal success not because of its content, but because of the publicity claims. Which is exactly why it is so worrisome and disconcertingly obscene, because it signifies that we have moved into an era of media- generated herd mentality that simply swamps our faculties.
Such is the dominance of hype and extravagant claims, that we have become actively "passive" minds that are just waiting to be channeled in any direction that marketeers want us to move. Not only do we gleefully tag along but contribute to the frenzy by parroting verbatim the unauthenticated marketing message to others, giving it a credibility it does not yet deserve, making it stronger. What's more we have started rejoicing in this marketing enslavement of our senses, finding a strange kinship in it. Anyone who doesn't buy into it becomes an outlier. For instance, when I mentioned on social media that all the hype was in fact turning me off from watching Baahubali 2, I was told to shed my negativity and watch it as a proud Indian because it was a superb amalgam showing the grandeur of fictional Indian mythology and breath-taking special effects heralding India's creative, cinematic and technical capabilities today.
Where is all this coming from? Except for war films, I have never before been asked to watch an Indian film for patriotic reasons. The answer has to be subliminal messaging, packaged in the marketing hype, which just shows how undesirable herd-mentality is being manufactured throughthe benign means of marketing.
To put matters into perspective, India's biggest cinematic hit for several years was Sholay. When it was first released in 1975, box-office collections were mediocre bordering on dismal. This, despite featuring the biggest stars of the time, as well as deployment of prevalent marketing tools.It was only two weeks later after a critical mass of people had seen it that Sholay began showing signs of doing well. Sholay's runaway success over many years therefore can be directly attributed to its content. On the contrary, Baahubali 2's instant success is a triumph of marketing that has created a herd mentality, making people flock to theatres like cattle.
Moreover, when we disproportionately reward a creative work without regard to its "intrinsic value", we no longer remain connoisseurs. We become mere consumers.Thus art only becomes entertainment without aspiring to be aesthetic or sublime.
The writer is a Pune based crime novelist and film-maker.
Top News
Harried passengers take to social media to vent their ire at...
Lapid had stirred a massive controversy by terming Vivek Agn...
Final turnout to be higher as voting process continued at po...
DigiYatra will provide seamless entry and embarkation proces...
His song 'Mahakaal' removed from YouTube after 19 hours